Xurreria Trebol in Barcelona, Spain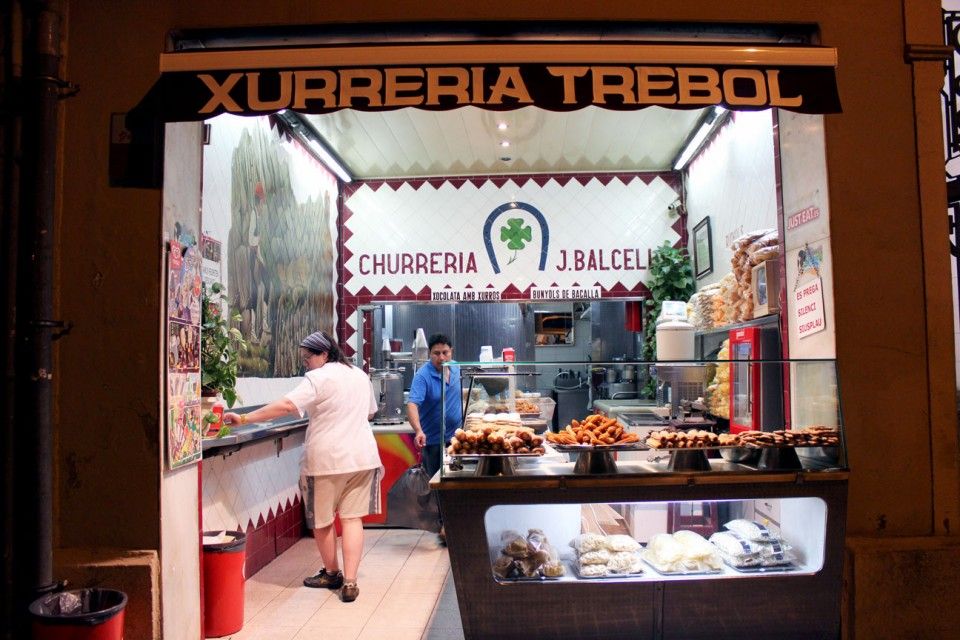 Xurreria El Trebol launched in 1950, making it the oldest churros place in town, that's still in business. You'll find all kind of fried items here,  such as chicken wings and variations of churros, like these custard filled ones. The owner, Cecilia Martínez, started making and selling churros with her husband in the 40s, before they opened  the doors to Xurreria El Trebol a couple of years later. Today it's Martínez' children and grandchildren handling the business.
It's open 24 hours during the weekends, so I got here in the middle of the night and was greeted with freshly made churros. For you who don't know what that is, it's a fried dough pastry. Called of a Spanish doughnut by some. In spain, it's often served with a cup of thick hot chocolate to dip the goodness in.
Now what's up with the spelling? Churros or xurros? It turns out that the way you spell it in the US and Mexico, and pretty much all over the world where churros are popular, is the spanish spelling. Because Barcelona is in Catalonia, they use the catalan spelling xurros pretty much all over the region.
El Trebol is good, but not amazing. See my video for details.
[maplist locationstoshow="799″ geoenabled="true" hidecategoriesonitems="true" hideviewdetailbuttons="true" hidesearch="true" hidefilter="true" hidesort="true" locationsperpage="3″]