One of those butchered "ethnic" recipes you find online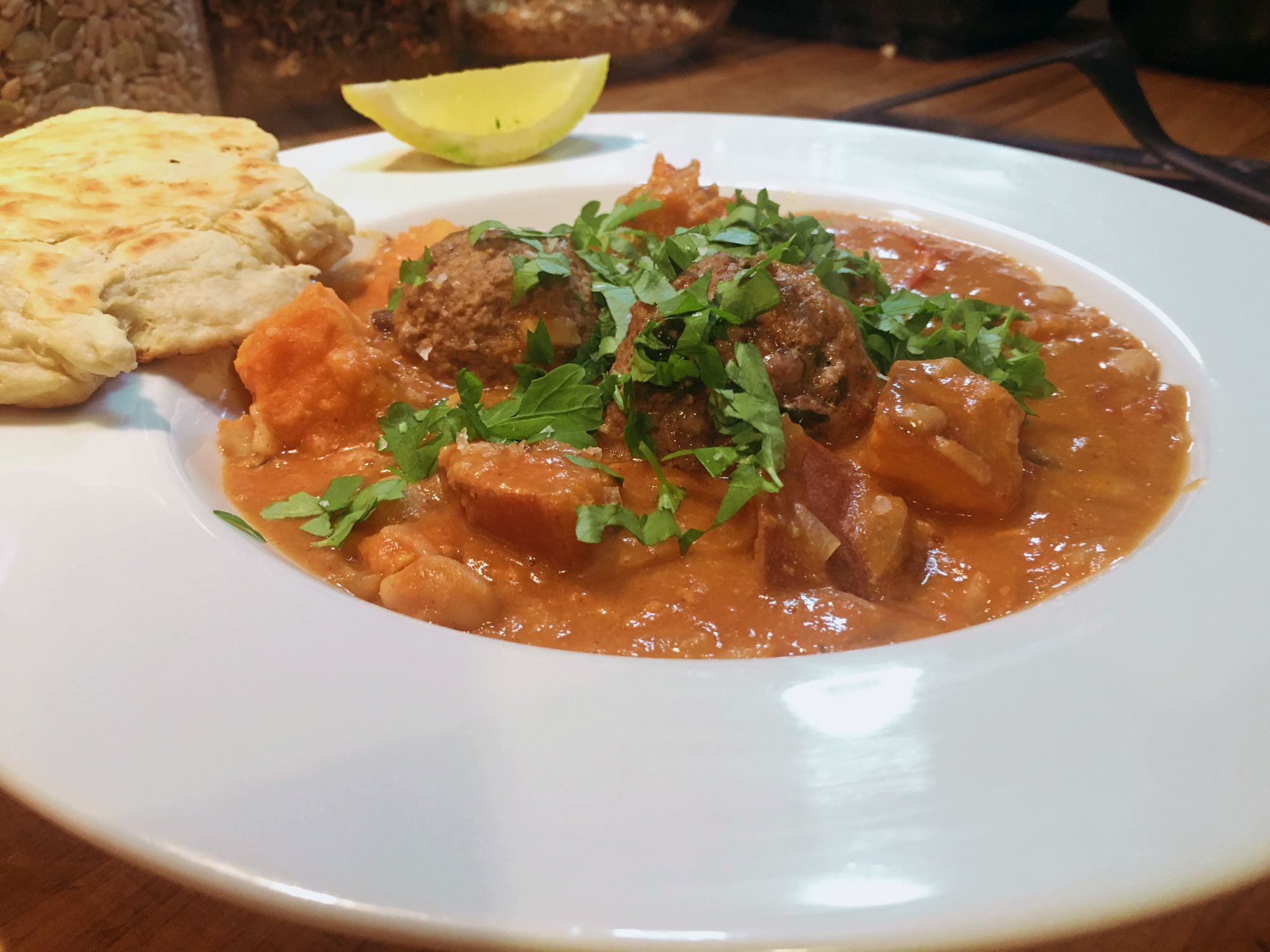 This is one of those butchered recipes that I'm not even sure has anything to do with West African stew. But there's an exotic flavor to it, with savory cinnamon, sweet potatoes and what not. It's very flavorsome. So let's not question it.
Ingredients
500 grams of minced beef
1 stick of cinnamon
5 allspice peppercorns
Salt to taste
2-3 pinches of black pepper
A couple of teaspoons of vegetable oil (e.g canola/rapeseed)
1 large onion
6 garlic cloves
About two thumbs sized fresh ginger
1 can (about 200 grams) of white beans or chickpeas (rinse and drain them)
1 can (about 400 ml) of crushed tomatoes
1 large sweet potato
2 chicken stock cubes
2 large tablespoons of creamy peanut butter
5 twigs of fresh thyme
1/3-1/2 teaspoon of cayenne pepper
Some bread or rice on the side
Lemon wedge
A handful of fresh parsley
How to make this West African stew
First of all, chop garlic, ginger, and onion. Fry it all in some oil, in a large deep pan.
Then, add thyme, tomato, and the chicken stock cubes.
Allspice and cinnamon, just put all of it in there.
Cut the sweet potato into large cubes (about 5×5 cm) and put it into the sauce.
Add fresh water until the sauce covers the potatoes.
A pinch of salt. Careful, the chicken stock cubes have a lot of sodium in them.
Cover and let it simmer for about 20 minutes. Then uncover and let the liquid evaporate until you have a thicker stew.
Meanwhile, make the meatballs. Mix black pepper, a pinch of salt and a handful of parsley into the minced meat. Make balls and fry them in some oil on high heat. They'll be done in the sauce, you just need to give them some nice outer color at this point.
The stew is almost ready. Add the beans or chickpeas, the peanut butter and incorporate.
Add some lemon juice into the hot pan you used to fry the meatballs in and rub off all the nice residue full of flavor. Add that into the stew.
Finally, add the meatballs in there, cover and let it simmer for about 10 minutes until the meatballs are done all the way through.
Serve with bread or rice, or just as is. Top with chopped parsley and a lemon wedge on the side.