Tiramisù made from scratch. I mean, really, home made everything.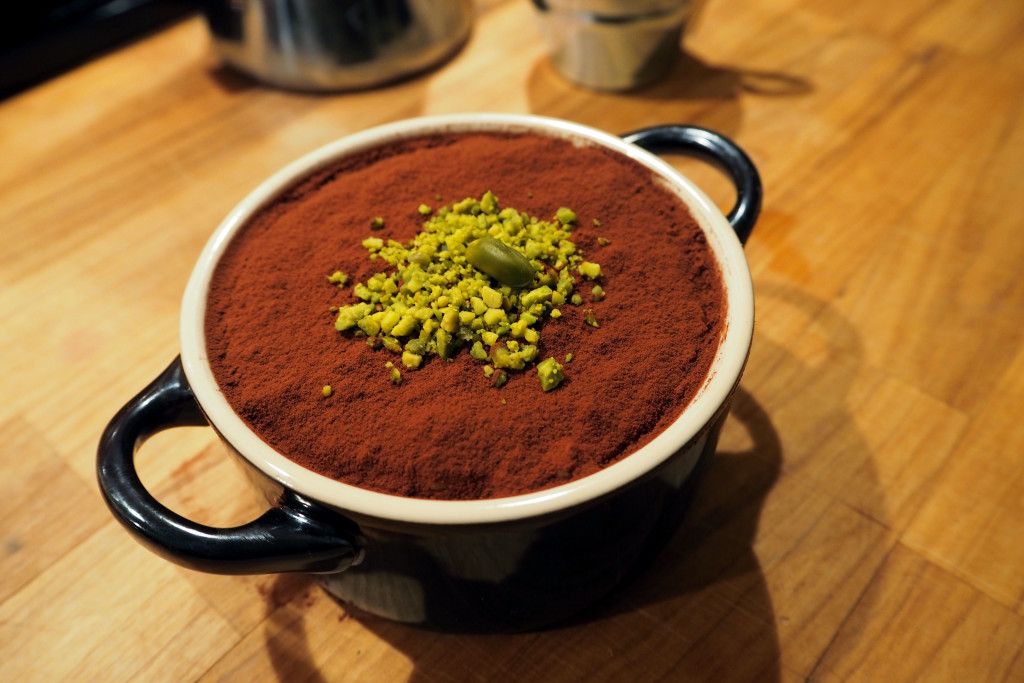 A tiramisù is a classic Italian desert first invented in the sixties. So no, it's not one of those things that were eaten back in ancient times. There are many variations, and even the basic recipe is different depending on who you ask. But in principle, tiramisù consists of Savoiardi-biscuits, also known as butterfingers, that have been drenched in strong coffee and a sweet wine, usually Marsala. They are then covered in a batter mainly consisting of sweetened mascarpone cheese. Once the cake has set in the refrigerator for a couple of hours, it's covered in a layer of cocoa powder. Some heat the mascarpone. Other's don't. Some say you need to add some fresh cream to your cheese batter to lighten it up. Other's say using egg yolks is enough. I've solved all this for you by trial and error, and I've added some steps that will definitely make this pistachio tiramisù one of the most flavoursome deserts you've ever had.
First of all, I'm flavouring the mascarpone with pistachios. Because I really like those green things. And I won't simply buy mascarpone, as most recipes call for, and then mix in the nuts. No, I'll be making my own mascarpone. And while I'm at it, I'll let the cream infuse with the nuts before it has even become mascarpone, making it light green in color and full of flavour one it has set. Second, I'll make my own butterfingers. Sure, the store bought ones are good, but imagine how amazing it would be to tell your guests you made everything from scratch? And it's not that hard. But wait, there's more to it… Because I make the butterfingers myself, why settle with the classic butterfinger shape? Come on, we'll make a cake bottom that covers the whole bottom, instead of just laid out biscuits. This recipe yields about 4-8 portions, depending on how big deserts you want.
To make your own pistachio infused mascarpone cheese, you'll need
150g of peeled pistachios
1000g of full cream (that's about 1 liter. The higher fat content, the better! Remember that I'm making more mascarpone than I'm using for the deserts, so you might want to make less, if you don't want to save any for other recipes)
60g of lemon juice (that's about 4,25 tbsp)
How you make the infused mascarpone for the pistachio tiramisù
Finely chop the pistachios. I recommend using a food processor, but if you prefer manual knives, please go ahead. Save some for the topping!
Heat the cream to 88 degrees. Be careful so you don't burn it in the bottom of the sauce pan.
Stir in the pistachios, and let it simmer for 10 minutes (still 88 degrees, use a thermometer!)
Now stir constantly while pouring in the lemon juice. Keep stiring for another 5 minutes, still on 88 degrees.
Let it cool a little.
Unless you have a cheesecloth and a cheesecloth holder, prepare a clean kitchen cloth and put it in a colander. Pour the cream into the cloth, cover with some plastic wrap, and let cool in the refrigerator over night.
Now you have a lot of mascarpone, great on your toast, or mixed with some sugar and eaten as a simple desert. Or, you can use it to make pistachio tiramisù!
How to make your own ladyfingers for the pistachio tiramisù
60 grams of sugar (that's about 2/3 deciliters)
60 g wheat flour (about 1 dl)
2 eggs
A pinch of salt
The content from 2 vanilla beans (or about 1/3 teaspoon of dried pure vanilla powder)
This is how you make the ladyfingers (and an alternative way of doing it)
Set the oven to 175 degrees celsius
Separate the egg whites from the yolks, and put the whites in a stand mixer bowl (or any bowl you'll be mixing in, perhaps by hand, who am I to presume anything?). Put the yolks in another bowl.
Mix the yolks with the vanilla, a pinch of salt and half of the sugar.
Mix the egg whites to a stable foam with soft peaks. After a couple of minutes of mixing, add the rest of the sugar to the whites, it will help with getting the right texture. Remember, soft peaks, you don't want a hard foam.
Fold in the egg whites with the yolk mix. Be careful, you don't want to beat out all the air bubbles from the white. I recommend you fold down half of the egg white mix first, and then the second half, it's easier to combine it that way.
Take a plastic bag, fill it with the mixture, cut off a corner, and use it to pipe your ladyfingers.
When they're golden brown, they're ready. It takes about 6 minutes. Maybe more, maybe less. You can always try with one first, to see how it turns out.
As you might know, these are the biscuits/crackers traditionally used in tiramisù. But because you're not buying them in the store for this recipe, nothing is preventing you from making another shape. So how about this… Cover the bottom of the serving plate with the batter, and make perfectly sized butterfingers… well, butterbottoms?
When the butterbottoms turn light brown, take them out and put the serving cups in cold water to prevent your butterbottoms to burn. I'll be using the butterbottoms for the rest of this recipe.
How to assemble the pistachio tiramisù
You need 330 grams of pistachio mascarpone. You can't buy it, but I think you have some in the refrigerator by now.
3 egg yolks
50 grams of full cream (1/2 dl)
130 grams of powdered sugar (that's about 1,2 dl)
A couple of teaspoons of finely chopped pistachios, the ones you saved the other day.
8 tablespoons of Marsala wine (sweet Italian wine)
8 tablespoons of strong coffee, cooled.
A couple of tablespoons of cacao powder.
Mix the egg yolks, the cream and the powdered sugar.
Combine the mix with the pistachio mascarpone. And whip it until it gets a nice, soft yet quite firm texture. Like hard whipped cream, kind of.
Soak the "butterbottoms" with about 2 tablespoons of wine and 2 tablespoons of coffee per serving. If you want more wine flavor, or more coffee, go ahead. If you didn't make your own butterfingers/"butterbottoms" but rather went to the store, just soak the store bought ones and arrange them along the bottom of a serving bowl of some kind.
Cover the soaked cake base with the mascarpone mix.
Cover with plastic, and refrigerate for about 2 hours until the whole thing firms up a bit. Continute with step 6 just before serving.
Generously sprinkle the cacao powder on top of the mascarpone.
Garnish with the chopped pistachios.
Pistachio tiramisù done!