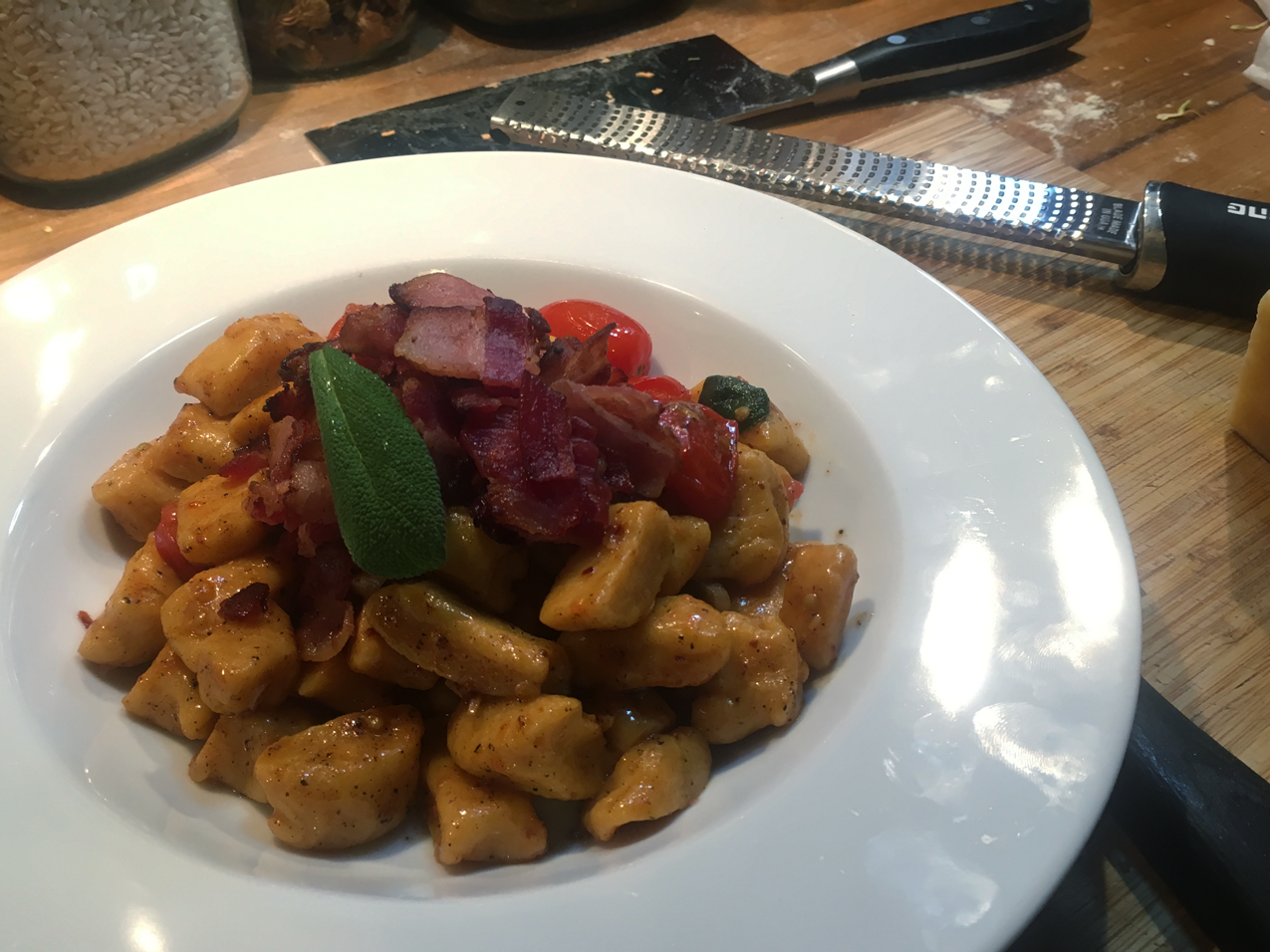 Gnocchi is Italian potato pasta cut into little thumb-sized pieces. Depending on who you ask, you'll get different answers on how much flour you should add. Some claim the major part should be potatoes. Others claim you should add more flour. Some add regular wheat flour. Others use durum wheat flour. Some add eggs others don't. No different than food debates in general, and just like always, it's a matter of taste. I don't like soft mushy pasta hence I make my gnocchi with a lot of durum wheat flour and an egg.
In this recipe, I won't even be using potatoes in the classic sense. I'll be using sweet potatoes (which are actually a type of berries but let's not get into botanic discussions now). They don't have the starch regular potatoes do, so you really need to add a lot of flour to even keep the gnocchi together.
The sweet potato gnocchi
for several people depending on the hunger level but you can keep the dough, it just gets better
A large sweet potato
durum wheat flour
1 egg
Peel the sweet potato, cut into pieces to speed things up, and boil them in water (unsalted, because you'll boil the finished gnocchi in salted water later)
When the sweet potato is really soft, drain it and put it into a stand mixer. Add an egg and about 300 grams of flour to begin with. Start kneading the dough using the dough hook. If you don't have a stand mixer, use your hands. The sweet potatoes should be so soft, that it will just mush without any problems.
Here comes the thing… As long as it's really soft and sticky, like a potato mash, you need to add flour. Keep adding flour. There's lots of water in the boiled sweet potatoes, so you don't need to add liquid.
Once you have an actual dough that comes together, you're done. Cover it and let it rest for about an hour.
After an hour, take a piece of dough, make a long snake out of it, and cut it into thumb-sized gnocchi.
For the sauce (2 people)
3 salvia leaves
15 San Marzano cherry tomatoes (you can use other tomatoes, but these are really good for this type of stuff)
200 grams of bacon (pancetta? guanciale? Listen, we're using bacon here. The dish is already de-italianfied so we might as well keep going)
Maybe a pinch of salt at the very end (there are a lot of salty things being added along the way)
Pinch of black pepper
A drizzle of olive oil
1 garlic clove
chili flakes
Tomato paste
Cut the bacon into 3 cm pieces.
Fry the bacon into the fat has melted and the bacon is crispy. Put it on a piece of paper, but keep the fat in the pan. The bacon will crisp up when it cools a little, so don't over-fry it. It should be dark, not black.
In the fat remaining in the pan, add chopped garlic, tomatoes cut in half, a pinch of chili flakes. Let it fry for a few minutes on medium-low heat until everything is soft.x
Now bring a large pot of water to a boil and add a lot of salt in it. Don't be too careful with the salt, it's a lot of water!
Boil the gnocchi for about 4 minutes, until soft but not too soft. Try one. Is it done all the way through? Then it's done.
The frying pan with your tomatoes being all soft, is a little dry now. So add some of your gnocchi water. It's salted and it has some starch in it. That's good for flavor, and to make your sauce less dry while thickening it up at the same time. The Italians do it with most pasta sauces.
Now add gnocchi to your sauce and give it a good stir.
Onto a plate and drizzle a little olive oil on top. Now what? Where's the bacon? It's going on top of it!
Eat!