Steamed and deep fried shrimp dumplings.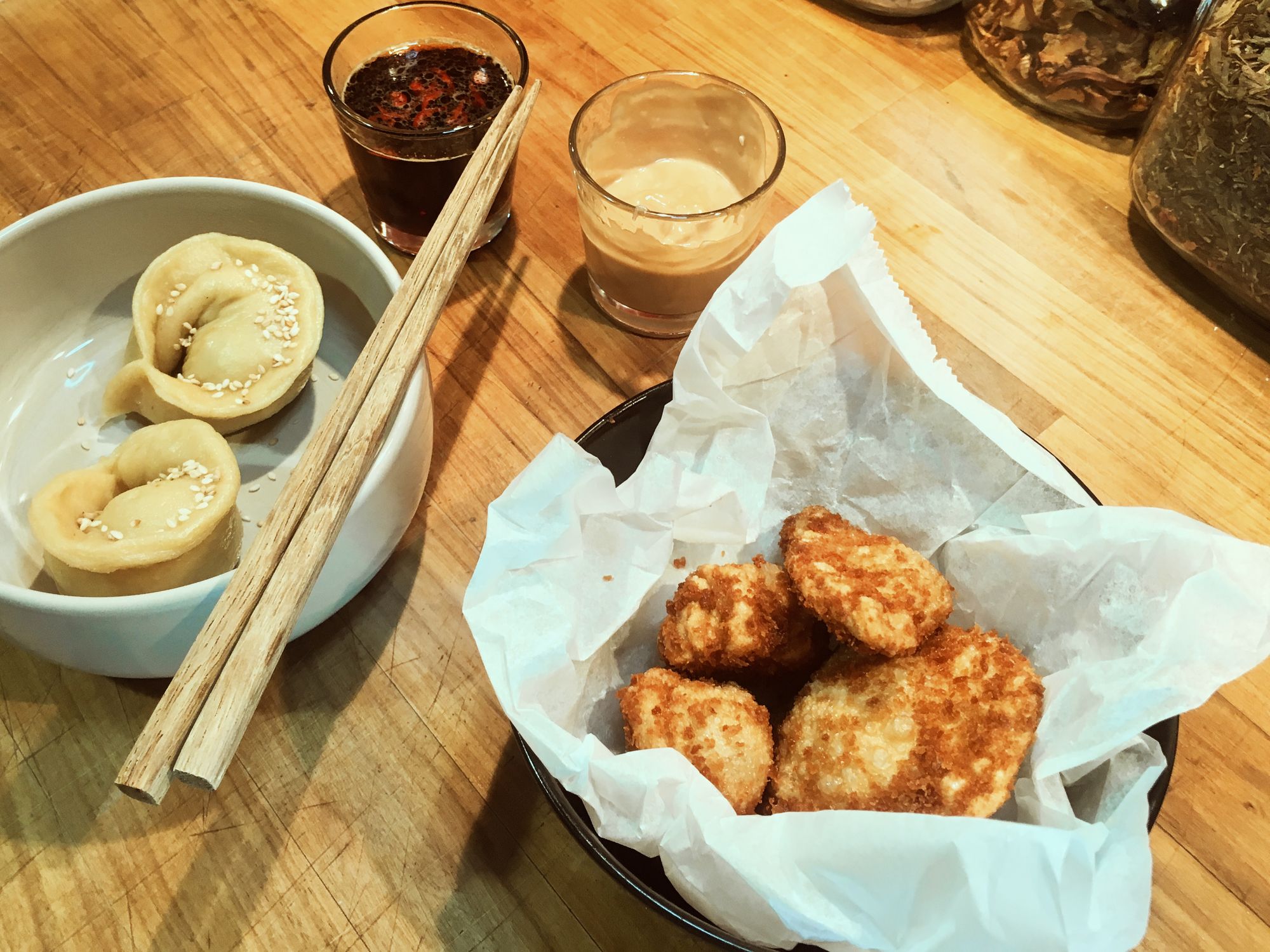 Who doesn't like dumplings? Who doesn't like deep fried food? And who doesn't want to combine the two? Here is my recipe for steamed and deep fried shrimp dumplings. That's the introduction to this recipe. Like, really. That's it.
Ingredients for the shrimp dumplings
Pealed gambas / tiger shrimps (100g per person)
Flour
Water
Dark (Chinese) soy sauce
Light (Japanese) soy sauce
Chilis
Fresh coriander (or parlsey if you hate coriander)
Sesame oil
Sugar or Honey
Breadcrumbs
Rice vinegar (or any vinegar)
Mayonnaise
Garlic
Spring onion
Egg
Vegetable oil for frying
How to prepaqre the shrimp dumplings
About 200 grams of flour mixed with 2 eggs and some water. Knead until incorporated and smooth. Add more water if needed.
Put dough in plastic wrap. Leave for 3 hours until the gluten has developed.
Take about 100 grams of shrimps per person, if you're really hungry. Chop them up into fine pieces. All mushy.
Add a dash of dark Chinese soy sauce, some honey, a couple of drops of sesame oil, grate some chili, grate some garlic, and chop up a small onion. Add a handful of breadcrumbs. Stir it all around until you have a dark shrimp paste.
Knead out the dough until it's really really thin. Cut out large rings using a cookie cutter. Add some shrimp paste, and close them. First like a Polish pierogi/dumpling. Then attach the ends to each other to make a large tortellini kind of dumpling. Or any dumpling you want.
Make a simple dipping sauce from honey, light soy sauce, chopped chili, some rice vinegar and a couple of drops of sesame seed oil.
Steam dumplings. Now they're done. Unless…
… you fill saucepan with oil. Heat it up to about 170 degrees C.
Mix breadcrumbs with water and an egg.
Dip the steamed dumplings in the breadcrumb and egg mix.
Deep fry for about 1-2 minutes until crispy and brown.
Serve with a dip made with mayo, some light soy sauce and a couple of drops of sesame seed oil.
Top it all with fresh coriander and perhaps some sesame seeds or spring onion or whatever you have at home.