South Carolina style mustard ribs
They will pwn you with facts and logic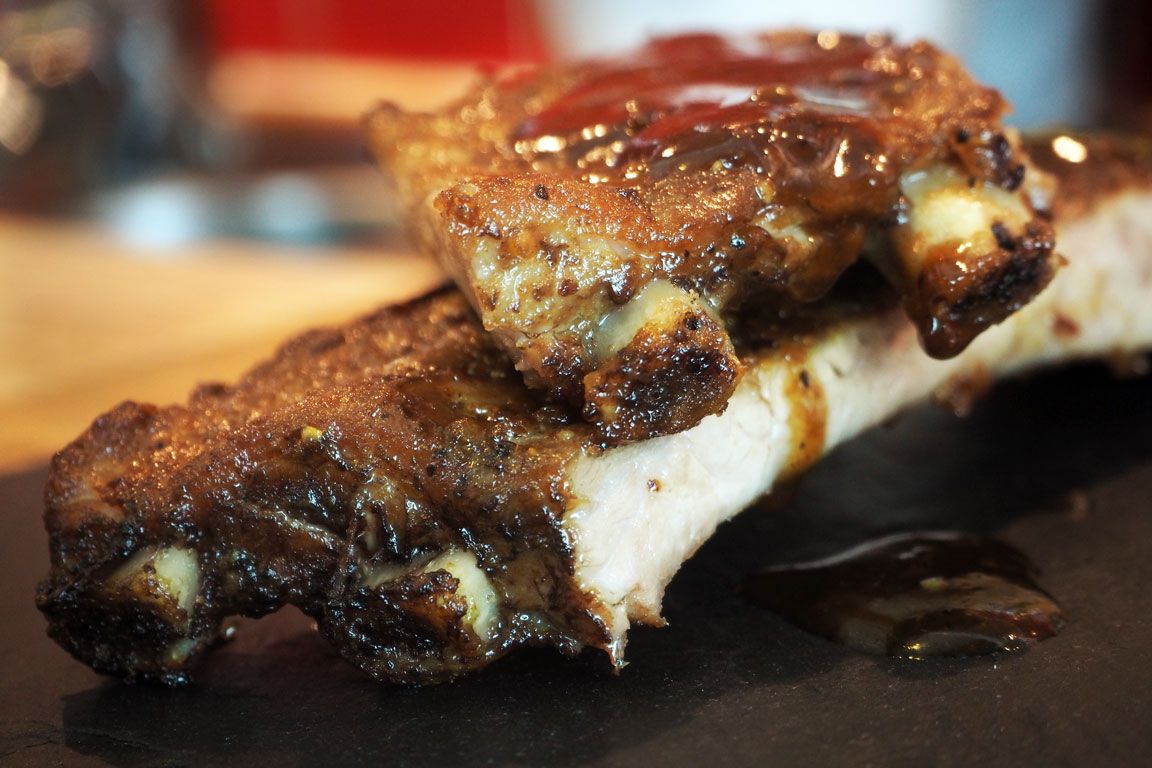 Americans know their BBQ. For the rest of us, who don't live in the BBQ center of the world, nor have a BBQ to put the meat on, nor the weather to cook in, this is second best. I love the tomato based BBQ sauces of the north of the US, I love the sweet and smoky BBQ sauces of Texas, and I also love the very special way of doing this stuff in South Carolina. They use mustard sauces. Based on the whole concept of making mustard ribs for a BBQ, this is my take on it. And I've thrown in some Syracuse salt potatoes and what not. You know, it's ok to mix food cultures, some call it "fusion". I just call it… good.
Ingredients for the mustard ribs
A large slab of baby back ribs, or any pork ribs, if you can't get a hold of baby back ones (they're ribs from a pig, with the thicker part cut off).
A teaspoon of yellow mustard seeds
A teaspoon of brown mustard seeds
A teaspoon of black pepper
1/2 teaspoon of cayenne pepper in powder form
1/2 teaspoon of onion powder
1/2 teaspoon of garlic powder
2 large teaspoons of muscovado sugar (like, dark packed brown sugar, it's sugar with molasses still in it)
Some salt
Large chunk of butter (like, two tablespoons)
A twig off fresh rosemary
A tablespoon of olive oil
1 fresh clove of garlic
3 tablespoons of apple cider vinegar (or any light vinegar)
A tablespoon of French style mustard (the tasty one)
1/2 deciliters of apple cider vinegar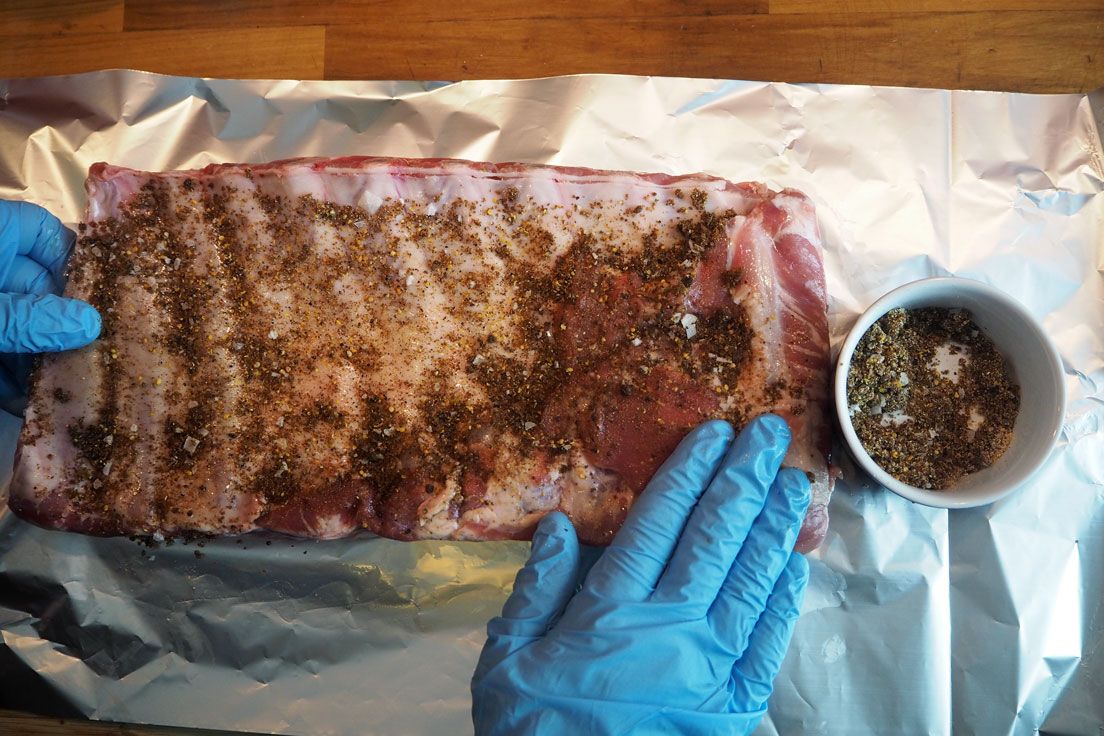 Instructions for the mustard ribs
Take all the spices except the sugar, and crush them in a mortar.
Add the sugar.
Take half of the mix, and rub it onto the slab of meat, both sides.
Rub salt onto both sides with about one large pinch of salt per side.
Pack the ribs into aluminum foil.
Set the oven to 120 degrees celsius, and put the ribs in there. Let them bake for 4 hours.
When the ribs are almost done, you can start making the sauce…
Take the other half of the spice and sugar mix. You might want to add a little more brown sugar, if you want a sweater sauce. Anyway… Into a pan.
On medium heat, add butter, olive oil, rosemary and freshly grated garlic
Fry it to release all the nice flavours.
Add mustard
Add vinegar for that tangy flavor
Now take out the ribs from the oven, and set aside. Pour the meat juices into the sauce pan.
Let it simmer until about half of the water evaporates, and you get a thick sweet sauce. You might need to add some salt to taste, but be careful. The meat sauce is already salty and so is the meat.
Paint the meat with most of the sauce, but save some for serving.
Turn the oven to maximum, and shove the painted ribs in there. Now be careful, the burn easily. After about 5 minutes, they should be done. The meat has retracted from the bones, and you have dark, almost black rims along the ribs, but without being burned.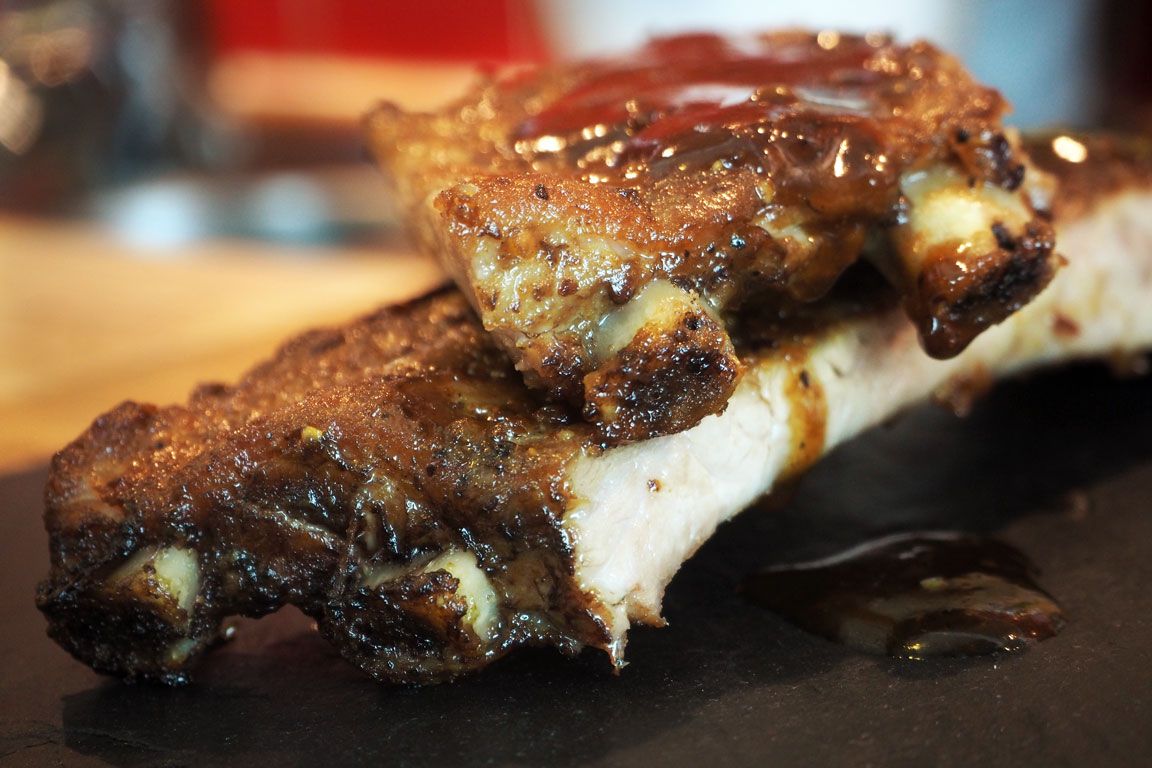 Coleslaw
Ingredients for the coleslaw salad
1/4 white cabbage
1/4 red cabbage
1 small carrot
Half a small onion
Two large tablespoons of sourcream
One large tablespoon of mayo
salt and black pepper to taste
A small clove of grated garlic
Juice from half a lemon
1 teaspoon of sugar
Instructions for the coleslaw salad
Cut white and red cabbage into fine strips
Grate the carrot into coarse strips
Finely chop the onion
In a bowl, mix all other ingredients until you have a smooth white sauce
Add the vegetables and mix it all around. Cover and put it in the fridge until it's time to serve. It will only get better from being there for a while, so do it early on in the process. Just after you've put the meat into the oven the first time around.
Potatoes
Small firm potatoes
Butter
Dill
A lot of salt
This is not rocket science. But, basically you want saturated salt water. So in room temperature (about 22 degrees celsius) mix salt into a large pot of water until it's not dissolving any more (just keeps forming islands of crystals on the bottom of the pot).
Bring the salted water to a boil
Add the potatoes with skin on. If you poke them, salt water will get in and you'll have a way too salty potato. But if you don't poke hole in them, they'll be just perfect. Trust me.
When you know the potatoes are done (if you need to poke a hole to check, make sure to discard that one test potato), get rid of the water. And if you look closely, you'll quickly see that salt crystals start forming a crust around the potatoes.
Traditionally, this is eaten as a snack with melted butter. I wanted some dill in my butter, because dill and butter is a great combination with potatoes. So, chop up some dill, a large chunk of butter, and into the micro until it melts. Or in a saucepan. Whatever works for you.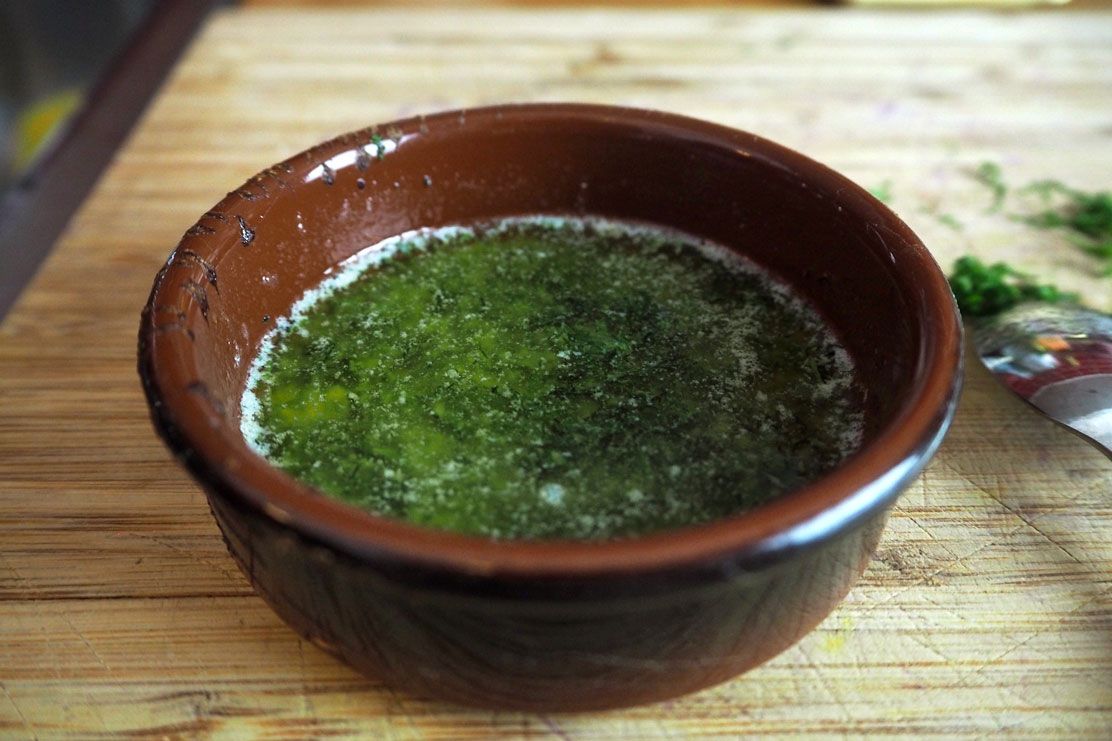 Serving
Cut the slabs of ribs into smaller pieces and stack them on the plate. Serve with potatoes, and melted dill butter on the side, as well as some coleslaw. Oh, and remember when I told you to save some of the BBQ sauce? Now is the time to use it. Pour some on top of the mustard ribs. Now this is good.