Red beet double goat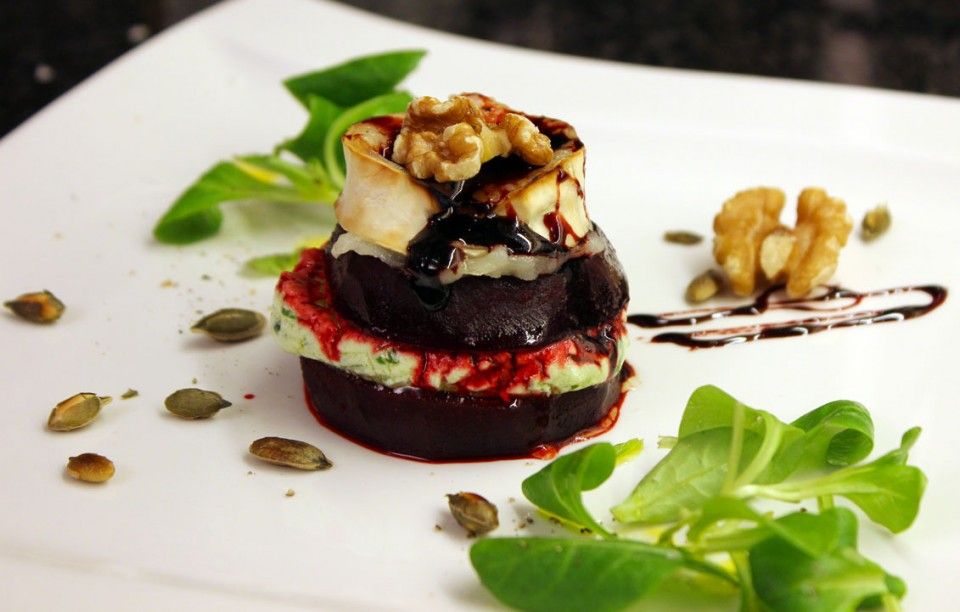 There is an amazing ingredient that we should all use more often. Cooking with it often results in red chopping boards and red fingers, and if you're not careful, you'll have a really bad time trying to get the red stains off your clothes. I'm not talking about cannibalism, I'm taking about the red beet. There are tons of different beetroot varieties, varying in flavor and visual appearance. The red one is perhaps the most famous one. Today we will use them to make a nice red beet starter dish.
In Sweden, "rödbetssallad" is a famous condiment, often served on bread together with cold meat balls. Now, the rödbetssallad is simply boiled and diced red beets mixed with a mustard flavored mayo. When I was a kid, it was very popular among Swedes. Today, you can still find it in every Swedish food store, but the modern urban international-culturally "fusioned food" (yes, it's a hipster expression, live with it) has marginalized the rödbetssallad into something of the past. Or at least, something you put on the table, together with some bread and cheap cold cuts, when you're having elderly people over for afternoon tea.
The original idea of boiled red beetroot with some kind of creamy texture added to it, is not a bad idea. As a matter of fact, it's a great idea. Elderly swedes with their rödbetssallad are not the only ones who get this. Red beets with chèvre cheese is a modern classic in many parts of the western world. So I wanted to do a variation of that very dish.
Because I love cheese in all its forms and shapes, I couldn't decide to go with only one. So why not go with two, I thought? That brings us to my latest invention, the "Red beet double goat". A small portion of it, is an excellent entrée. Make a bigger one, and put it on a bed of lettuce, and you have a dinner salad.
This recipe gives you for four red beet starter dishes, but you can easily scale the quantities from the top of your head.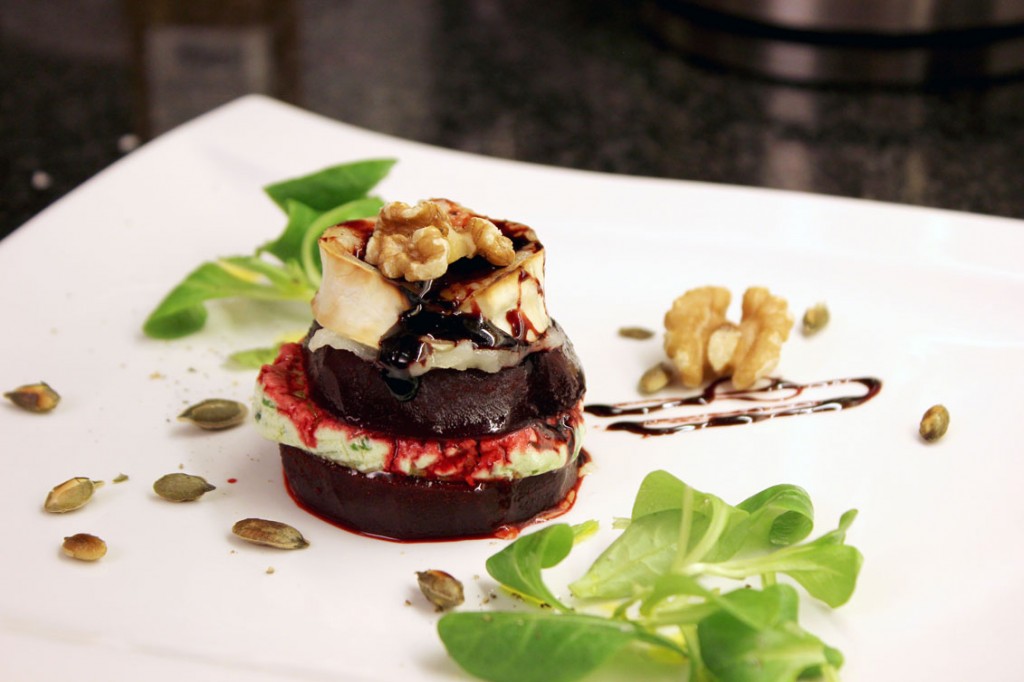 Time it takes to get a red beet starter dish:
10 minutes for preparation (peeling the beetroots, cutting them, and mixing the fresh goat cheese with chives)
30 minutes for cooking (once the log of chevrè has been thickly sliced and put in the oven, and the beetroots are boiling in their stock/buillon, this step is pretty much just a matter of waiting and making sure nothing burns)
4 minutes to serve (about a minute per serving)
Ingredients:
2 red beetroots
Fresh goat cheese (chevrè frais, shapes may vary but you want the one that has no outer "shell")
Log of goat cheese (bûche de chèvre, the one most none French are familiar with, a log with an thick outer layer)
A handfull of fresh chives
Some mâche salad
A couple of walnuts
A handful of pumpkin seeds
0,8 dl of honey (about 1/3 cup, or to taste)
2 cl of balsamic vinegar (about 2/3 oz, or to taste)
2 cl of olive oil (about 2/3 oz)
walnut oil
salt
stock cube (chicken, or if you want it vegetarian, vegetable stock)
How to make the red beet starter with goat cheese dish:
Peel the beetroots, and slice them into about 1,5-2 cm thick slices.
Place the individual slices into a pan, add enough water to cover, put in a stock cube and set the heat to high. Watch it, the water should almost evaporate. The beets should be done in about 15-20 minuters, but it's important that you try them to know when they're done. You want some chewing resistance, but you don't want them raw. Because we're going to use the juice from the beets, the timing must be perfect of having cooked beets and having almost no liquid left in the pan. Well, you could reduce liquid after removing the beats, but we're being efficient here. Add a little water if they're not finished cooking, and keep doing so until they are.
When the red beets are done, remove them from the pan and let them cool down on a plate. I can't emphasize this enough, do not wash the pan! Instead, pour balsamic vinegar, olive oil and honey into it. Let it simmer for a while. You'll have a beautiful, thick, sweet and sour syrup. It's truly amazing!
Mix the fresh chèvre cheese with the chives in a chopper/mixer.
In the oven, grill some slices of your log of goat cheese (one thick slice per serving)
Dry roast some pumpkin seeds in a hot pan. They'll start popping when they're ready, be careful so you don't burn them.
Spread the fresh cheese and chives mix onto a slice of red beet. You can use a pastry bag to do it more easily. You look cool while doing it. Look at me, I look like a real patissier.
Place a second slice of beet on top of the spread cheese. Like a sandwich.
On the very top of the tower, place a warm slice of grilled goat cheese.
Pour the beautiful, ruby red sauce on top of it all.
On the side, I put some mâche salad and a few walnut kernels. And the roasted pumpkin seeds. I then seasoned the salad with walnut oil and some kosher salt, but you can of course serve it any way you like.
Enjoy your red beet starter!