This used to be a poor man's meal in Sweden. I've raised it a level.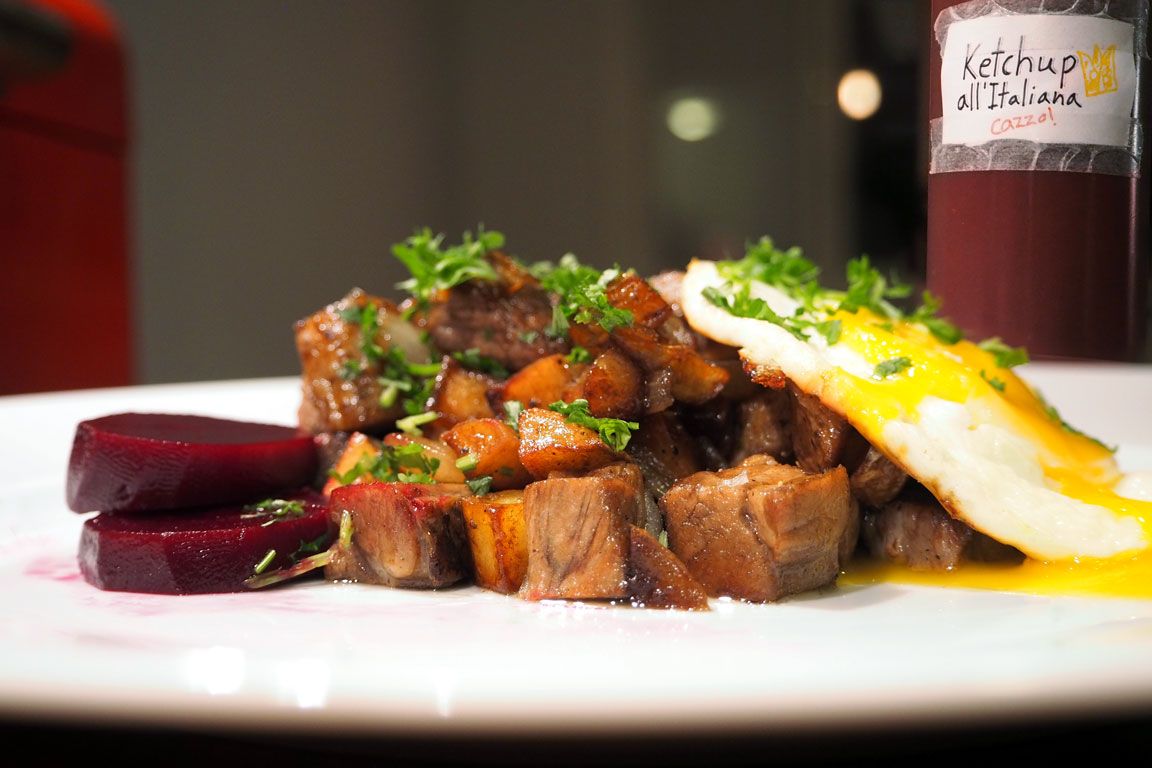 All countries have recipes that are based on leftovers. Italians have their frittata, Koreans have their bibimbap, the French make pain perdu (knows as French toast in the English speaking world), and Swedes have pyttipanna. Nowadays there are a lot of different brands and varieties of Swedish pyttipanna in the supermarkets in Sweden, but we're making our own. The basics of the Swedish pyttipanna are potatoes and meat, half half. And caramelized onion folded in. Sure, originally it was the product of leftovers, but I don't expect you to have beef and pork leftovers just waiting there to become pyttipanna. So here's a quick recipe for baked pork shoulder. As for the beef, go buy some unless you have any already.
Pork shoulder roast
You need
Now…
Take the slab of pork shoulder, and bind it. You need to do this because if you don't, it will fall apart. We're not making pulled pork here, we're making a pork roast.
Rub in plenty of salt.
Bake it at 175°C until the inner temperature is 80°C.
Let it rest for 15 minutes.
Now you have a wonderful pork roast to slice and eat.
Make sure to keep 150 grams of it for the pyttipanna.
We're making our own condiments here. Traditionally, Swedish pyttipanna is served with an egg (either a raw yolk or a fried egg), parsley, pickled red beets, and since the seventies Swedes have been pouring ketchup over it. Nothing wrong with ketchup, but let us keep it classy by making our own. That goes for the beetroots too.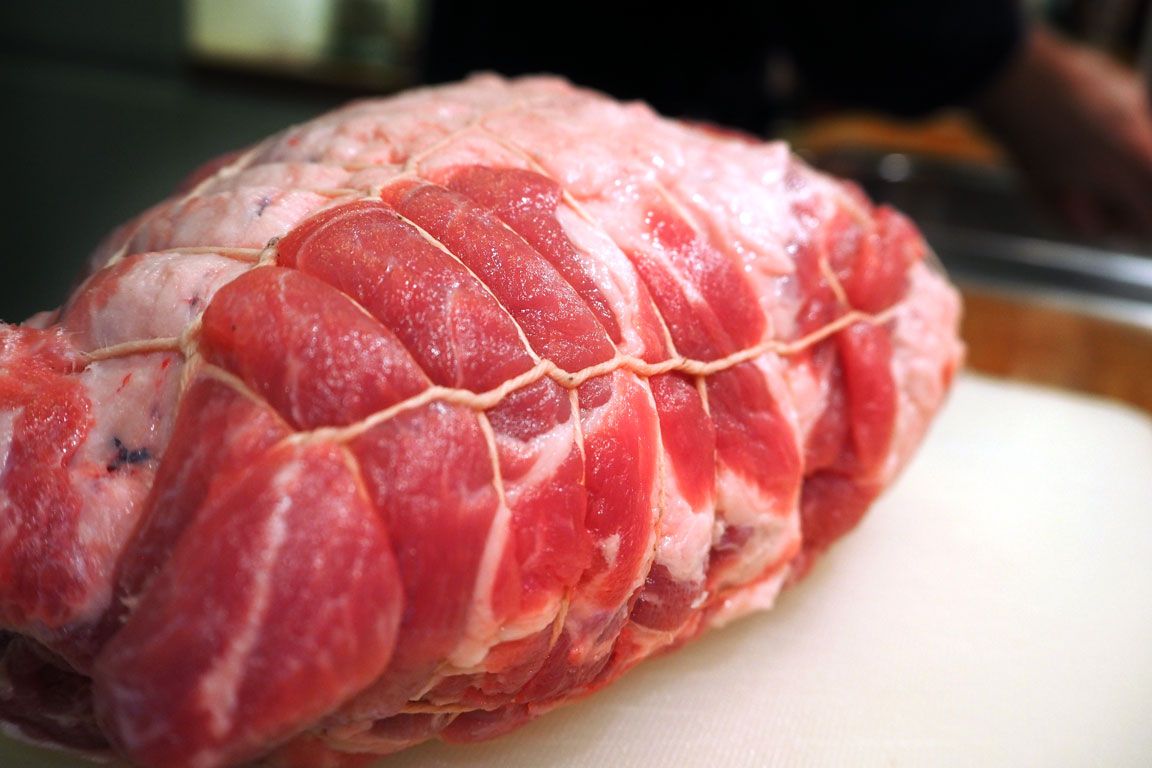 Homemade ketchup
You need
50 g of muscavado sugar for the wonderful molasses like taste
50 g of sugar for it's sweetness
5 g of onion powder because we're making a smooth ketchup here packed with onion flavor
0,5 g of garlic/garlic powder because it's good
1/2 piri-piri pepper or any other hot pepper you like because of the hotness
1 g of finely ground white pepper because I say so
1 g of vanilla because that will make things interesting
100 g balsamic vinegar because standard white vinegar is good but this is better
400 g of "passata di pomodoro", tomato sauce that is
Some water
Some olive oil
Pinch of salt to taste
This is how you make it…
Heat up some olive oil in a saucepan
Get all those dry spices in there, and let them fry without burning them!
Add the muscovado sugar and the white sugar
Add water and let the sugar dissolve
Balsamic vinegar goes in there too
The tomato sauce
Now, slowly let it boil until enough water evaporates to make it ketchuplike
Do the fork test, put a fork in there. If the gaps in the fork are not covered in ketchup, it's too liquid.
Once it passes the fork test, add salt to taste (about a pinch) and fill a container of some kind. I use a plastic squeeze bottle.
Refrigerate until it's time to use it over you pyttipanna or whatever you want with your ketchup.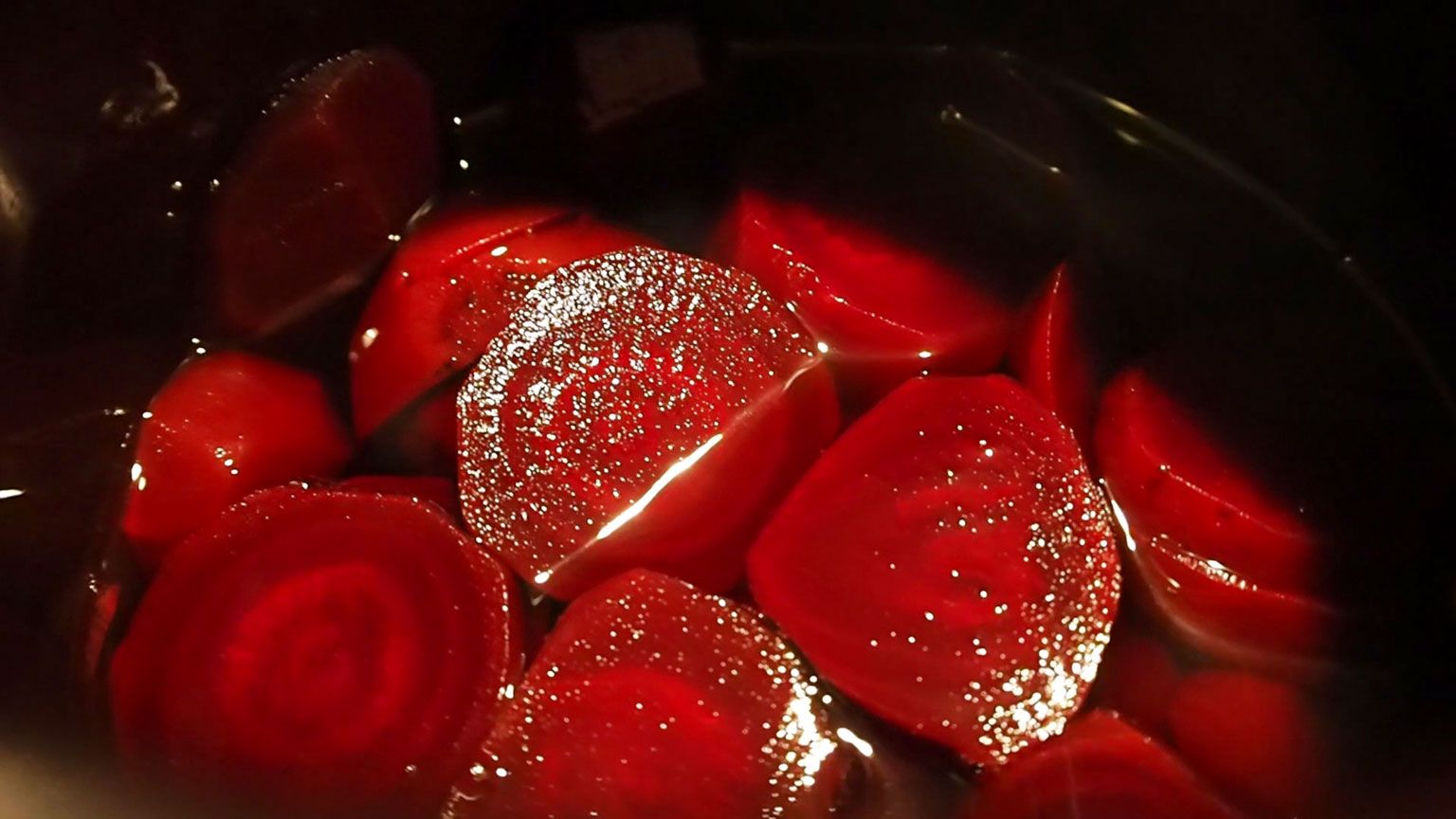 "Inlagda rödbetor" (Swedish pickled red beets)
500 g of red beets, peeled (some boil them before peeling, but this works too)
250 g of red water (you'll have plenty of it after boiling the beetroots)
250 g of white vinegar (we're talking the distilled, really strong one. If it says 12% on it, use as is. If it says 24%, then delete it with water before use)
2 cloves
225 g of sugar
2 white pepper corns
2 allspice
Now the method…
Peel the beets, and boil them in salted water
When the beets are soft, keep 250 g of the water and combine with the spices, sugar and white vinegar.
Let the liquid boil to dissolve the sugar and have those spices release some flavor
Meanwhile, slice the beetroots and put them in a jar.
Pour the sweet and sour liquid over the sliced beetroots until fully covered.
Refrigerate for at least 24 hours.
Swedish pyttipanna recipe
Ingredients for two people
150 g of pork (why not a piece of that baked pork shoulder from yesterday?)
150 g of beef (I'm sure you have some)
300 g of potatoes
1 large onion
1 bayleaf
Lots of butter
Lots of oil (rapeseed oil preferably, or any oil suitable for high temperatures)
5 dashes of Worcestershire sauce (about 2 tablespoons)
Two eggs to serve with, either fried or just a raw yolk on top of the pyttipanna
Fresh parsley
Let's do it in batches, all separated. It will get a wonderful texture, instead of having the ingredients boil in each others juices.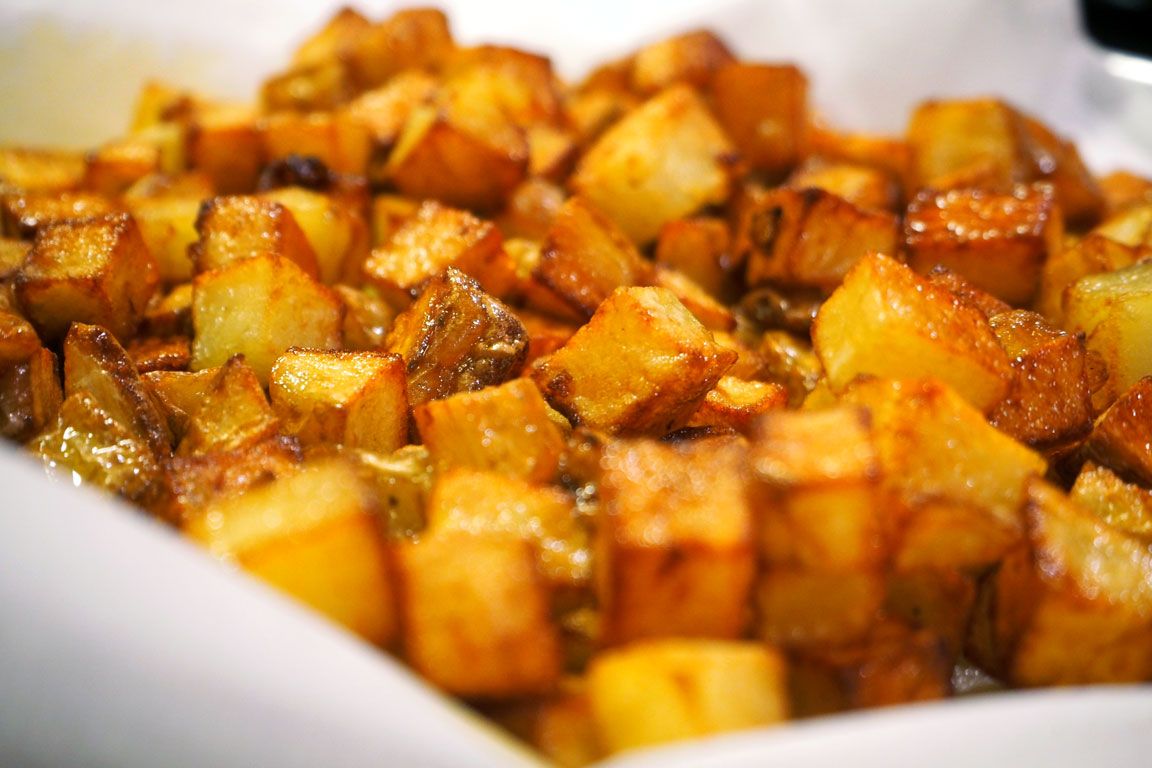 Instructions
Chop the onion and fry it on low heat in some oil and a bayleaf
Sprinkle a teaspoon of sugar over the onion, it will help it caramelize
Dice the potatoes
Cover a pan with a ridiculous amount of oil, and fry the potatoes in it until golden brown all over Set the potatoes aside on a paper towel
Heat up the pan again to very high (there should be enough oil left in there for the meat to fry in)
Dice the beef. I use a sirloin cut, you can use beef you have laying around but make sure you left it in room temperature for about 20-30 minutes, or else it will cool down the pan and start boiling it its own juices, we don't want that. Anyway, when the beef has a nice color, set it aside quickly. Don't overfly it, you just want a nice crust, nobody wants any "well done steak" here!
Dice the pork (in my case, pork shoulder, but you can have any pork you want)
Time to assemble it all… Melt butter in a large pan. Lots of it. Put it all in there, pork, beef, potatoes and caramelized onions. No need for frying it thoroughly, all the components are already done, just make sure the food is hot.
Worcestershire sauce because of it's wonderful umami and goodness
Salt and freshly ground black pepper to taste
Serve with a fried egg or a raw egg yolk, pickled beetroot and home made ketchup.
Chop some parsley, and sprinkle it on top of the pyttipanna upon serving.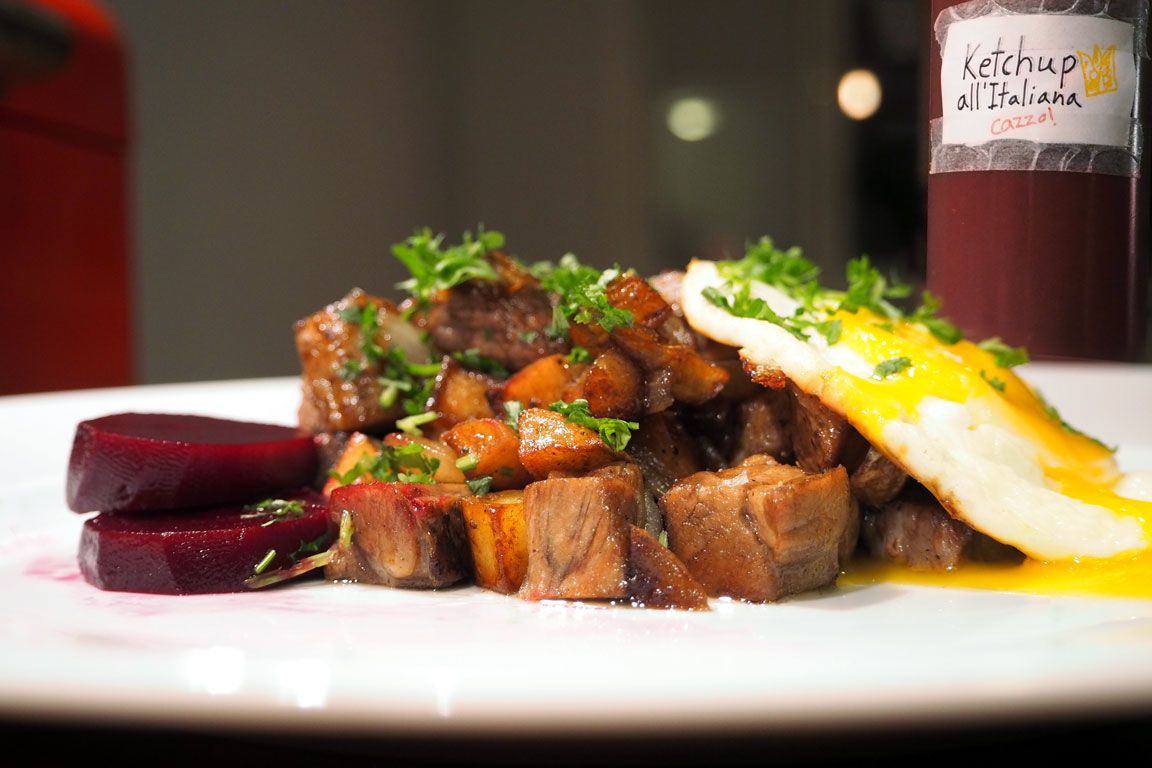 There you go, you're a Swede now! Drink milk, Swedes love drinking milk with their food, even grownups.