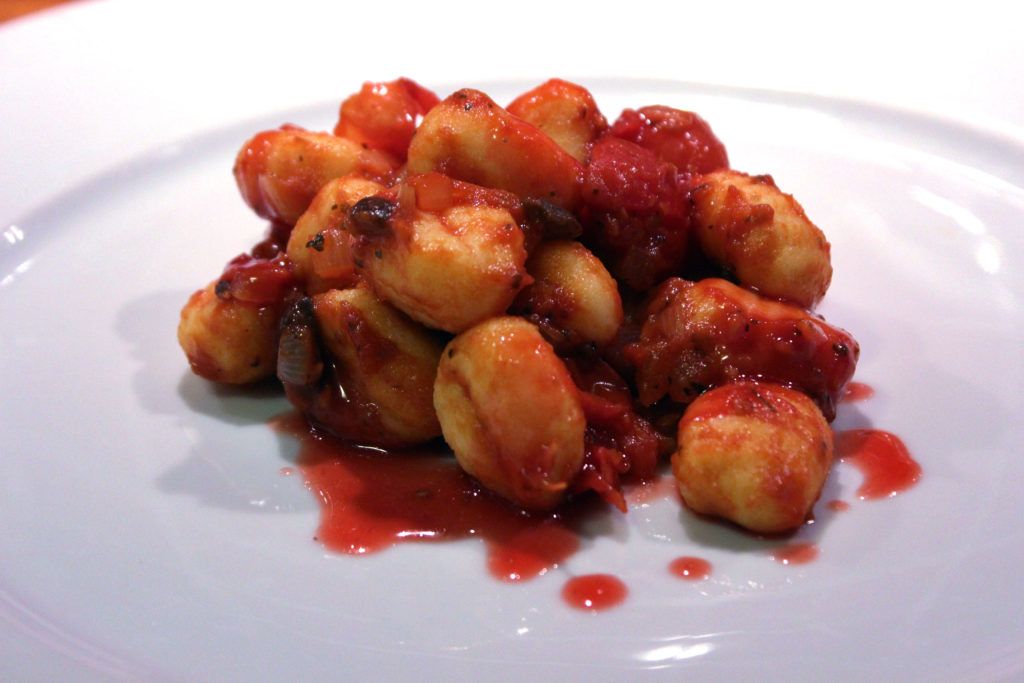 Puttanesca is usually a sauce served with spaghetti, made of tomatoes, olive oil, anchovies, capers, and olives. I decided to craft homemade gnocchi to go with this delicious sauce. Here is my gnocchi alla puttanesca recipe.
Prepare the gnocchi
This yields about 2 portions of gnocchi. You can double it or triple it or whatever you want to do to make more gnocchi.
300 grams of potatoes (that's about 2 normal sized potatoes)
100 grams of wheat flour
1 large egg
water
salt
Now…
Do NOT peel the potatoes! All the good potato flavor is in the potato peel. Just wash them thoroughly, don't leave any soil on them!
Boil the potatoes in plenty of water with plenty of salt in it.
Into a large bowl, mash the potatoes (with the peel!), add flour and egg, and keep mixing until you have a nice ball of dough.
Roll the dough into a long roll and cut the roll into gnocchis. If you want to be fancy, you can push each gnocchi with a fork and "roll" it on the fork. It will give them a traditional Italian gnocchi shape, but who cares, really?
Dust the gnocchi with flour, and let them be. It's ok if they dry out a little, it makes them set and gives them a better texture when boiled.
Leave the brown water, it has wonderful potato flavor. Don't throw it out, you'll be boiling the gnocchi in there.
Prepare the puttanesca sauce
200 grams of smoked ham
A handful of black olives (about 20 of them)
Two handfuls of cherry tomatoes (about 20 of them)
1 onion
3 cloves of garlic
1 tsp of dry oregano
1 tsp of dry basil
4 tbsp of tomato concentrate
1 tbsp of packed brown sugar (the moist Muscovado sugar is great!)
1/2 liter chicken stock (if it's salted, then don't add more salt. If it's not, add a pinch or two at the end of the sauce making)
2 tbsp capers in vinegar (plus a tablespoon of the capers vinegar from the jar). But only if you really like capers. I do, but I've noticed that many people don't. So if you're making it for guests that refuse to eat capers, just add balsamic vinegar to give the sauce some acidity.
This is how you make it:
Chop the onion, ham, olives, tomatoes and garlic. Fry in some olive oil on medium heat until soft.
Make a hole in the middle of the pan, and add the paste and the oregano and basil to it. Raise the heat for a minute or so, until the tomato concentrate smells a lot. It's good just before it burns, so be careful.
Add the chicken stock to it all and stir well. Now lower the heat to medium-low and let it simmer for 20 minutes until everything softens and melts into a nice thick sauce.
Prepare the anchovy sauce
Normally, you'd mix anchovy into the sauce, but we'll do a fancy version with a rich "anchovy jus" on the side.
Ingredients
Whatever vegetables you have in your refrigerator. Onions, carrots, aubergine, cabbage, tomato, red beets, bell pepper, garlic, just use it all! And if you happen not to have vegetables laying around, then buy 1 onion, 2 carrots, 1/2 aubergine, 1/4 small cabbage, 1 tomato, 1 red beet, 1 bell pepper and 3 cloves of garlic.
Some olive oil
Water
Nori (Japanese roasted seaweed)
Anchovy in oil
Flour to thicken the sauce
Instructions
Use a mandolin or a sharp knife to thinly slice everything. Put it into a large pot.
Drizzle some olive oil over it and mix.
Turn the oven to 150 degrees, and put the whole pot in there.
Leave it there for 5 hours, mixing it around now and then. It should all be very roasted, almost burned. All dry and nasty.
Add one sheet of nori, shredded into smaller pieces.
Pour water into the pot so it covers all the vegetables. Put it on the stove top and boil for 20 minutes with the lid on.
Use a sieve to get all the good juice out, and discard the vegetables.
Boil the vegetable stock until about half the water evaporates. You'll be left with an intensive flavor, right? Well, if you try it you'll notice it lacks salt. That's ok, we'll use the anchovy for that. Put in a large filé or two or maybe three, and some of the oil from the anchovy jar, until the sauce gets a salty good flavor. Mix it around, the fish will dissolve.
Let it simmer for another couple of minutes. If it's too liquid, use some flour to thicken it.
Assemble the gnocchi alla puttanesca dish
Bring the brown potato water to a boil. It's already salted, so leave as is.
Add gnocchi and boil for 1-2 minutes. 2 if you like them soft. 1 if you like them with a nice chewy texture. I only boil mine for one minute.
Keep the sardine sauce warm while doing all this.
Add the gnocchi to the tomato sauce, and plate it.
Drip some of the intense vegetable and anchovy sauce over your dish.
Serve your gnocchi alla puttanesca with some freshly ground black pepper.