Pumpkin cake with pumpkin spiced frosting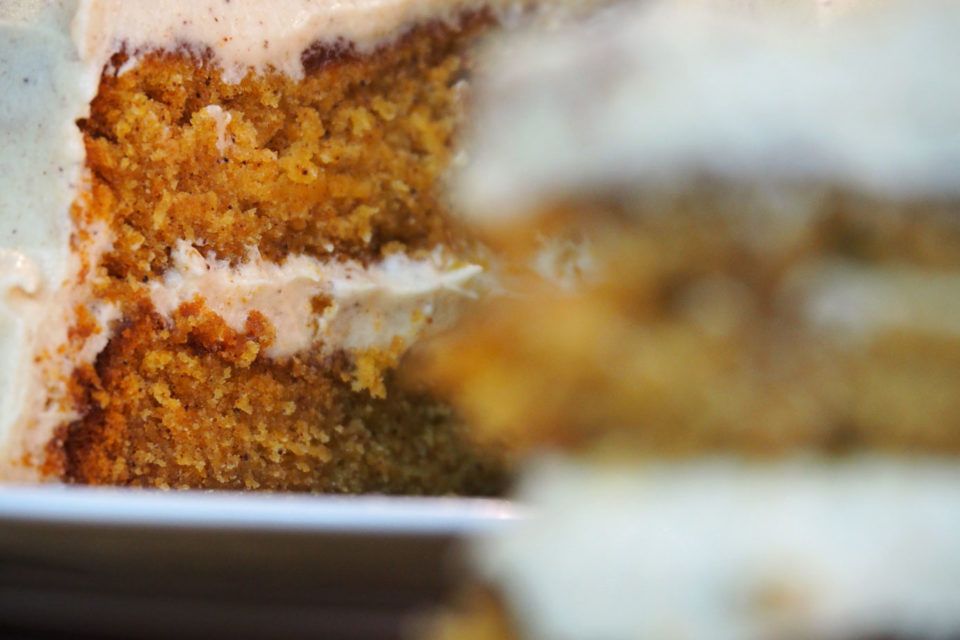 Pumpkin spice is loved by Americans and it's not a new thing. Amelia Simmons mention it as far back as 1796 in her book American Cookery. Cinnamon, nutmeg, ginger, cloves, and allspice. There are different variations, but it's basically a spiced cake. Swedes would associate most of those flavors with Christmas. I don't know about you. Anyway, there was a time in the mid-2000s where everything was "pumpkin spiced". Latte, frappucino, cookies, and whatnot. There's still that, but at least people have calmed the fuck down somewhat.
Anyway, I wanted to make an American style pumpkin cake. Pretty much a carrot cake, but with pumpkin instead. And I've removed some of the classic pumpkin spices to bring out the flavor of the pumpkin. Which, by the way, will be a fresh one. Not canned as most American recipes out there call for. And, as always, the secret to a moist sponge cake is fat. Lots of fat.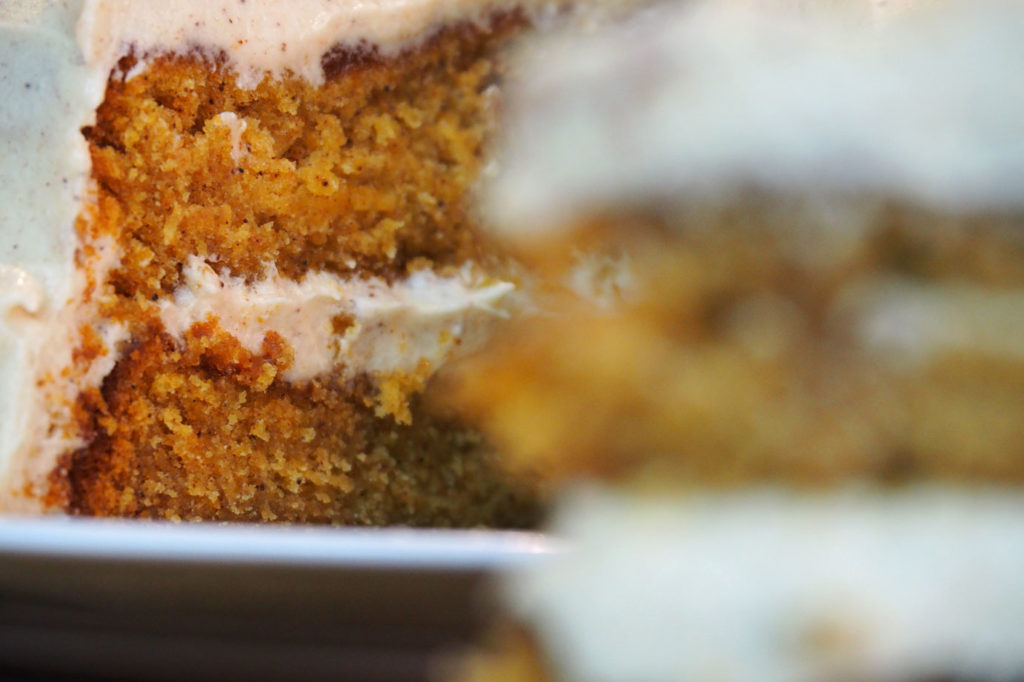 425 g of pumpkin

360g of

 

wheat flour

15g

 of 

baking powder

5g of

 

baking soda (yes, both powder and soda)

6g of

 finely ground 

cinnamon

2g of finely ground 

nutmeg

6 g of finely ground

 dry ginger

400 g

 

of sugar sugar

3 g of

 

salt

170 g of

 

unsalted butter

4 

large eggs (a large egg is about 60 grams, so you do the math)

55 g

 of 

canola oil (or any neutral vegetable oil)

120 g of

 full 

milk

6g of

 

vanilla extract (make your own by mixing vanilla pods with vodka and leave for a few weeks, then sieve it, or buy a bottle)
FOR THE PUMPKIN CAKE
Cut the pumpkin into large pieces and remove the seeds and stringy stuff in the center.
Bake the pumpkin on 125 degrees C for about an hour, until very soft.
Scoop out the soft baked pumpkin from it's hard peel, and put into a container. Weight it. You want 425 grams of this. Puré it.
Add all the liquid ingredients into the puré and whisk it all up thoroughly, until it's kind of fluffy.
Combine spices, flour and sugar in a stand mixer. Or by hand, whatever.
Add the butter little by little while mixing. Make sure the butter is refrigerated but left outside for about 5 minutes. Too soft, and it won't turn out well. Too hard, and you can't combine it with the flour. What you're looking for is a sand texture. The dry ingredients will attach to the finely divided butter and it all feels like sand.
Now, while mixing, add the liquid ingredients to the dry ingredients little by little until fully combined. Beat it fiercely while you do! Or the other way around, depending on who you ask. I don't care. As long as you beat it all fiercely.
Preferably, you'll have two 20 cm round cake pans. If you only have one, that's ok but you'll have a harder time getting this to work. So, you grience the pans with butter and then you sprinlke a little flour in there, and hit the pan upside down against the table so that excess flour is removed and you're left with two evenly greased and floured cake pans.
Pour half of the batter into one pan and the other half into the other.
Bake in the oven on 175 degrees C for about 30-35 minutes. Even better, use a thermometer. When the center of the cake has reached 90 degrees, it's done. Take it out!
Leave the cakes to cool down under a tea towel. They'll get firmer and they'll keep the moist inside. Unlike what happens if you cut them open the first thing you do.
FOR THE SPICED CREAM CHEESE FROSTING:
380 grams of unsalted butter, softened. And by softened, I mean you've left it out in room temperature for 2 hours.

340 grams of cream cheese (or mascarpone if you're in a country that doesn't have the American style cream cheese)
4 grams of cinnamon
1 gram of nutmeg
2 grams of ground dried ginger
8 grams of vanilla extract
500 grams of powdered sugar. If you don't use powdered sugar, you'll have a bad time when biting through the frosting. You'll be chewing granulated sugar. That's not very pleasant. Many American recipes will call for more sugar than this. But trust me, you don't need more. It's very sweet as is.
Alright, just turn a stand mixer on medium and beat the cream cheese and butter until fully combined. Then add sugar and spices and keep beating until you have a fully combined frosting. Actually, you can just pour everything in at once and turn on the stand mixer, and it will reach the desired consistency eventually.
ASSEMBLING THE PUMPKIN CAKE:
Cake from cake pan number one onto a plate.
Add a thick layer of frosting on it.

Add cake from pan number two on top of it.
Now cover the whole thing, top and sides, with the rest of the frosting.

If you want a nice decoration, cut out a paper stencil, put it on top of the pumpkin cake, sprinkle some cinnamon and blow away the excess spice from the paper before removing the paper. Tadaaa!