A variation of the Italian old people's cake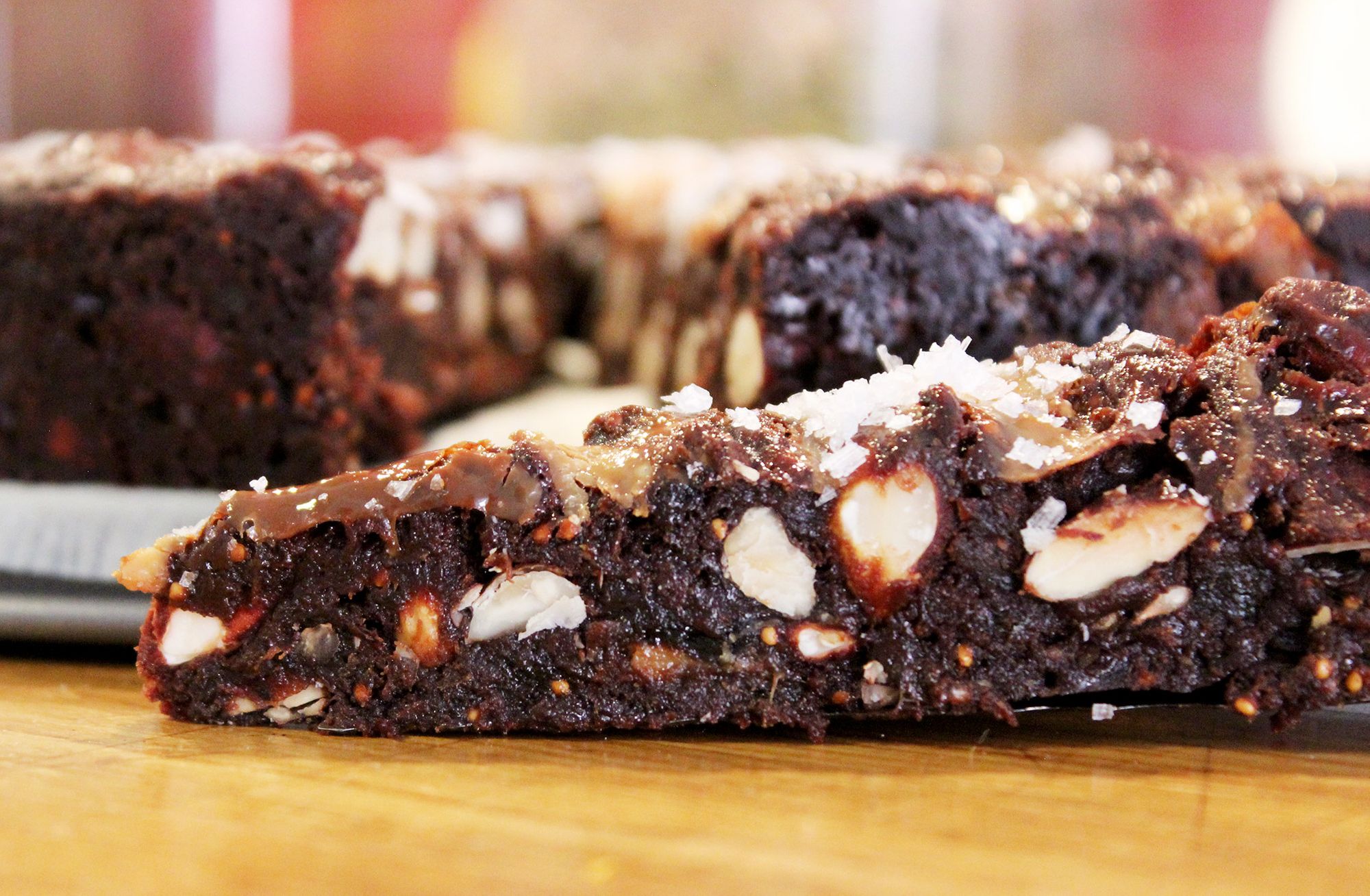 Panforte is one of those "old people's cakes". You know, tons of spices, weird texture, usually eaten on certain holidays. But old people's cakes are also cakes, and they're really nice to have with coffee after dinner. There are several varieties of this Siena specialty, but one thing is for sure. Of course, Italians will claim my version isn't "the real deal". So if you want "the real deal", find another recipe. When you're tired of doing the "real deal" over and over again, come back here and try something else. I don't add cloves, because they tend to take over. I add more dried fruits than what is custom, which gives the cake a softer texture altogether. And I'm adding condensed milk and salt on top of it, to really piss off the Italians. Result? A great panforte variety.
Ingredients for a panforte
100 g almonds
100 g haselnuts
100 g dried apricots
100 g dried figs
1 orange (get an organic one, you're going to use the zest!)
1 dl wheat flour
2 teaspoons of ground cinnamon
½ teaspoon of ground nutmeg
½ teaspoon of ground coriander seeds
1 vanilla bean
A pinch of salt
1 dl honey
1 dl sugar
100 g dark chocolate (70% or over)
Milk powder (optional)
Sweetened condensed milk
Large flake salt (e.g. gourmet sea salt)
How to prepare a panforte
Prepare the "dough"
First, roast the almonds and hazelnuts in a dry pan. Careful so they don't burn.
In a saucepan, heat up honey and sugar and let it simmer. Again, careful so you don't burn the sugars.
Peel the zest of the orange and set aside.
Squeeze the orange into the saucepan
Add all the spices into the saucepan
Now, let simmer until the liquid from the orange reduces. About ten minutes. Some will claim that the spices render the mix bitter if simmering for that long, but that's not the case. What renders it bitter is you burning the sugar, that's what.
Add the lemon zest.
A pinch of salt (but a very small pinch, you'll use salt later)
This is a good time to set the oven to 150°C.
Now is a good time to prepare your cake tray by cutting a baking sheet into a round base to put on the bottom of your tray (or square base if your tray is squared), and to cover the sides with the baking sheet as well. Helps a lot when removing the cake later.
Add the chocolate into the saucepan, and stir until it melts and incorporates. You now have a dark sweet and aromatic thick sauce. Good. However…
… If you want a cake lighter in color, with less "bitter grown-up tones", you can add milk powder. The more you add, the more milk chocolate like the cake will be. And because the powder doesn't have any liquid in it, it won't really change the texture of the cake. So go ahead.
Add the flour and mix thoroughly.
Finely chop the dried fruits.
Add chopped dried fruits and your roasted nuts and almonds into the saucepan and combine thoroughly.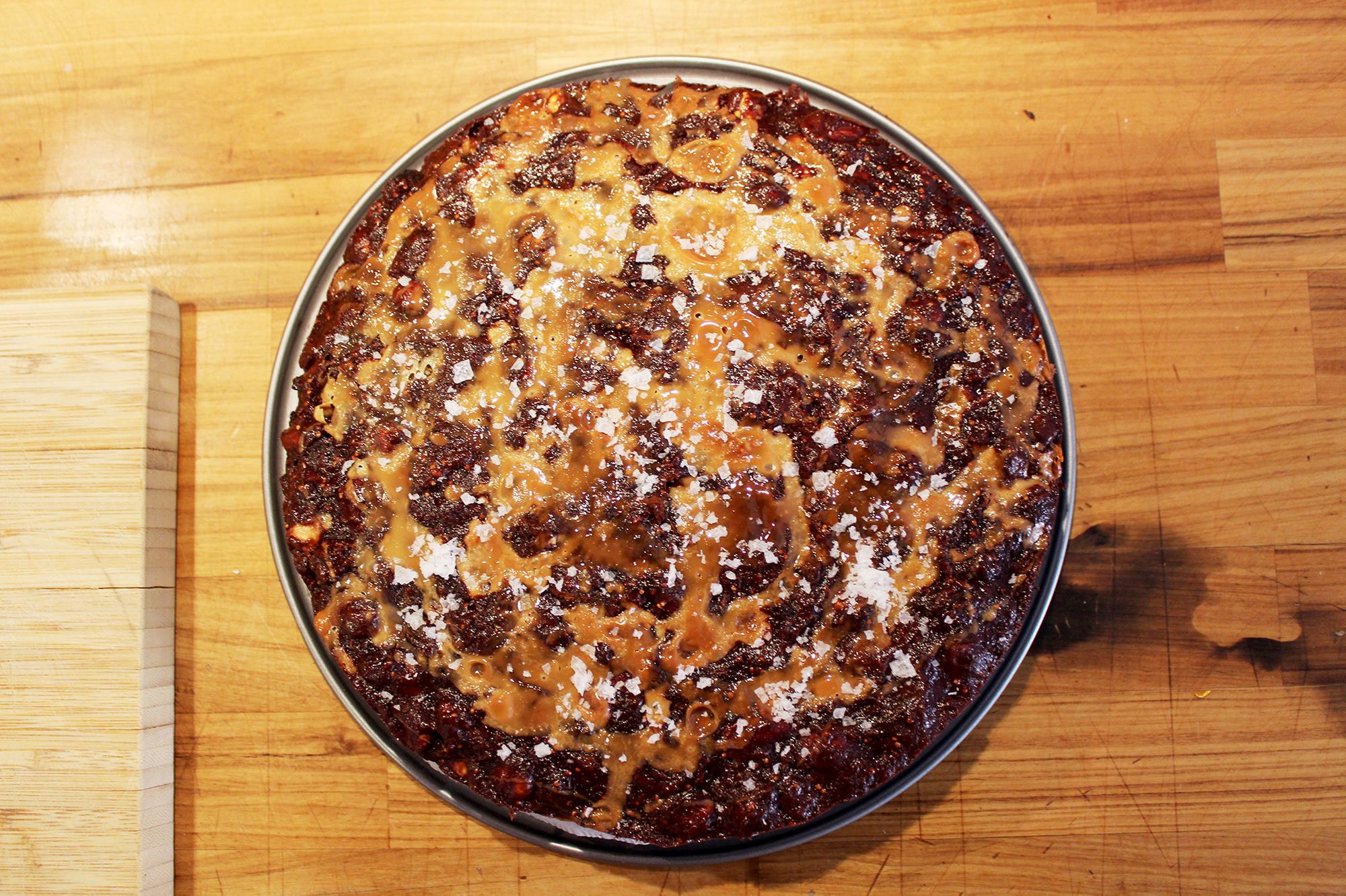 Bake the panforte
Pour into the "baking sheeted" cake tray, and flatten it all out as well as you can. The cake doesn't need to be thick. As a matter of fact, it shouldn't.
Drizzle the sweetened condensed milk on top of the cake. It will caramelize in the oven en become this toffee-like topping.
Bake in the oven for 50 minutes.
Then, sprinkle your sea salt generously on top of the cake, because salt and chocolate and sweetness is an amazing combination.
Let the cake not only cool, but actually leave it for 24 hours to set. It should really dry up a little and harden.