A very traditional Italian Christmas cake that you could as well buy from the store
An Italian panettone is basically an egg sponge cake, leavened with spontaneous sourdough, and flavored with an assortment of chopped up candied fruits, raisins and zest from citrus fruit. Making a panettone cake the old fashion way, letting a pre-dough ferment for days, takes a lot of time. The flavor is superior to simply using active yeast, I won't deny that. Nevertheless, this time I'll do it the faster way. This variation of the north Italian classic, is for those who want to impress guests with a home made panettone cake, and needs it not in a couple of days but now.
The story behind the cake is disputed, and there are several more or less plausible theories on its origin. Some say the name derives from "Pane de Toni", meaning Toni's bread. Apparently some guy was in love with a baker's daughter, and wanted to impress his love's father, by making a cake. No matter what the story is, most agree that the cake was first created in or around Milano.
Ok, let's start.
Time it takes:
30 minutes of work in the kitchen
up to 5 hours of waiting
about 30 minutes of oven surveillance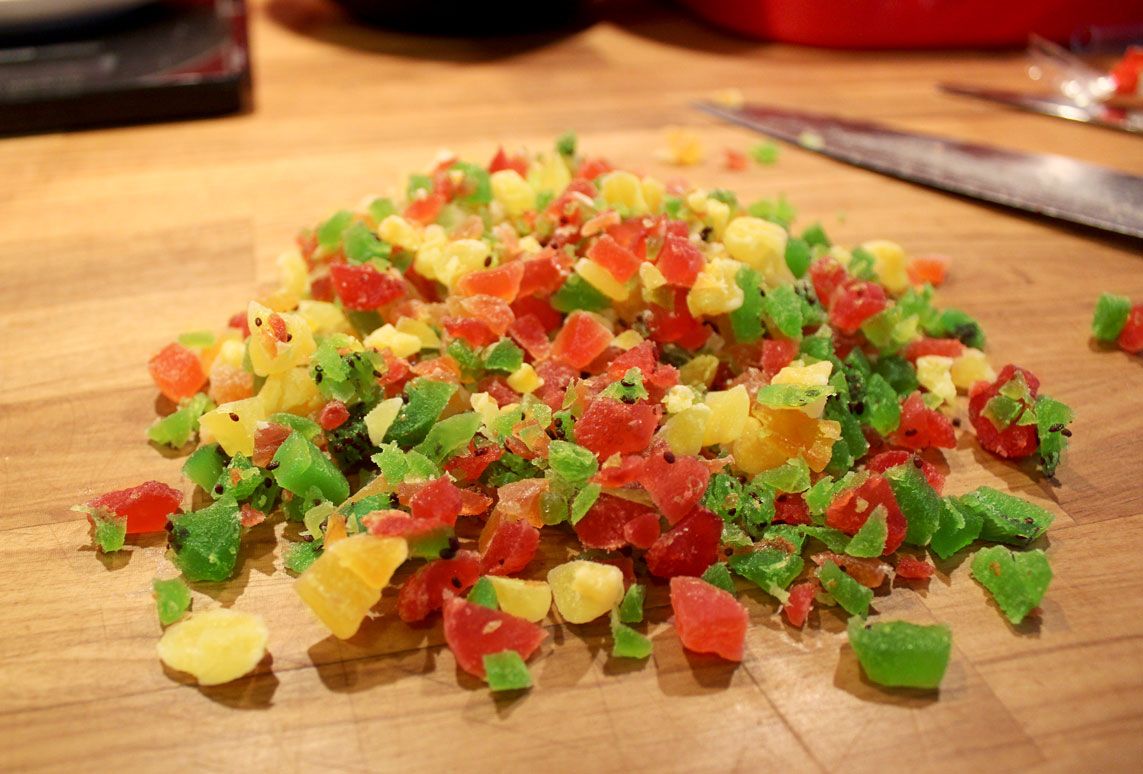 Ingredients for an Italian panettone
50 g of fresh yeast (usually one cube)
500 g plain flour
1,24 dl of milk
0,75 dl of cold water
125 g caster sugar
4 eggs
2 egg yolks
1 vanilla bean
170 g unsalted butter
325 g mixed candied fruits (I used melon, strawberry, kiwi and papaya, none of which are very traditional in a Panettone cake)
1 lemon
1 orange
mix of egg yolk and milk for coating
For the traditional one, a big paper mold, like of a huge muffin, but we'll be using an ordinary sponge cake mold. Kind of.
Method
Heat the milk and water to 35 degrees C, and crumble the fresh yeast into it, and 60g of the flour. Cover with cling film, and let the yeast evolve for a couple of minutes.
Warm a bowl by pouring hot water around it. We want the yeast to have a cozy time no matter what container its in, so keep everything warmed up.
Beat sugar, eggs, egg yolks and the scraped vanilla bean, until it becomes a fluffy foam.
Add the yeast mix. If you haven't killed it with too hot milk, or if you've put it to sleep with too cold liquid, it should by now have a bubbly foam layer along its surface.
Mix the dough for about 4 minutes. The dough should be elastic and stringy.
Mix in the candied fruits. I'm using kiwi, melon and strawberries, just for the sake of the fun. These are not glazed, therefore have more of a dried fruit texture. I like that, not as sweet, but you can use more traditional Italian candied/glazed fruits if you want to.
Let it double in size, in a warm place. It takes about 2 hours.
Instead of the traditional paper molds, I'm using a sponge cake mold. Brush the inside with butter, also the top (it will grow over the top, like a huge muffin). The dough is enough for about three cakes.
Let it lay in a warm place again, for about two hours, until it doubles in size again.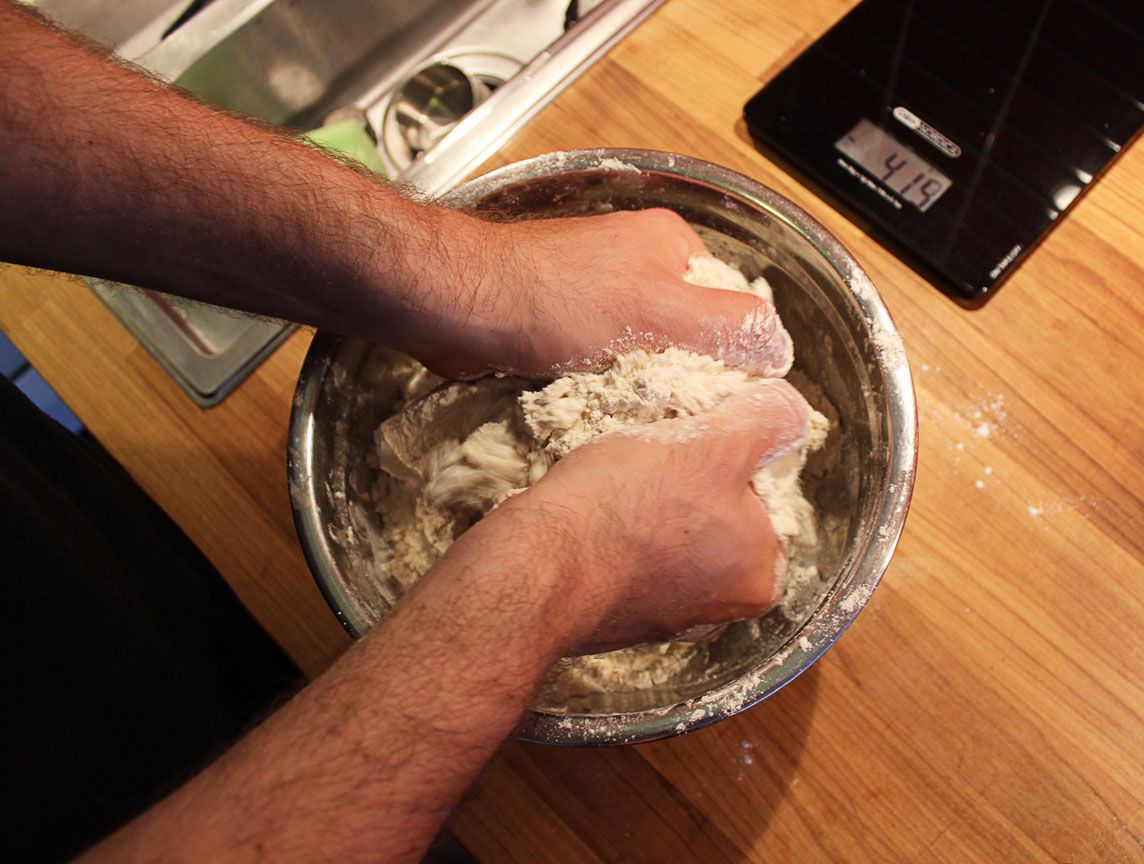 How to bake the panettone depending on the size of your cake
Now, there are two ways of doing this. One is the way for a smaller cake. And the other way is for a bigger cake, closer to the traditional one although I'm still using a sponge cake pan.
For a smaller Italian panettone:
Heat the oven to 200 degrees C, put the cake in, let it get some color.
Take it out, and brush it with an egg yolk and milk mix, and put it back in.
Use a thermometer, and take the cake out the second the inner temperature reaches 90 degrees celsius.
Take it out, let it rest, take it out of the mold and put some of the egg and milk mix on top of it (the bottom side that is), and give it some color on this side too. Because this will be the top, when served.
For a bigger Italian panettone:
Heat the oven to 200 degrees C.
Brush it with an egg yolk and milk mix, and put it in the oven.
After 5-10 minutes (depending on if you have an warm air circulating oven or a traditional one), you turn the heat down to 180 degrees, and cover the cake with some aluminum foil.
Use a thermometer, and take the cake out the second the inner temperature reaches 90 degrees celsius. It takes around another 20 minutes.
Take it out, let it rest, and cut it into nice slices.