Simple meat sauce to use for different stuff
And examples of said stuff.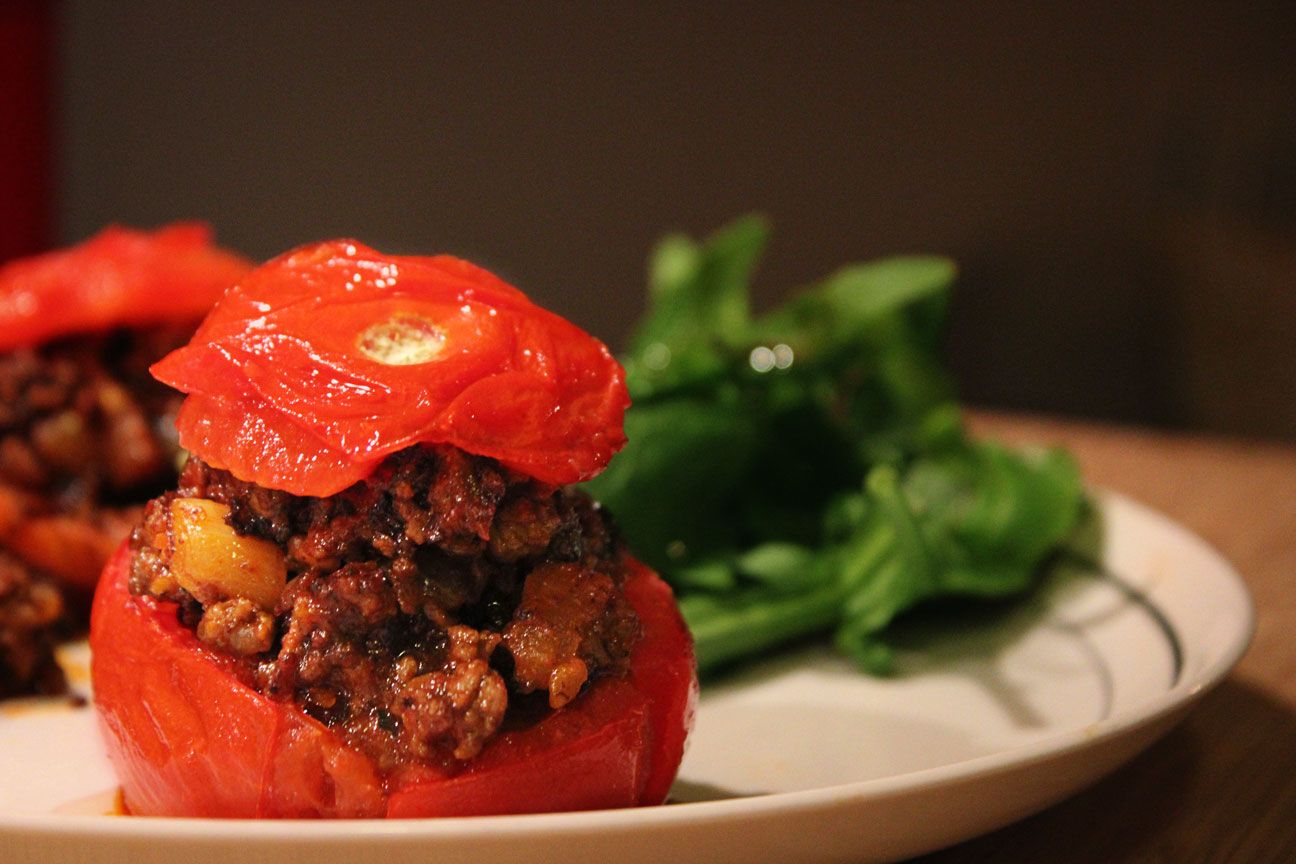 What the Italians call ragù, is traditionally made from whole chunks of meat that is cooked long enough to fall apart. The meat fibers mixed with the liquids (i.e tomato sauce), turns into a batter like meat sauce that is absolutely wonderful. Pasta bolognese is a pasta dish with a ragù. Nowadays, especially outside of Italy, pretty much any simple meat sauce mixed with pasta is called pasta bolognese. Even when made from minced meat. In fact, I guess not even the Italians have time to wait by the stove to make "proper ragù" these days.
With this in mind, here's a straight-forward meat sauce recipe that doesn't take hours to make. It's very simple yet flavorsome and rich. Mix it with pasta, drizzle some olive oil over it, and you have a wonderful contemporary pasta Bolognese-style dish. Cut tomatoes in halves, scrape out the seeds, fill them with the sauce and put them in the oven. Now you have a wonderful low carb appetizer. You could also eat several, and have a main course. Make a dough from wheat flour, mix in some almond flour for flavor and texture, fill pockets with the meat sauce, and you have a home made "hot pocket".
Ingredients for the simple meat sauce
500 grams of ground beef
1 onion
3 garlic cloves
1 tbsp of dried thyme
200 g of fresh spinach
1 peperoncino/piri-piri pepper
1 tbsp of dried basil
400 g of canned tomato pulp in its own juices (usually 1 can)
1 tblsp tomato paste
1 tbsp of Worcestershire sauce
1/3 tsp of nutmeg
1 tsp of sherry vinegar
one tbsp of tomato ketchup (yes, tomato ketchup as an ingredient, because it's a wonderful condiment)
1 tsp of sugar
a tblsp of butter
plenty of tasty olive oil
salt to taste
Instructions to make this simple meat sauce
First, heat some olive oil and melt some butter in a hot pan. Fry the minced meat to give it some color and extract some flavors (a fancy name for this is the Maillard reaction).
Add minced onions, minced garlic, dried basil and dried thyme. Let all of this fry for a couple of minutes. Your kitchen will smell great.
Add tomatoes and tomato paste (the paste gives the whole thing a great richness)
A pinch of piri-piri or peperoncino. Let's give it a dash of heat!
Add the nutmeg. It's a poisonous spice in high quantities, so not too much!
Let it simmer for 15 minutes
Add sherry vinegar (yes, it's acidic, and kind of contradicts the "add sugar to balance the acid from the tomatoes" part, but everything is a matter of adding and balancing flavors, and the addition of sherry vinegar really gives it a nice touch!). Then the Worcestershire sauce (made from fermented fish juices, packed with umami, and great for meat dishes). And then the tomato ketchup (because it's a well balanced condiment that will help bring flavour and balance into the sauce, not only for its vinegar and sweetness, but all together it's a great condiment)
Add the spinach. It will seem like a lot, a mountain of spinach. But after a few minutes, it will "melt" into nothing.
Let it simmer for another 15 minutes. If it gets too dry, add a little water.
Your sauce is finally done!
Now what will you do with this rich and wonderful simple meat sauce? Well, there's tons of stuff to do!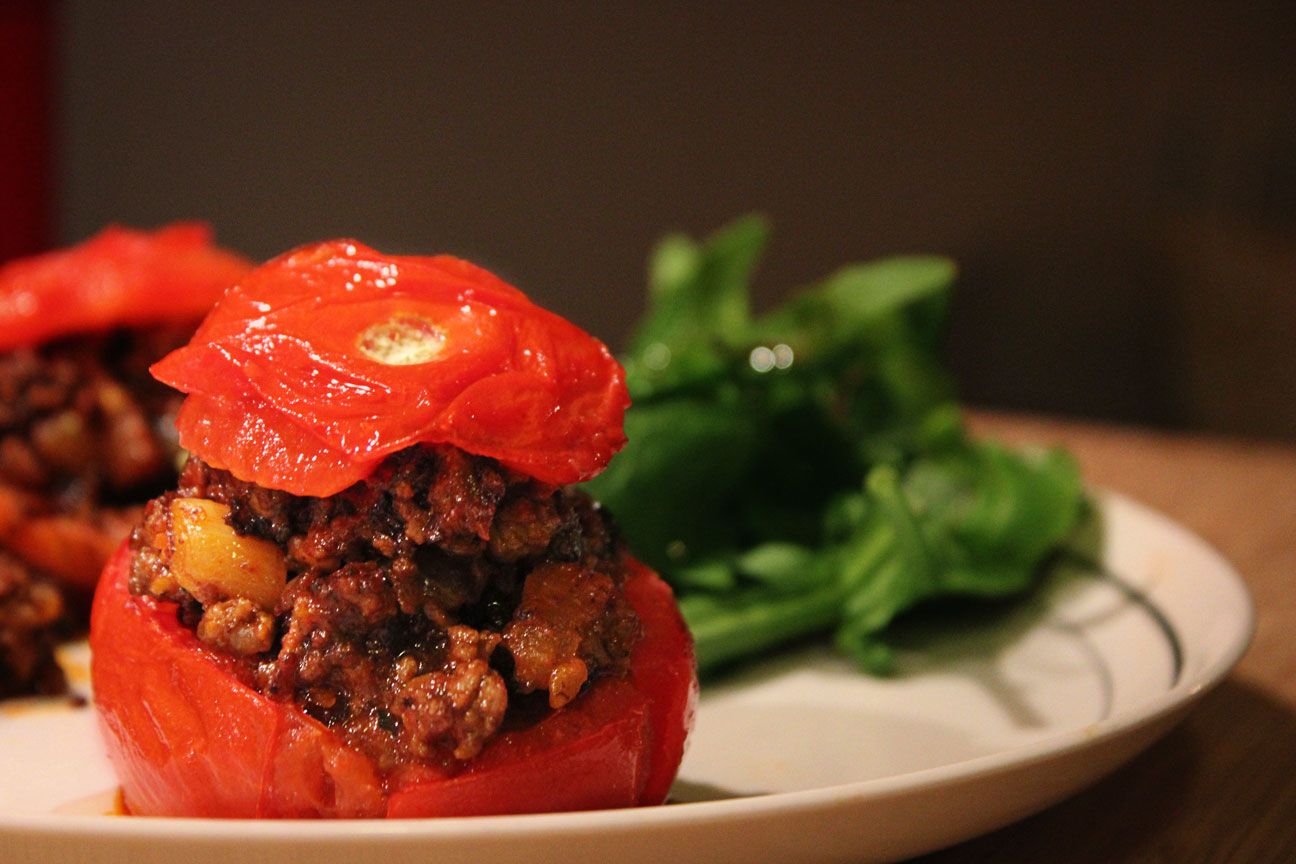 Stuffed tomatoes
Ingredients for the tomatoes
Large tomatoes
Meat sauce
Salt
Instructions for the tomatoes
Cut of about 1/4 of the tomato, and remove the seeds.
Sprinkle the inside with a little salt, and place the halves upside down on a rack. Place the rack above a bowl or above your sink. Now leave the tomatoes there for about 30 minutes. This will extract a lot of the water, preventing them from getting soggy in the oven.
Fill the tomato bottoms with the meat sauce, and put on its hat.
Bake in the oven at 190 degrees Celsius for about 25 minutes.
Home made "hot pockets-style" pastries
Ingredients for the "hot pockets"
300 grams of wheat flour
100 grams of almond flour
1 tblsp of malt syrup
1 tblsp of salt
100 grams of mozzarella
50 grams of parmesan cheese
250 g of luke warm water
5 grams of dry yeast
Milk and egg yolk for brushing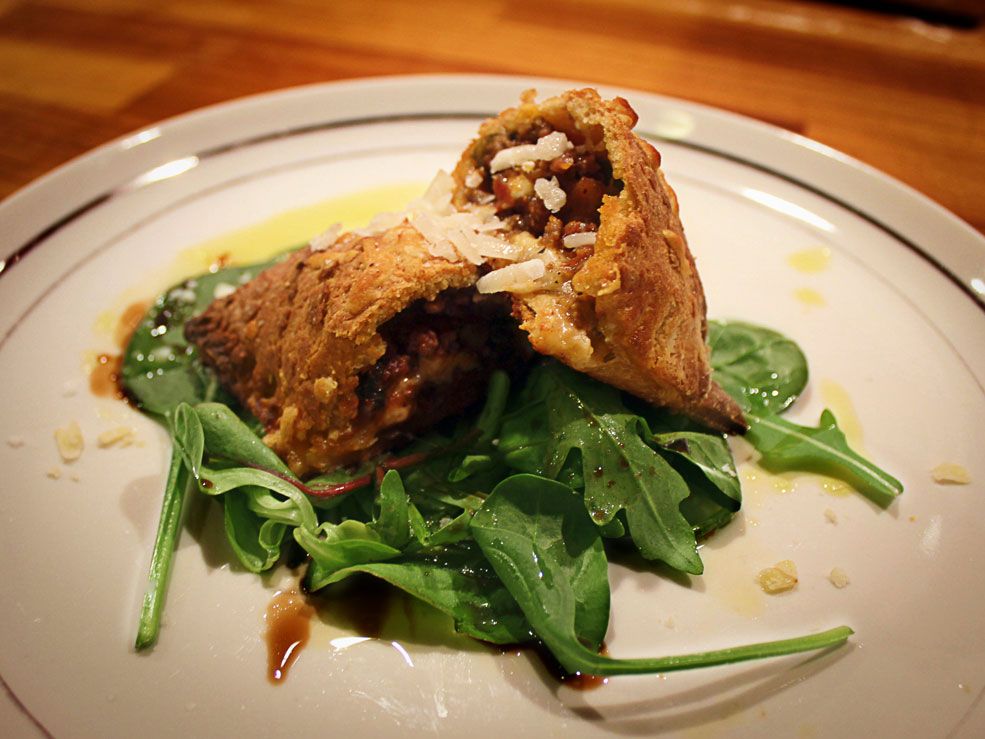 Instructions for the "hot pockets"
First, mix wheat flour, almond flour, malt syrup and salt into a large bowl. Add luke warm water.
Run it in a stand mixer, with a dough hook attached for about 3 minutes, or kneed it by hand. Add the dry yeast, and run it in the machine for another 3 minutes.
Let it rise for about 30 minutes.
Roll it out on a floured surface, and cut it into squares.
Put the meat sauce onto the squares, add a chunk of mozzarella and some grated parmesan cheese, and carefully seal the pockets.
Brush them with a mix of milk and egg yolk. And put some grated parmesan cheese on top afterwards, it will taste delicious.
Bake them in the oven on 200 degrees celsius, until golden brown. It takes about 10 minutes.
I serve it on a bed of ruccola lettuce, and a simple vinaigrette from olive oil and vinegar. But you can just wrap it in aluminum foil, and take it with you as a fast lunch or snack.
And there are other things you can do with this simple meat sauce, e.g. a chili con carne type of dish, some lasagna, and of course a bolognese pasta dish.