Liquoriced bacon salad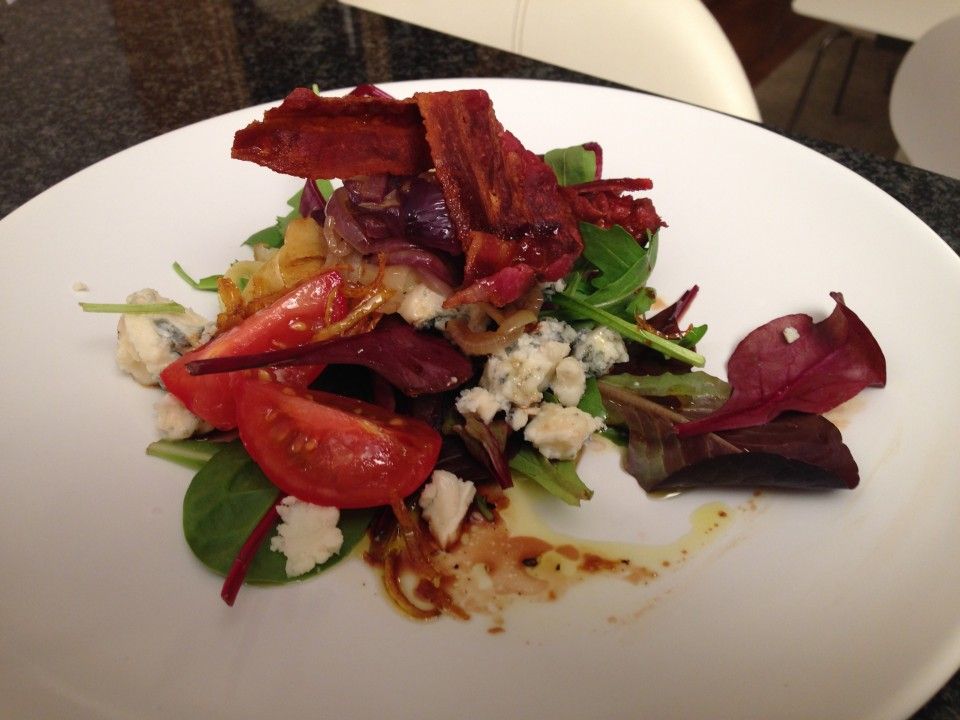 Have you ever had Chinese spare ribs? They taste really meaty, an the secret to that is star anis and fennel. Both of which contain anethole. Anethole is an organic aromatic compound that not only gives you an excellent liquorice-like flavor in baking and cooking, but also enhances meet flavor. More about meat taste enhancement will come in a future steak recipe. As for this bacon salad, I chose to caramelized onions with star anise, to get a sweet and wonderfully distinct anise flavor that goes very well with the salty bacon. And don't forget the fried parsnip, one of my favorite roots! Also quite sweet, and just fabulous with the blue cheese.
Oh, and I'll teach you how to make your bacon the crispiest there is!
Time it takes:
5 minutes for preparation
30 minutes for cooking while you relax
A few minutes to serve, depending on how visually appealing you want your dish to be.
For the bacon salad
2 parsnips
1 red onion
1 yellow onion
cherry tomatoes
greens of your choice, I'm using red chard leaves, lollo rosso lettuce, and spinach.
180 g bacon
2 star anises
80 g of blue cheese
butter
olive oil
Slice the onions, fry them in butter with two star anises.
Now this is my method for getting the crispiest bacon possible. You use a microwave, and make sure to place it in a way so that the excess fat drips away. Cover a microwave-safe plate with kitchen paper. Put some kitchen paper in a bowl, and place the bowl on the plate. Position the bacon slices astride the rim of the bowl.  Cook the bacon in the microwave  at high effect for 8 minutes. You might want to adjust the cooking time depending on how powerful your microwave oven is, and how crispy you like your bacon. As it cooks, the extra fat runs down onto the kitchen paper. Use quality kitchen paper, otherwise the bacon will stick to it. Be careful when you take the plate out of the microwave, it is extremely hot.
Heat some olive oil in a pan at medium-high. Use a potato peeler to make thin slices of parsnip, including the skin (wash your parsnips first!). Let the parsnips fry about 10 minutes, until they're all soft and have a nice brown-yelloish color.
On a plate, place a layer of salad. Put some blue cheese on it. Then, put some parsnip in the center. Add some caramelized onions. Place crispy slices of bacon on top. Tomatoes on the side, and salt them gently. Finally, drip the vinaigrette on the the beauty.
Tada !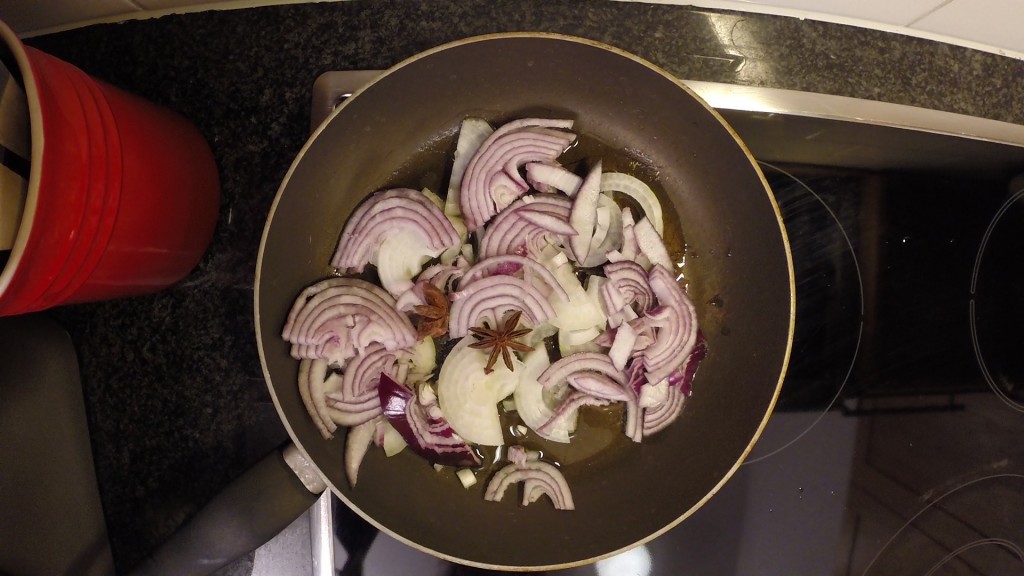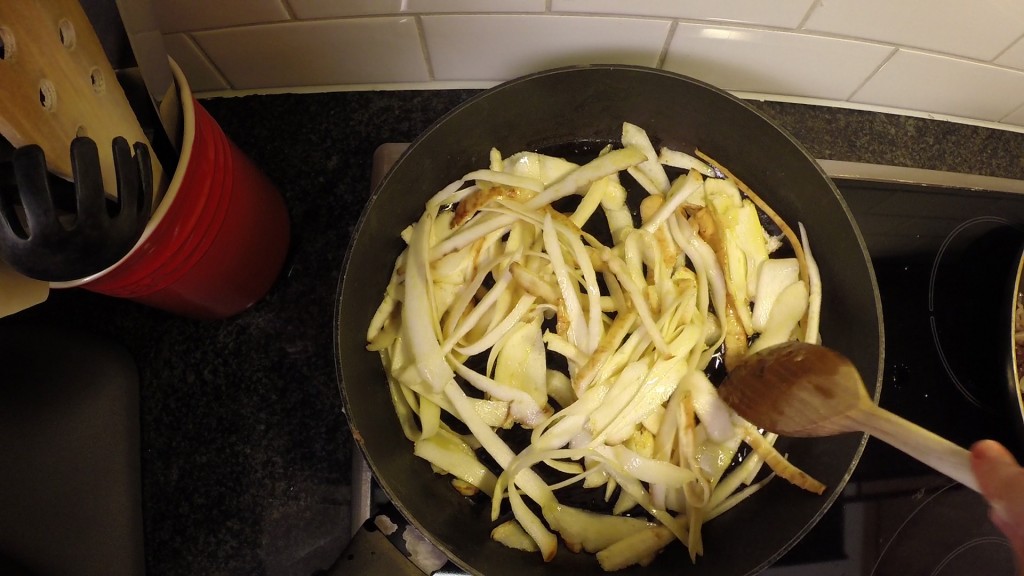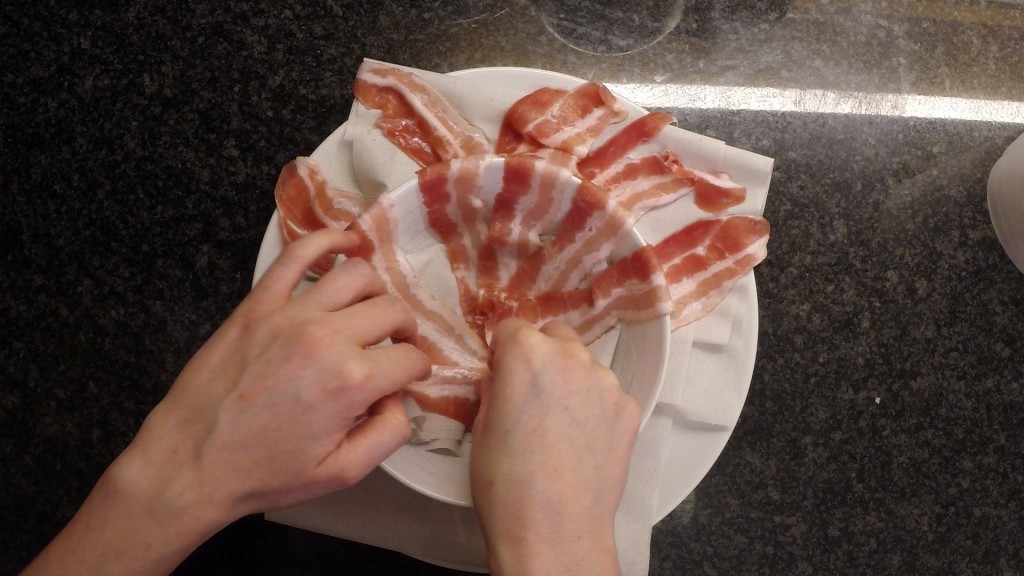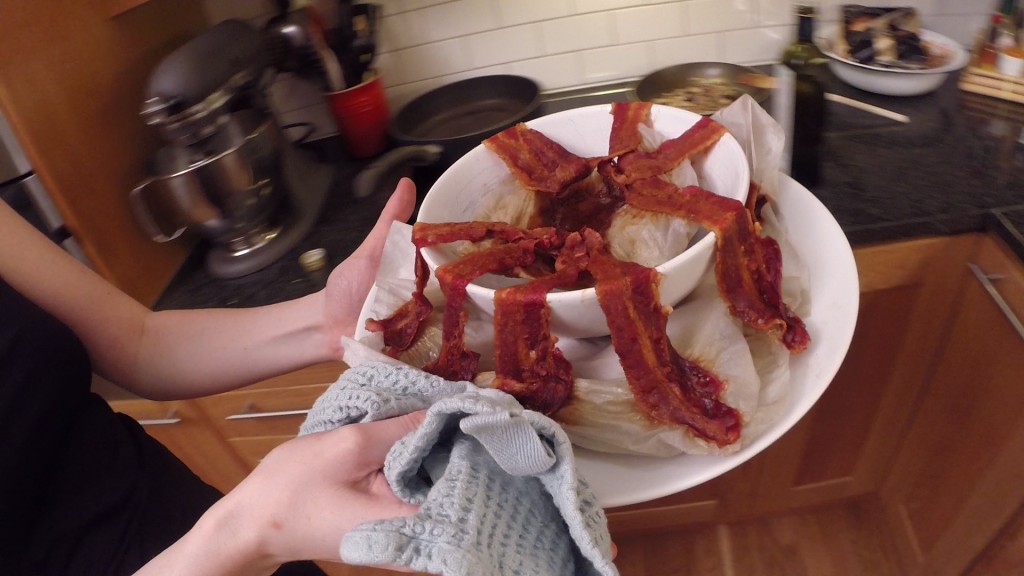 For the salad dressing
1/2 lemon zest
4 tspn of olive oil
3 tspn of balsamic vinegar
1 tspn of honey
Salt and pepper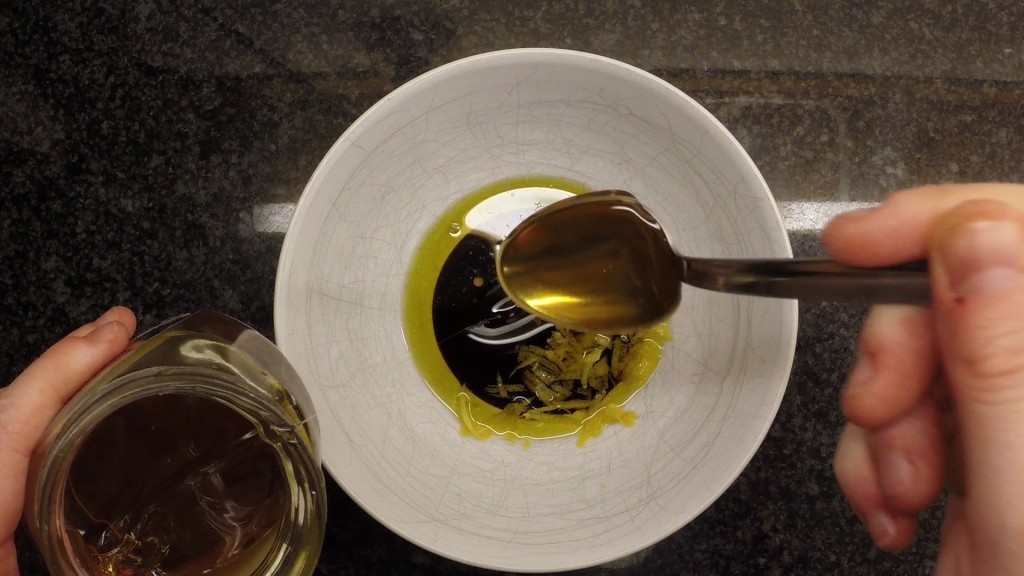 Pour olive oil in a bowl.
Add balsamic vinegar.
Zest half a lemon, and incorporate the zest to the preparation.
Mix the sauce up with a spoon of honey.
Add salt and pepper.