Hipster butternut squash soup
Hipster because it's so cool. No, really, it's good.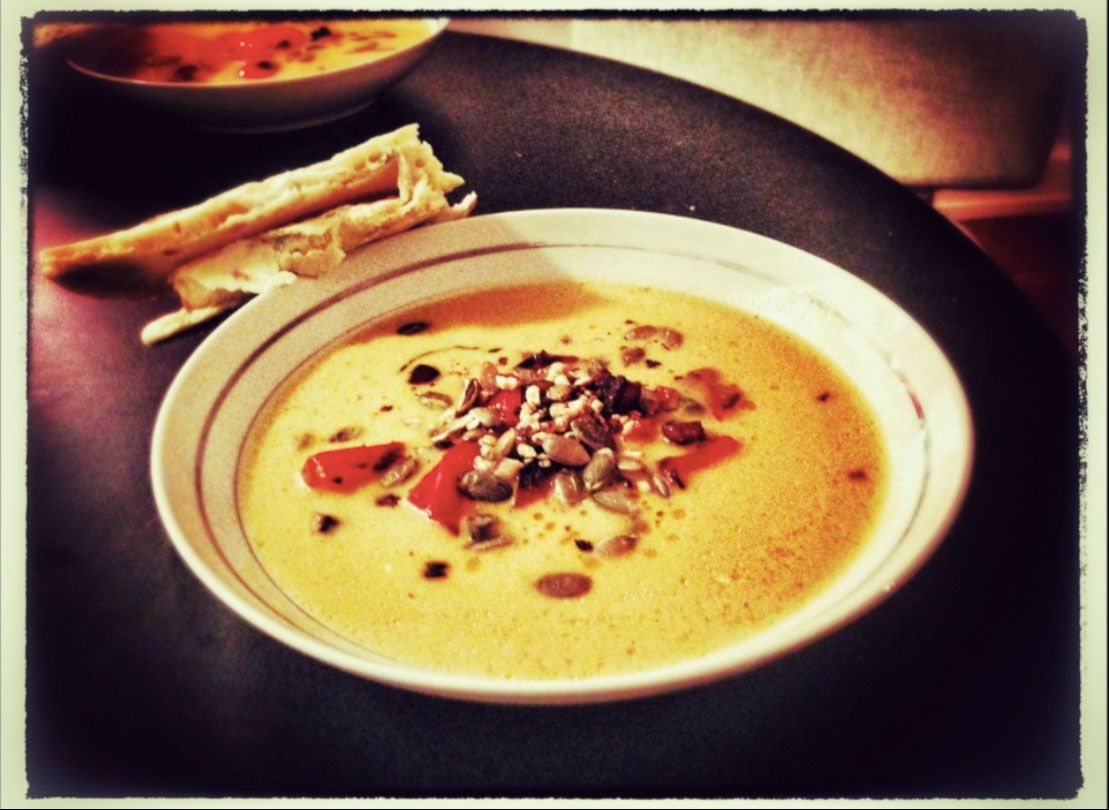 A wonderful soup made from rosemary infused milk, caramelized butternut squash and topped with roasted bell peppers and sunflower seeds. Buy the butternut squash from a local downtown farmer (sic), grow your own rosemary and stand ready with Instagram. This is an absolutely amazing soup, and I call it the Hipster-Butternut Squash soup, and I serve it with a parsley tortilla.
Enough for about 4 people.
Time it takes:
15 minutes for preparation
45 minutes for cooking
45 minutes for resting
2 minutes to serve
How to prepare the butternut squash soup itself:
1 butternut squash
2 onions
1/2 l of full milk
150 g of butter
2 rosemary sprigs
4 cl of balsamic vinegar
2 cl of roasted sesame oil
Preheat the oven to 180°C.
Pour the milk into a saucepan, add the rosemary sprigs, and bring the milk to near simmer, then turn the heat off and let it infuse the rosemary flavors for 20 minutes.
Cut the butternut squash in half.
Chop the onions and half of the butternut squash into very fine slices (get a mandolin, it's easier that way), and let it sweat in butter in a large pot at low heat.
Meanwhile, chop the other half of the butternut squash into large pieces, and let them cook in the oven at 180°C for 45 to 60 minutes. They caramelize, and will smell and taste sweet.
Then, incorporate the roasted butternut squash chunks into the sauce-pot containing the onions and the chopped butternut squash.
Finally, strain the rosemary infused milk through a sieve down into the large pot.
Now, mix it with a hand mixer and then strain the puréed soup through a fine sieve into a saucepan. Use a spoon to really get all the liquid through.
Let the soup simmer for a couple of minutes. Add balsamic vinegar and roasted sesame oil to your own taste.
For the soup topping:
250 g of pork belly
2 red bell peppers
2 rosemary sprigs
1 dl of hazelnuts
1/2 dl of pumpkin seeds
Cut the bell peppers into big chunks
Dice the pork belly.
Remove some rosemary leaves of the sprigs.
Fry the pork belly dices on medium heat until they're crispy. Be careful not to burn them!
Put the bell peppers in there, and give them some color. It is alright if some dark spots appear on the peppers, it will give them a delicious roasted flavor.
Take the pan off the stove, and cover  it with a lid while you finish preparing the rest of the dish. The bell peppers will keep getting softer even after the heat has been turned off.
Chop the hazelnuts.
Heat a pan on low heat and roast the hazelnuts and pumpkin seeds. No oil, just on a dry hot pan. Be careful, they're easily burned!
How to make the tortilla:
200 g of flour
4 parsley sprigs
1/2 l of water
Pour the water in the mix of flour and parsley.
Mix to combine, don't kneed it! It should feel all gluey.
Take a little lump of dough, and roll it out into a flat tortilla.
Fry it on both sides with a little oil on medium heat until it gets some color.
The serving:
Pour some soup into a bowl.
Add two or three table spoons of the bell peppers and crispy pork belly.
Sprinkle the soup with the roasted hazelnuts and pumpkin seeds.
Serve with a piece of parsley tortilla.
Do you like butternut? Check out this vegetarian butternut and lentils dish.