Penis shaped gingerbread cookies
or any shape really, I'll tell you how to make naturally coloured frosting.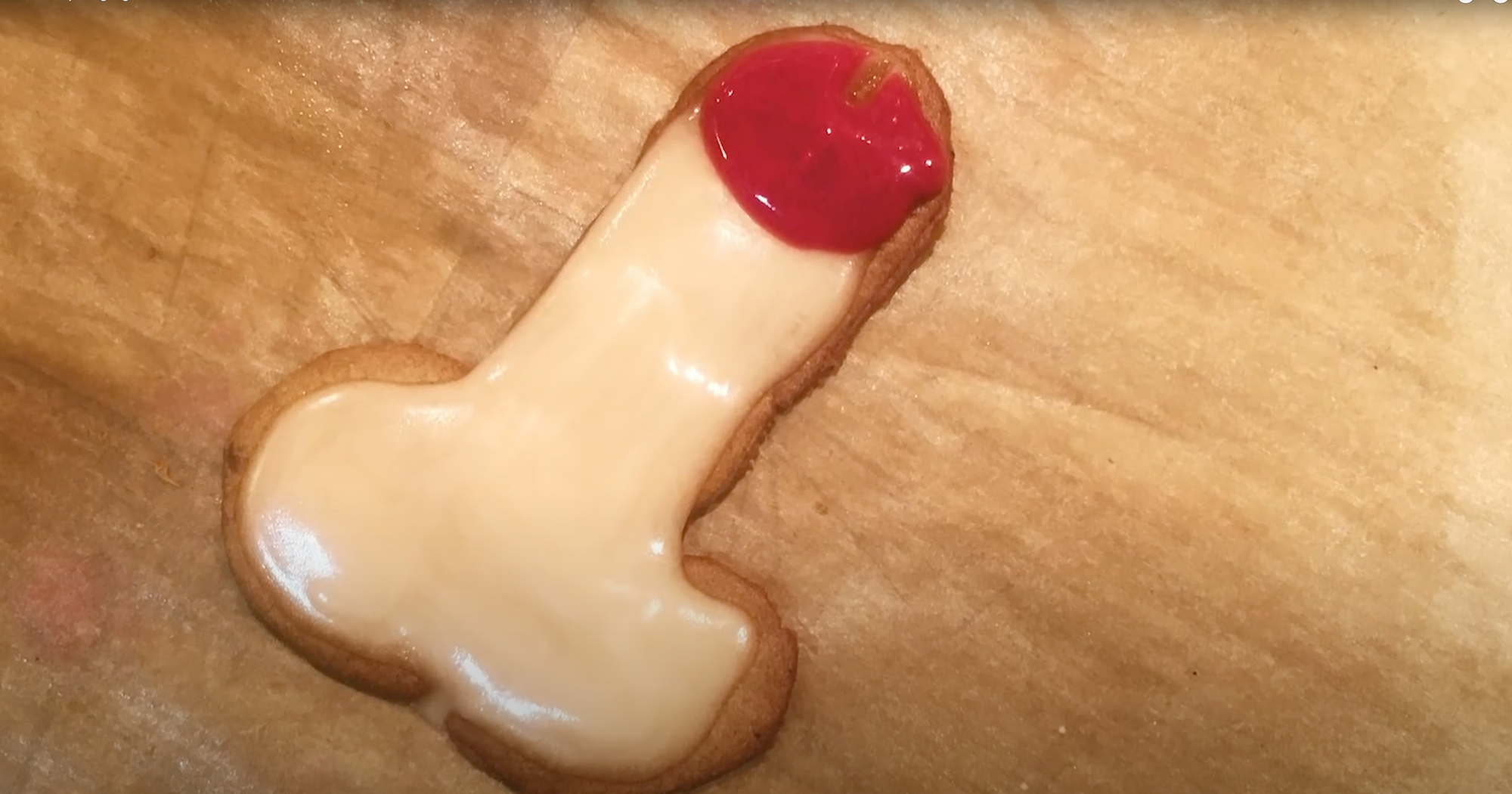 Have you ever wanted to make gingerbread cookies in the shape of a penis? No? Well, have you ever wanted to make them in any custom shape you can imagine? This is almost that. You can't do them in any custom shape but close enough.
Step 1: The gingerbread cookies
Ingredients for the gingerbread cookies
1 teaspoon ginger powder
1 teaspoon of clove powder
2 teaspoons of orange zest powder
2 teaspoons of cinnamon
175 g of butter
1 and 1/2 dl of dark or golden syrup (dark is less sweet, and better suited given the massive amount of icing I'm using)
2 and 1/2 dl of muscovado sugar or just brown sugar
2 pinches of salt
2 and 1/2 dl of full cream (40% or so)
10 dl of flour
2 teaspoons of bicarbonate
Basically, you mix all ingredients except the flour and bicarbonate
And then you add the flour and bicarbonate, preferably through a sieve
Plastic wrap and into the refrigerator for at least an hour but preferably all night
Use two baking sheets to flatten the dough, then you don't need to use flour to keep it from sticking which yields nicer cookies
Use a cookie cutter, or make your own as seen in the video
Bake on 225 C for 2,5 minutes (or maybe less or maybe more, keep an eye on them!)
Step 2: The meringue (that you'll use for the icing)
Ingredients for the meringue
How to prepare the meringue
First, put sugar into bowl
Then, into other bowl: egg whites
Beat egg whites and put sugar little by little
oven at 100 degrees
stop mixing when the meringue is all pointy
Flatten the paste onto a baking sheet
into oven for 45 minutes
turn off oven without opening it
leave the meringue in there for another hour
Take it out and let cool
Finally, use a food processor to mix the meringue into a powder
Icings
How to prepare the white icing
2 teaspoons of the meringue powder you previously made
powdered sugar
vanilla extract
Mix everything and into a piping bag
Pipe it!
How to prepare the orange icing
2 teaspoons of the meringue powder you previously made
powdered sugar
carrot juice
orange juice
orange liqueur
Mix the orange juice, juice from a grated carrot, and liqueur
Sugar and meringue powder
Mix, then you're all set
How to prepare the pink icing
Same base as before, but you add mushed raspberries and juice from red beet for the color
How to prepare the red icing
Same as the base but you add blueberries (or boxberries are even better)
How to prepare the black/dark brown icing
Same base
Melted chocolate
Cocoa powder
Water
Mix it all up, then put it into the microwave for a few seconds if it hardens