Triple garlic pasta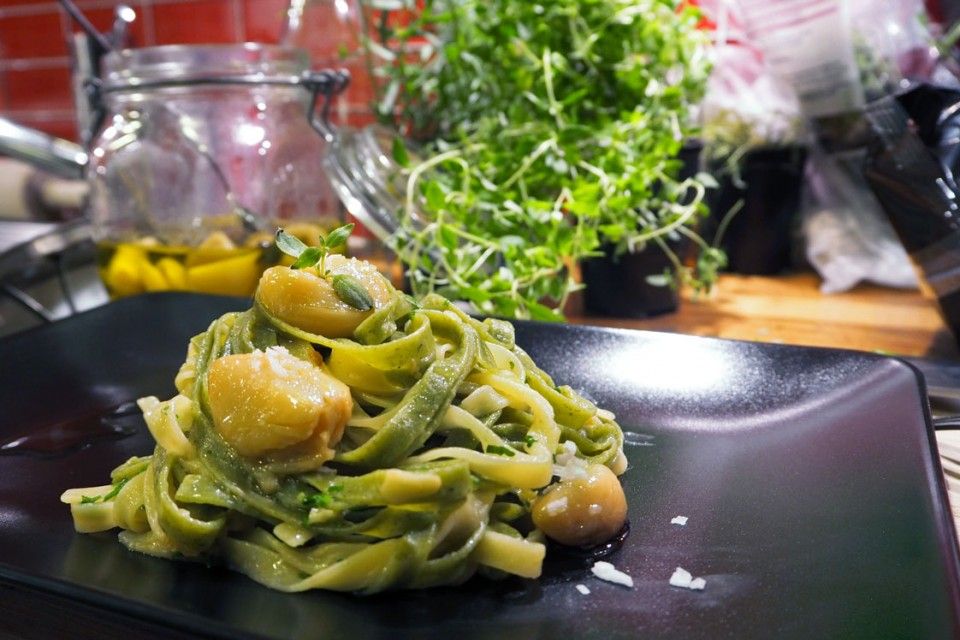 Garlic! Some say it has healing properties, some say they don't like garlic but actually do, they just don't know there's garlic in their food, others truly hate it. Most people like it and some of us love it. This is a pasta dish for garlic lovers. A pasta with 3 garlic cooking variations, that I call triple garlic pasta.
Just to clarify things, you need 8 garlic bulbs in this recipe that will yield 4 portions. All of them can be dried, except two because I'll use the top stalk that is full of flavor. So 8 garlic bulbs and 2 fresh garlic stalks. If you can't find fresh garlic with the stalk intact, then that's ok. It'll still be amazingly garlicky.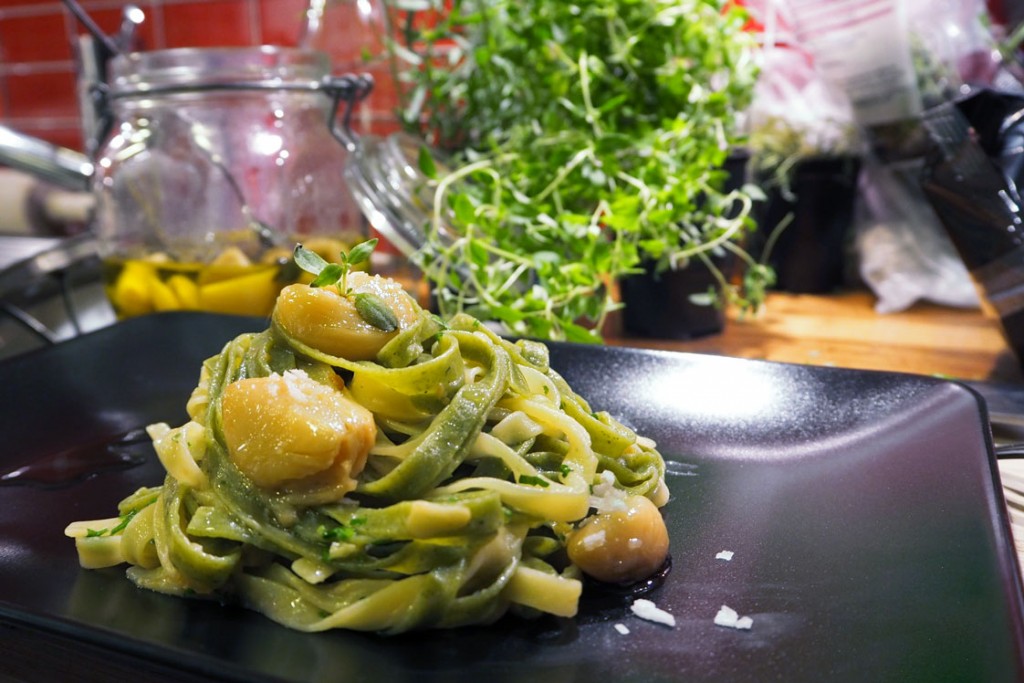 1. Slow-baked garlic
You need
Now…
Heat the oven to 200°C.
Take the garlic bulbs and peel of the loose papery-like peel around them with your fingers.
Cut off the very tip of the bulbs of garlic.
Put them on tin foil, drizzle a little olive oil on top of the garlic bulbs cut side up, and then wrap them up completely into the tin foil.
Put them in the oven for 40 minutes, then turn of the oven and let them stay there for 20 minutes or until it's time to use them for the rest of the recipe. They'll be all mushy and wonderful. Like a garlic paste!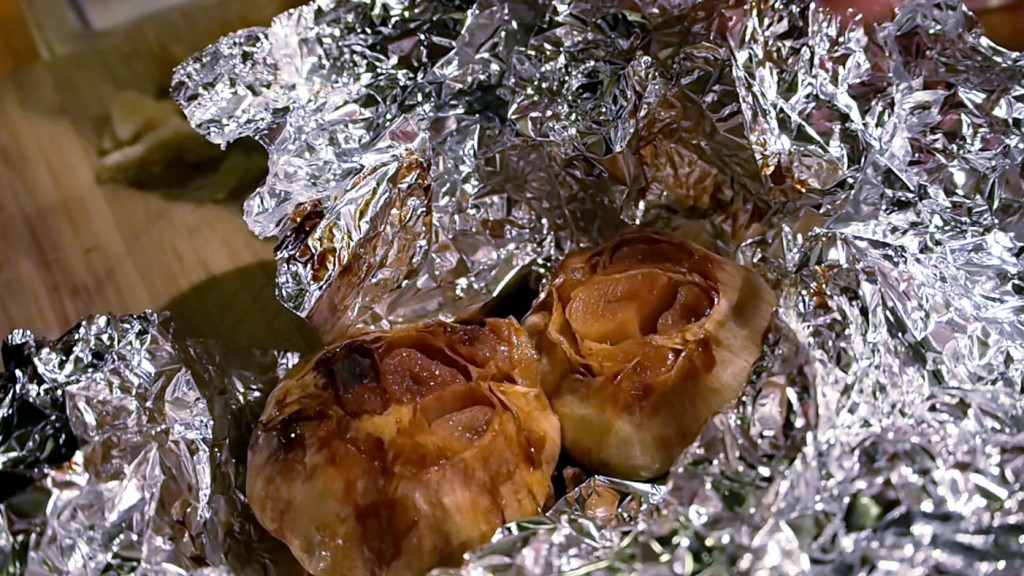 2. Pressure-confit garlic
You need
4 garlic bulbs
1 sprig of fresh thyme
1 sprig of fresh rosemary
A lot of olive oil
A pressure cooker
A glass jar
Peel all cloves from 4 garlic bulbs. A trick for pealing dry garlic, is to smash it and then put it between two deep bowls/plates, and shake them around in there. They'll come out peeled! (if they don't, it's because your garlic was too fresh, then you'll have to peel them the old fashion way)
Put garlic cloves, the thyme and the rosemary (the while sprigs) into the glas jar.
Cover with olive oil.
Place a plateau or something on the bottom of the pressure cooker, so that the jar doesn't stand on the bottom of the cooker where it will likely crack. Place the jar on the plateau. Add enough water to just reach the bottom of the jar.
Put on a lid, but don't screw it on hard. Just loosely, or the jar will explode!
Close the pressure cooker and set it to high. Set the stove top to high, and once you reach pressure, lower it to the lowest temperature possible while still retaining the pressure. If the cooker stops making a lot of sound from steam getting out, repeat the step – max power, wait for the steam, then turn down the heat this time a step higher than last time with the goal of not losing pressure.
After 1 hour, turn of the heat and wait until the pressure in the cooker normalizes by itself. Don't release steam, don't pour cold water on it. Just wait. Be careful when you take out the jar. It should be filled with soft and wonderfully tasty garlic cloves with an amber color to them.
You can save these in the refrigerator and use them for all kind of goodness where you want garlic flavor!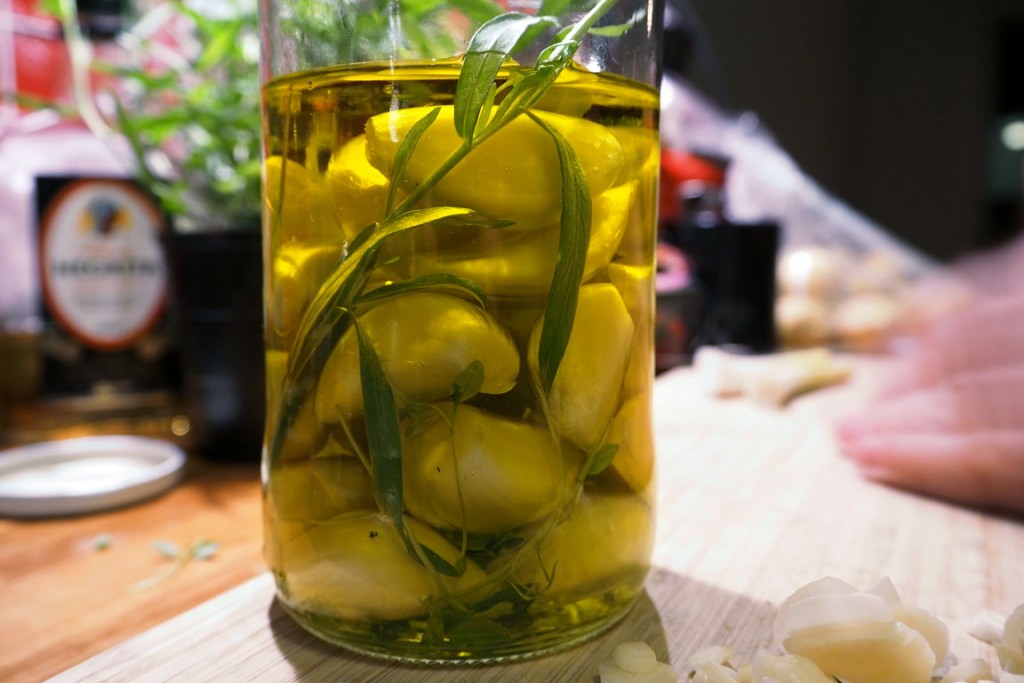 3. Crispy pan-roasted garlic
2 fresh garlic bulbs (with the stalks still attached to them)
olive oil
Cut of the stalks, and slice the green part thinly. It's edible and very good!
Pop out the garlic bulbs. Because you're using fresh garlic, the peeling process is simply, they pop right out.
Slice the garlics thinly
Heat up some olive oil in a pan
Pan roast the sliced garlic and garlic stalks. Be very observant, you want crispy garlic here but you do not want to burn it. When it has a light amber color to it, it's wonderful. If it gets too dark, it gets a bitter burned flavor from the sugars getting burned. So careful! When it's crispy and nice, set it aside if you still have other things to do.
The serving of the triple garlic pasta
400 grams of pasta (100 grams per person, or more if you want to gain weight) I use green and white pasta, because it looks nice and tastes good.
The slow-baked garlic
The confit garlic
The pan-roasted garlic
A handfull of fresh parsley
Salt and black pepper to taste and for the pasta water
Boil the pasta in salted water, and let boil until ready, but when you drain it do not throw aways! You'll need it!
Squeeze the garlic paste out of the oven-baked garlic bulbs into the pan where you have your crispy roasted garlic.
Pour some of the pasta water into the pan. It's full of starch and salt, and will make sure your sauce is thick and prevent the whole dish from becoming dry. Mix it into an amazing garlic sauce.
Add the cooked pasta.
Finely chop the fresh parsley, and combine it all.
Serve the pasta, and place some confit garlic cloves on it, and drizzle the whole thing with the oil from the glass jar.
Your triple garlic pasta dish is done! This is one of my favorite pasta dishes. If you love garlic, you'll love this. If you don't like garlic, I guess this is not your cup of tea at all.