Snow cap cookies deluxe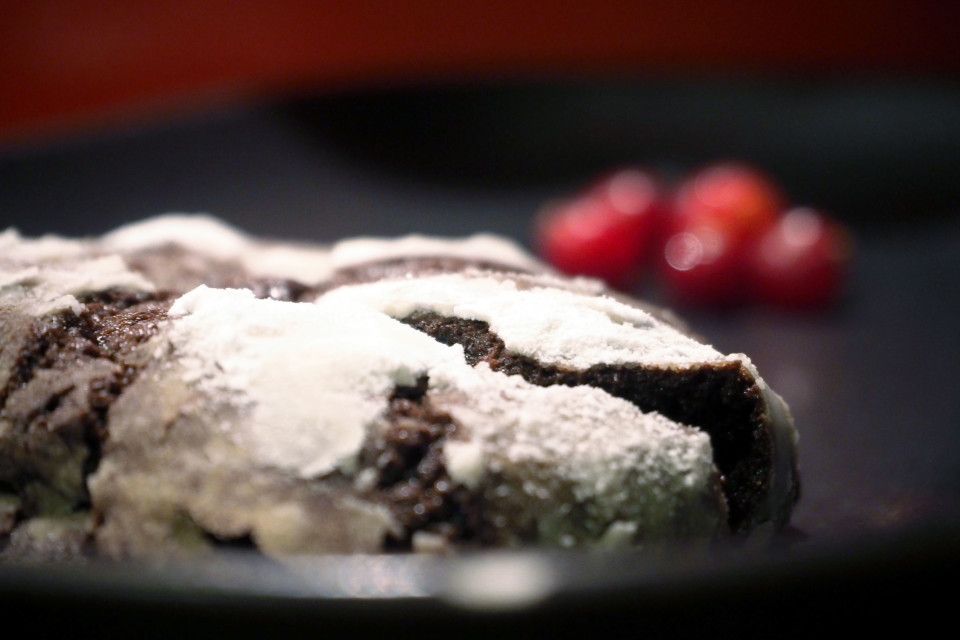 These snow cap cookies are special in many ways. First, it's not really a cookie in the crispy or chewy sense. It's rather a small cake with a sugar crust around it and a mud cake like texture inside. Second, it can be prepared days in advance and you can make freshly baked snow cap cookies at any time by just scooping up some of the hardened batter and baking it for 10 minutes. It's a wonderful thing to have waiting for you in the refrigerator!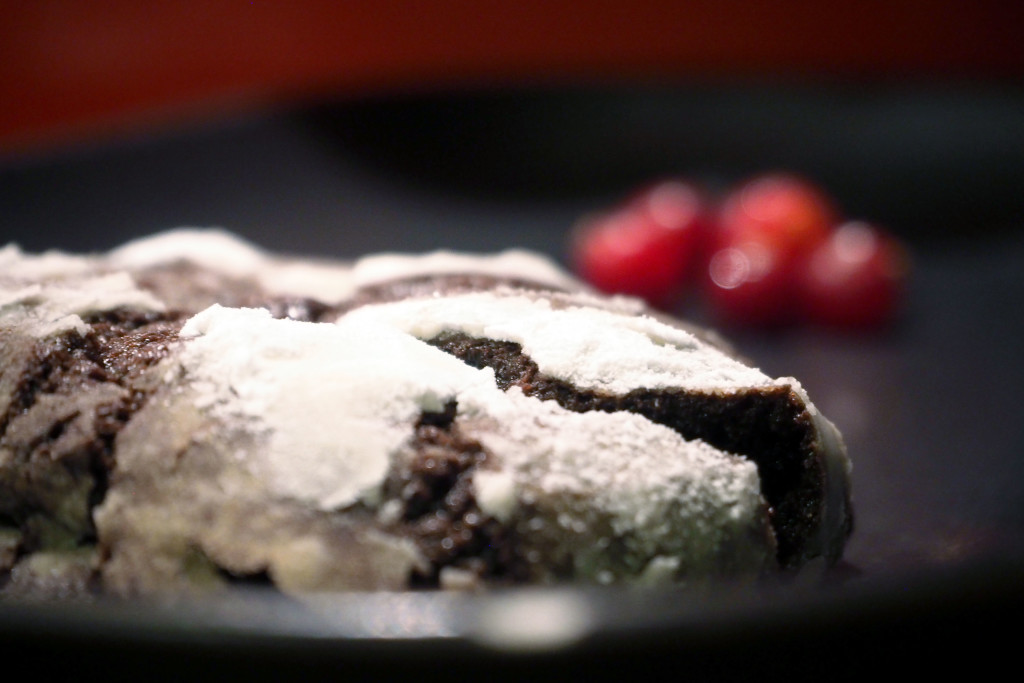 Ingredients for snow cap cookies
170 g of chocolate, I use half dark and half milk.
95 g of wheat flour
30 g of cocoa
7 g of baking powder (not baking soda, baking powder!)
a pinch of salt (that's about 2 grams, unless your butter is salted in which case no extra salt is needed)
115 g of unsalted butter (leave it in room temperature for a couple of hours to be able to mix it in)
200 g of normal caster sugar
20 g of molasses (if you can't get a hold of molasses, substitute the sugar+molasses with 220 g of packed brown sugar also called "Muscovado sugar")
2 large eggs (if you're a confectioner and hate me using the quantity of eggs and rather way grams, too bad for you)
lots of powdered sugar
berries or your choice
Instructions to make snow cap cookies
Take out the butter and let it soften in room temperature for a couple of hours. And put your favorite berries into the freezer and let them stay there for those hours. You'll understand why in a moment.
Mix molasses, sugar and eggs (or brown Miscovado sugar and eggs if you chose that path).
Add butter to the mixture and mix it.
Melt chocolate. Either over a water bath, as most people call for, or just on the stove top. It works as well, just keep the heat low.
Mix the molten chocolate with the sugar and butter mix.
Combine all the dry ingredients and make sure they mix well by sifting them. Or just mix them around.
Add dry ingredients to the wet ingredients and mix it all well.
All right, the batter is done. Put it into the refrigerator an let it rest there for at least three hours. Over night is even better, for some reason it gives thicker and fluffier cookies.
Time to bake the snow cap cookies!
Heat the oven to 175°C.
Use a spoon or an ice cream scoop to scoop out a piece of batter. It will be very firm by now.
Roll a ball.
Take out your favorite berries and press a couple of them into the chocolate ball. They won't break and leak, because they're frozen. Also, they'll keep the interior of the cookie cold for a little longer than the outer part hence making sure it's all chocolaty and soft on the inside.
Roll the ball in powdered sugar. Roll the powdered sugar into the ball. Then dip it into the powdered sugar a second time to have a thick layer on top of the rolled in layer. Don't shake any excess powdered sugar off the balls, you want tons of that on there!
Place on a baking sheet and bake for 10 minutes.
The cookies will be very soft when they come out, they'll just fall apart into a liquid goo if you try to pick them up. You need to wait for about 10 minutes, and they'll firm up.
Eat. And while you eat, repeat from step 2. That way you'll have minute fresh snow cap cookies over and over again.