Classic Swedish Kåldolmar (stuffed cabbage rolls)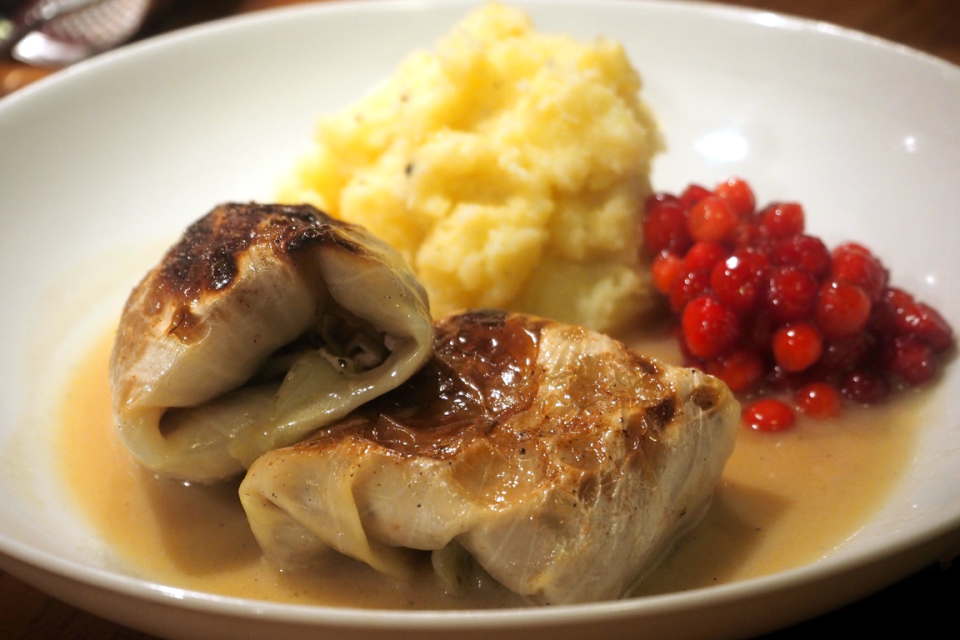 About 300 years ago, Swedish King Carl XII went into war. You see, in those times, head of states were the master and commander and as such they stood in the front lines with weapons in hand. He conquered some, lost more, but no matter how well he did in war, he was tired of Swedish food. Basically guts boiled in blood and wheat cream. As he fought in Turkey, he came across something marvelous. Finely chopped meat rolled into vine leaves. Wait a minute, the king thought, can you really wrap good stuff in good stuff and cook it? So he brought the recipe back to Sweden. In lack of vine leaves, his royal chefs used white cabbage. Kåldolmar became a popular Swedish dish. "Kål" means cabbage in Swedish. "Dolme" derives from the Turkish word "dolma", meaning 'stuffed'. Dolme can also be slang for penis, in case you're wondering.
There are tons of recipes for kåldolmar. Some call for rice, others don't. Some attempt to vary the dish by using kale instead of white cabbage. Wait, I know you're thinking "hipster" when you hear kale, but that's just true for the US. Swedes have been using kale for more than a hundred years. There's no right and wrong here, vary the dish any way you find suits you. I've chosen a very basic recipe, a classic kåldolme if you will. I'm thinking "classic Swedish" might be exotic enough for none-swedes.
As for the lingonberry jam, you can buy it at IKEA. Don't. Make it yourself, it looks and tastes so much better. Yields 6 portions for hungry people. Even more if part of a multi-course dinner.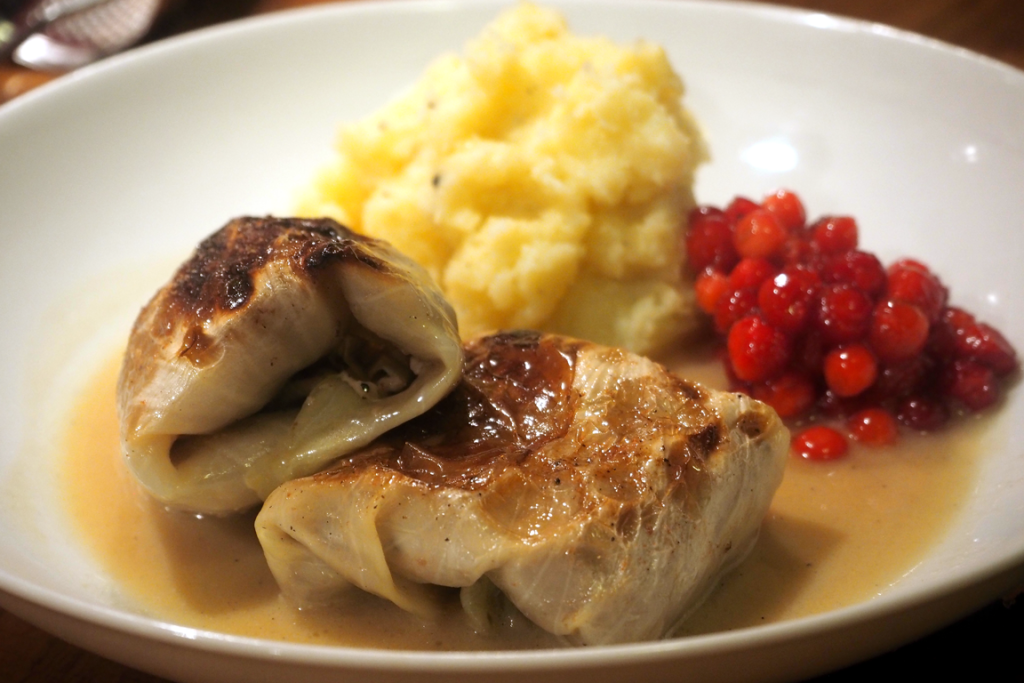 This is what you need:
Large head of white cabbage
400 grams of finely ground meat (half pork, half beef)
1 gram of allspice
50 grams of boiled rice
3 sprigs of fresh thyme or 1,5 grams of dried thyme
1 gram of nutmeg (a pinch or two)
1 egg
25 grams of milk
100 grams of golden syrup (aka triecle)
200 grams of butter (yup, fat is what we're making)
200 grams of home made beef stock
150 grams of fresh lingonberries
130 grams of sugar
100 grams of heavy cream
600 grams of potatoes
Salt and pepper to taste throughout the process
A teaspoon of corn flour to thicken the sauce
This is how you make the lingonberry jam:
Make the lingonberry jam a day in advance. Start by boiling a mason jar to kill all the germs. Just in case you choose to keep the jam for a longer period of time.
Mix fresh lingonberries and sugar. Close the jar, shake it, and you're done. It's that easy. "Rårörda lingon" is what Swedes call this, meaning "raw stirred lingonberries". Used as a condiment in various traditional Swedish dishes such as Wallenbergare, Kåldolmar and Köttbullar (meatballs).
This is how you make the kåldolmar and sauce:
Heat the oven to 200 degrees.
Combine the meat, finely ground allspice, finely chopped thyme, boiled rice and egg. Mix thoroughly. Add a some salt and pepper.
There are different methods for preparing the cabbage. What you need to do is soften it. Some recipes will call for cutting the leaves off and then boil them to soften them. I've arrived to the conclusion that boiling the whole head in lightly salted water is easier. It makes the leaves soft and easier to cut off. And while you roll your kåldolme, you put the head back into the boiling water for the next layer of leaves to come off.
Cut off the hard white part of the cabbage leaf, and put about a spoonful of meat mix into it. Roll the cabbage tightly around the meat.*
Heat a pan, and fry the kåldolmar-rolls upside down in a lot of butter, to give them some flavour and color.
Put them in a big pan, right side up, and drizzle them with golden syrup.
Cover the dolmar with homemade beef stock and milk. If you need an idea of how much liquid we're talking here, I would say so that it just barely covers the kåldolmar.**
Put them in the oven, and let them cook for 45 minutes. They should have very dark, almost black spots every here and there. This is normal, and gives the cabbage a wonderful roasted flavour.***
Set aside the kåldolmar, and strain the liquid into a saucepan. This is now packed with meaty flavours from the stock and filling, sweetness from the syrup, and a lot of cabbage flavour. Simply wonderful. Let it cook until reduced with about 30%.
Add full cream. If you need to add salt and pepper, now is the time to taste.
Mix some corn starch with cold water. Take the saucepan off the stove, and drip the corn starch mix into the sauce while stirring. Then bring the sauce back to a boil, and it will thicken almost instantaneously.
Recipe notes
*  If it's not done properly, it will open up during the cooking process and you'll end up with meat outside.
** That will protect them from the heat in the beginning of their time in the oven and gradually expose them to the dry heat the more the liquid evaporates.
*** That having been said, you're not supposed to burn them. If there's a burned smell and taste to it, you screwed up.
This is how you make the mashed potatoes:
Well, let's call it crushed potatoes. Nothing advanced going on here. Boil the potatoes in salted water until soft.
Crush the potatoes, and add freshly ground/grated nutmeg.
About 100 grams of butter… yup. Stir until the butter melts and dissolves into the potatoes.
Salt and pepper to taste.