A version of noodles for when you're short on money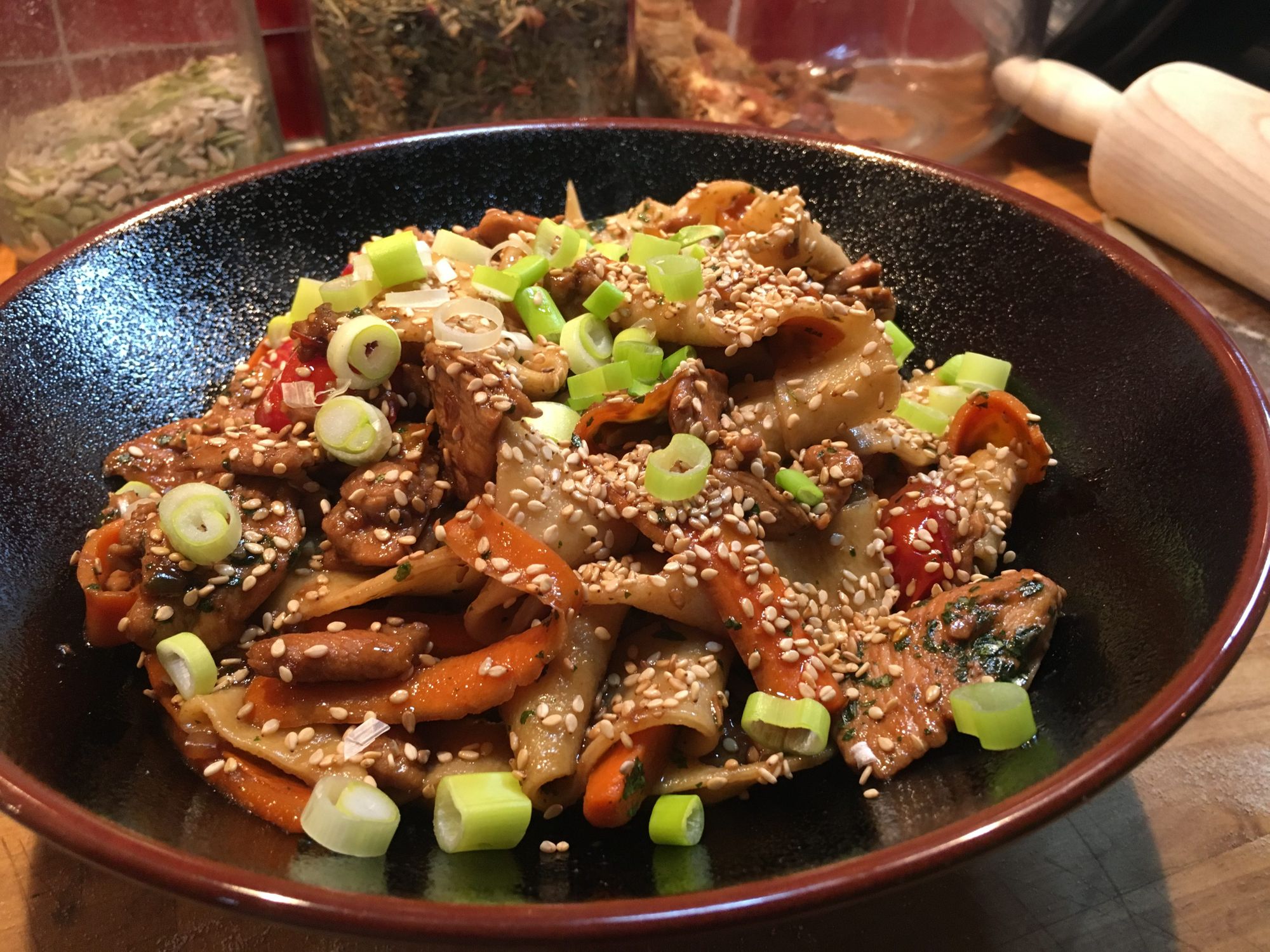 Prepare the Biangbiang mian noodles
300 grams of flour
2 eggs
a little water
Mix flour and eggs until they're all combined. Sometimes, this is almost enough. The dough starts coming together. But not completely, right?
So add a little water at the time and wait while you kneed the dough (manually or using a stand mixer). When the dough comes together, but is still really soft, it's done.
Leave it to rest in a plastic bag. Preferably for several hours but at least for one.
Flatten the dough with a rolling pin.
Cut wide stripes.
Just before serving, boil them in water for about 2,5 minutes.
Drain and mix with sauce!
Prepare the sauce base
5 tablespoons of light soy sauce
2,5 tablespoons of sugar
2,5 tablespoons of vinegar or lemon juice if you have no vinegar
A little fresh chili or piri piri or any other spicy powder if you have any
A couple of drops of sesame oil
Scallion or onion (if you're broke, I guess onion is the best you'll do and there's no shame in that. It will turn out just great!)
Some vegetable oil, about 1 tablespoon.
Chop the scallions and fry half of it. Leave the rest to top off the finished dish.
Fry in vegetable oil.
Add all the other ingredients and let it simmer. If it's getting too dry, add a couple of drops of water.
Finish it!
Vegetables of your choice (e.g carrot, bell pepper, cabbage and what not)
Proteins of your choice (e.g chicken, beef, pork or tofu)
Added flavor of your choice (e.g parsley, coriander, basil or anything really)
Oil
Fry any meat first.
Add the vegetables
Add your sauce base
Chop up any additional flavor you have going, such as coriander. I'm using coriander a lot.
Add cooked noodles and combine.
Top your Biangbiang mian noodles off with chopped scallion.