Cuban sandwich in beer bread
This is a new take on cuban sandwich made from scratch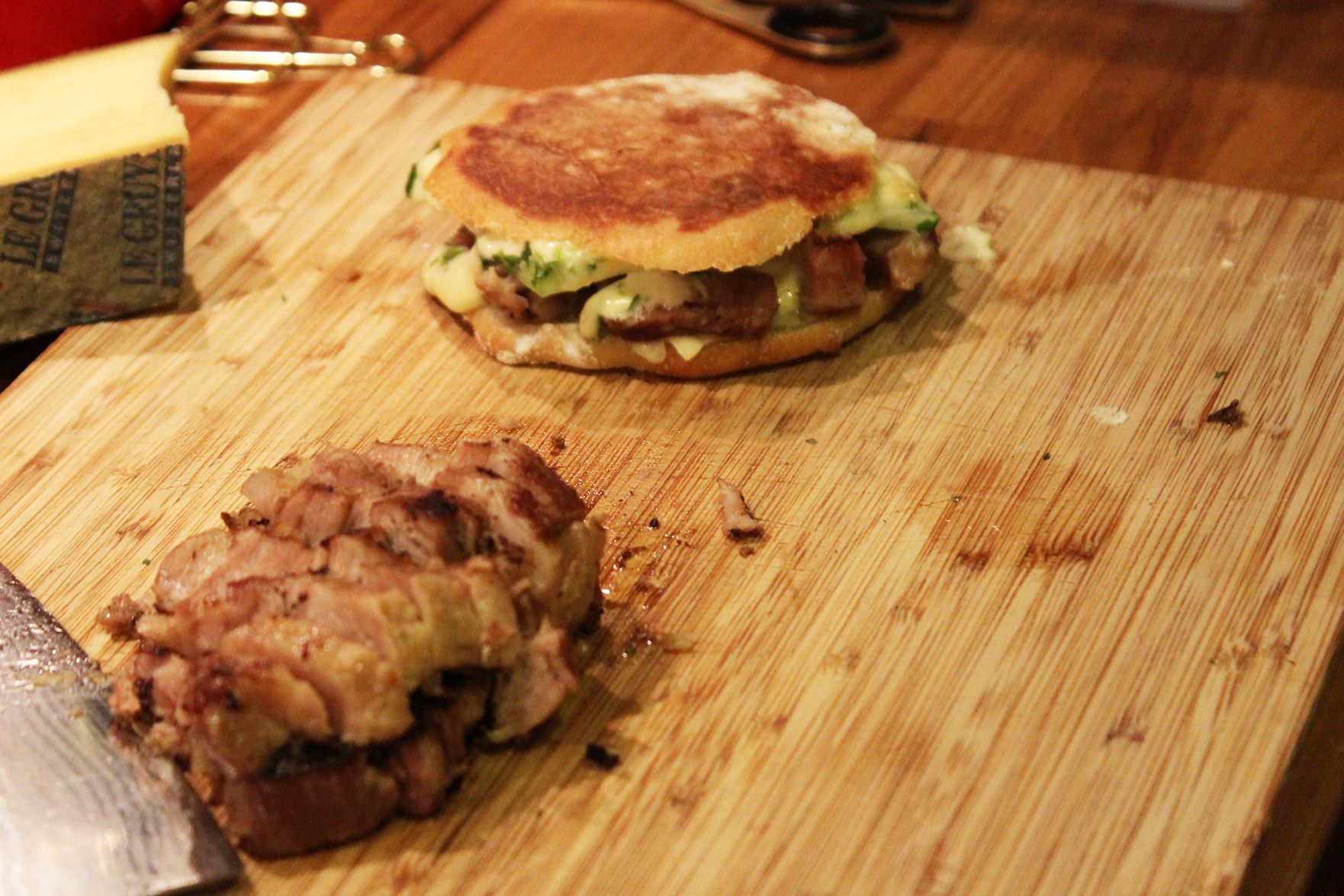 There are tons of recipes for Cubano sandwiches. For those who are not familiar with it, it's basically a pork shoulder sandwich with mayo and pickles served in Florida. There's nothing traditional about my version, but I'm sure you like it. It mixes flavors from all kind of cuisines. The meat is cooked sous-vide, French style but flavored very tropically with chili, garlic and pineapple juice. The bread is made with beer. The pickles are Swedish "pressgurka", using cucumbers flavored with vinegar, sugar and parsley. Hey, I'm not even sure I want to call it a Cubano. It's a Food Emperor beer bread sandwich!
How to prepare the meat
Pork shoulder (about 800 g for 4 hungry people)
1% salt (so for 800 g of meat we're talking 8 grams of salt)
1/2 chili
A can of crushed pineapple (that's about 260 g)
30 g of olive oil
100 g of beer (I use a flavorsome lager, but use whatever beer you like)
5 g of oregano
5 garlic cloves
This is how you make it:
Cut the pork shoulder into thick slices, rub all the salt into them on all sides, and put them all into a sous vide bag.
In a mixer, mix the chili, pineapple, oregano and garlic.
Then, pour the mixture into the bag.
Pour in the beer.
Pour in the olive oil. Why not just mix it all with the olive oil from the very beginning, you ask? Because mixed olive oil gives a bitter taste. Try for yourself, mix some olive oil by itself and then try it.
Heat up a water bath to 80°C using a circulator for sous vide cooking and cook it for 8 hours. If you don't have a circulator, ignore the bag. Just put everything into a large pot and cover with water. Let it cook in its own juices for 8 hours.
When 8 hours have past, take the meat slices out. Be careful, they fall apart easily. Now heat up a pan on very high, and fry the meat in some oil. We're talking seconds, just to give the meat a nice crust all flavorsome and good. If you leave them to fry for long, they'll lose all the nice interior we spent so much time making.
Finally, cut the meat slices into thin slices.
While the meat is cooking, prepare the "pressgurka" pickles
A cucumber
1/2 dl of vinegar
1/2 dl of water
1/2 dl of sugar
a handful of parsley
Mix the sugar and the liquids in a container
Peel the cucumber, and cut it along the long side so you have long slices.
Chop the parsley.
Combine it all in the container, put on a lid
How to make the mayonnaise dressing
4 large tablespoons of mayo (make your own or buy a good one!)
Ginger the size of your thumb
1 tsp of Dijon mustard
A clove of garlic
Grate the garlic and ginger
Mix all the ingredients an chill in the refrigerator until it's time to use it.
How to make the beer bread
Oh, it has a wonderful flavor of beer!
2,5 dl beer
1,5 dl water
3 cl oil
7,5 dl bread flour
4 cl sugar
1/4 cl salt
1 cl dry yeast
Mix all the ingredients. You'll have a very liquid dough.
Cover and let it rest for one hour.
It won't have grown much, way too liquid. But it should form sticky strings when you put a spatula in there and lift it. That's the gluten.
On a baking sheet, pour out the batter like dough using a spoon. Make individual buns.
Sprinkle some flour on top of the buns, and cover in plastic wrap.
Let them proof for an hour.
Heat the oven to 250 degrees and bake the buns for 10 minutes until they have a nice light brown color.
They're all flat, right? Well, that's alright. They're moist and packed with flavor. The flatness is ok, you'll see why in a moment.
Assembly of the beer bread sandwich
You need all the things from above.
And cheese. One that melts nicely such as the French gruyère.
A sandwich iron/press or two frying pans.
First, cut the buns in half.
Add cheese.
A lot of meat.
The sweet and sour parsley cucumbers.
The dressing
The top bun.
Put them in the sandwich press if you have one, but if you don't…
Heat up a big pan on medium.
Heat up a smaller pan on high.
Grease the bottom side of the small pan. And grease the normal (inside) of the big pan.
Put the sandwich into the big pan.
Put the small pan bottom down on top of the sandwich.
Use something heavy such as a mortar to press down the small pan.
After about a minute, you have an amazing sandwich to eat!