Stuffed sweet potato with asian flavors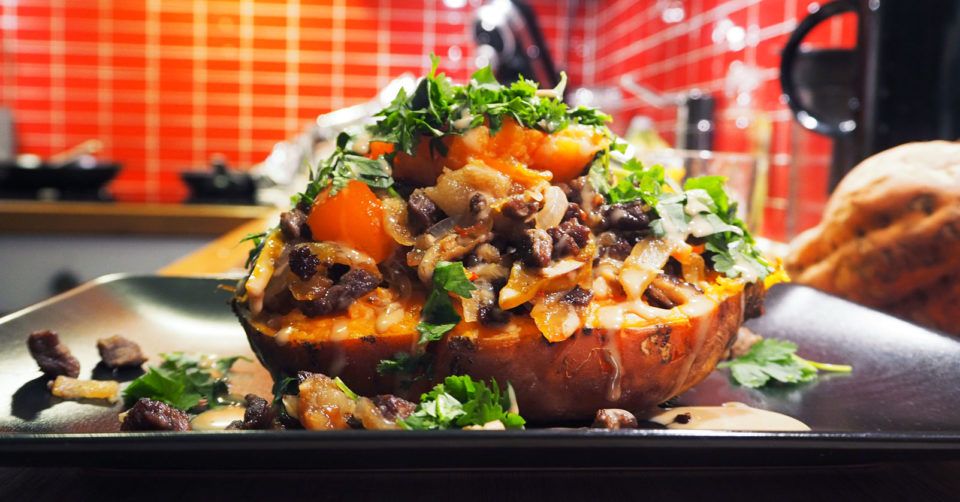 Who doesn't love asian food? Who doesn't love sweet potatoes? And who says you can't combine flavours from different cuisines in one and the same dish? I don't know. But what I do know is that this is amazing baked stuffed sweet potato stuffed with meat and vegetables, topped off with parsley or coriander (I mean, if you love coriander then why not just add it on everything?) and an amazing mayo dressing packed with flavours from ginger, garlic and sesame oil.
The sauce is enough for the whole week, put it on everything. The rest of the recipe yields two really hungry people or four normal bellies.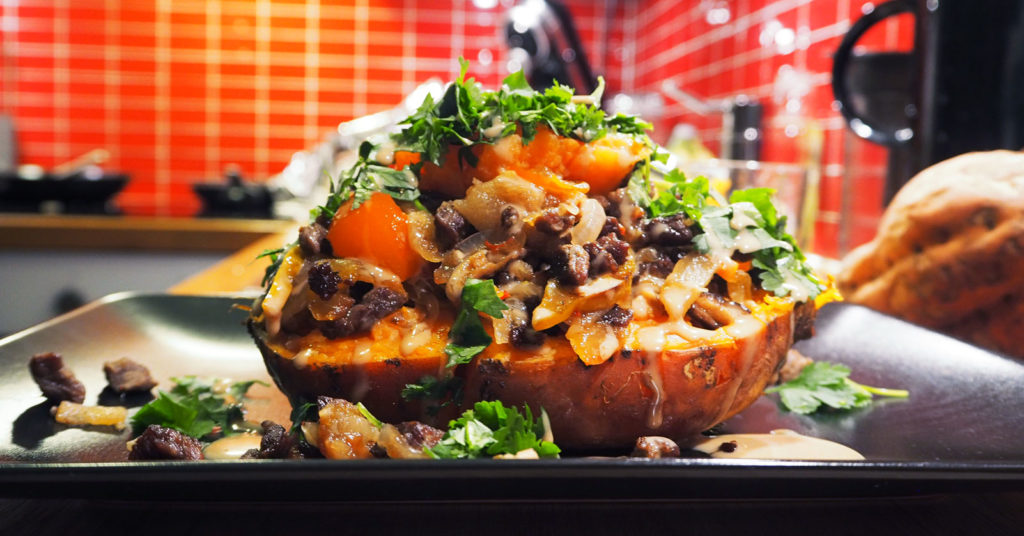 Day 1 – the sesame mayo sauce
These types of flavoured mayos all over Japan. They're savoury, and packed with flavours. Let's make the it ourselves!
3 huge tablespoons of mayo (by huge, I mean closer to 5 tablespoons)
2 tablespoon of olive oil
2 tablespoon of sesame oil
2 tablespoon of Japanese soy sauce. Because it's lighter in its flavour than Chinese soy.
2 cloves of garlic
A good chunk of fresh ginger (about the same size as two garlic cloves)
1 tbsp of honey (if your honey isn't very liquid, heat it up in the microwave for 5 seconds and it becomes easier to handle)
1 tablespoon of rice vinegar (or any neutral vinegar, so virtually anything but balsamic vinegar)
Grate the garlic and ginger.
Combine everything.
Put it in a container of some kind, and leave it in the refrigerator over night. Maybe even longer.
Day 2 – the stuffed sweet potato
Ingredients
A large sweet potato (there are different varieties, I'm using the orange flesh one, most commonly found in Europe)
300 grams of sirloin steak
A drizzle of oil for the pan (use one that can handle high heat, hence not olive oil)
1 firm pear
1/2 onion
1/2 red bell pepper
1 /2 yellow bell pepper
1/2 red chilli
1 clove of garlic
5 shitake mushrooms (remember the asian flavours? This has a very distinct flavour. If you can't find any, use other mushrooms)
1 tsp of sugar
A pinch of salt to taste (remember that the mayo sauce has soy in it, so don't overdo it)
Coriander because you love it, or parsley because you prefer that.
Instructions
Poke the potato with a fork, surround it with aluminum foil and place it in the oven on 200 degrees celsius. Leave it there for about 1 – 1,5 hours, depending on the size of the potato. A really big one needs closer to 1,5 hours.
Cut the meat into tiny cubes. We're talking as tiny as you can with a sharp knife. Of course, you can use minced meat but the texture is nowhere as fun.
Slice all vegetables. Including the pear, which you peel first. As for the chili, remember that most of the heat is in the white part. So cut it away if you want a milder spiciness.
Heat up some oil in a pan. We're talking high heat! Add the meat and stir it, making sure it doesn't burn and that it gets a really nice brown color. But be careful, because if the pan isn't hot enough, the meat will release liquids and boil instead of sizzle.
Turn down the heat, and then add all the sliced vegetables.
Finally, add the sugar. It will help caramelize the vegetables. Sure, onions caramelize by themselves but the added suger will help out a little. And it gives that extra goodness.
Salt to taste. A pinch or so. But be careful because the mayo sauce will be salty from the soy sauce.
Serve it!
Coriander or parsley
The stir fry meat and vegetables
The amazing sauce from the refrigerator
And the perfectly baked potato
First, cut the soft potato in two halves
Then, scoop out some of the sweet potato, and set aside for a moment.
Stuff the somewhat hollowed sweet potato with the goodness.
Top it with the scooped out sweet potato that you just set aside, and chopped coriander and parsley.
Now, the flavour will be bland until you add the amazing mayo sauce you made. Just drizzle it all over, and you have a dinner for an emperor!