Apple fries with coconut dip
World's shortest recipe that can still be considered a recipe.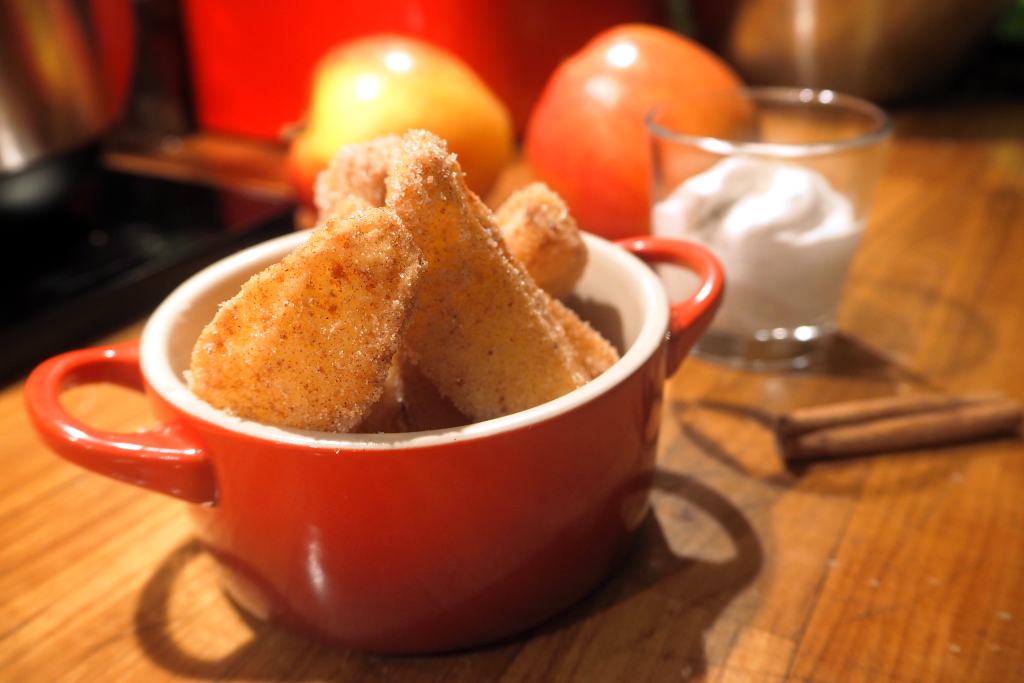 This might be the shortest recipe yet. Wonderful apple fries, soft on the inside and crispy on the outside. Coated with cinnamon and sugar. And a dip made from coconut cream with a dash of vanilla and slightly sweetened. It's that simple.
Yields 2 people. Just multiply the recipe for as many servings as you'd like.
This is what you need
400 ml coconut milk (that's usually a can)
2 firm apples
1/2 tablespoon of powdered sugar
2 tablespoons of granulated sugar
1 teaspoon of ground cinnamon
Seeds from 1 vanilla pod
A neutral frying oil (e.g canola oil)
Corn starch/potato flour
This is how you make it
First of all, put the can of coconut milk into the refrigerator for at least 4 hours. Preferably over night.
Take out the can, and open it. You'll see that the fat part of the coconut milk is on top. Scrape it out, and leave the coconut water. Now, whip the fatty coconut cream with the powdered sugar and vanilla. Leave in refrigerator while you prepare the rest.
Heat oil to 180 degrees Celsius.
Peel apples, seed them and cut them into apple fries.
Coat the apple fries in corn starch. The easiest way is to just put the cut apples into a large bowl with cornstarch and shake the whole thing around.
Deep fry them until golden brown, typically no more than 1 minutes if your oil is hot enough.
Put them on a paper to let the oil drain a little.
Finally, mix sugar and cinnamon in a bowl, throw in the fried apples and shake them around in there until they're coated in the sugar and cinnamon mix.
Serve the fresh apple fries with the coconut dip and enjoy.