Amazing home made kebab with home made pita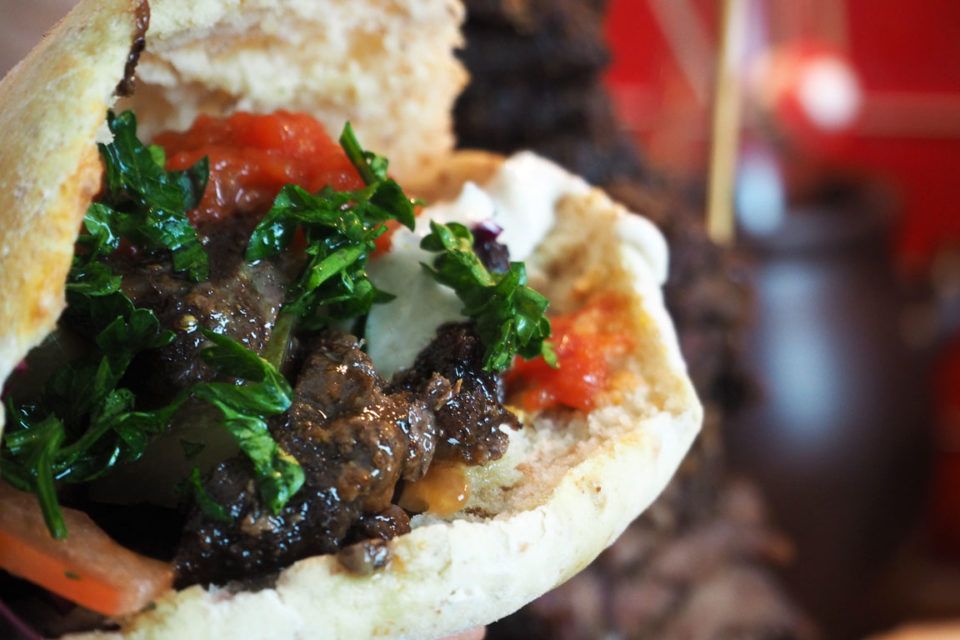 Let's start with the kebab meat
We're going to use spices of all kinds. There is no "middle eastern kitchen", what you eat depends a lot on where in the arab world you are. But generally they use a lot of onion, onion weed, garlic and whatever else grown locally. Cumin, cardamom, cloves, nutmeg, mint and coriander. The sour flavors come from juices (like lemon) and sumac (a plant with a very sour berry). So, let's get a middle easternish flavor for the meat.
2 grams of each of the following dry spices:
Coriander seeds
Nutmeg
Dry onion
Cayenne pepper
Garlic powder
Cloves
Cumin
Thyme
Mint
And then…
3 tblsp of vodka
3 teaspoons of salt (that's about 15 g)
5 tblsp of olive oil
1,5 kilos of beef chuck (can be substituted with pork if you want a gyros kind of thing)
Also…
An old cabbage or pineapple or anything you want to throw away.
BBQ sticks
And this is how the kebab is done
Simple just pour all the spices into a container together with vodka, salt and olive oil.
Cut the meat in medium thin slices and put them in the container. Make sure every side is covered with the marinade.
Put it into the refrigerator over night, or even longer. The color of the meat will turn a little pale or darken, but it's ok. It will tenderize and get all spicy and nice.
Cut the bottom of a cabbage or the top of a pineapple. You're going to use it as a base to elevate the meat from the greasy bottom of the pan, and to hold the sticks. Now put sticks into the base and put the meet on the sticks. Like a kebab roll. It sounds confusing, so just watch the video.
Put the kebab into the oven and make sure to secure the top by resting the top of the stick on something.
Roast on 125 degrees C for 4,5 hours
When it's time to serve, take out the meet, use a sharp knife to thinly slice pieces of it and let them fall into the pan where all the fat and spices are waiting for your meat to be dipped into it before heading for the pita bread.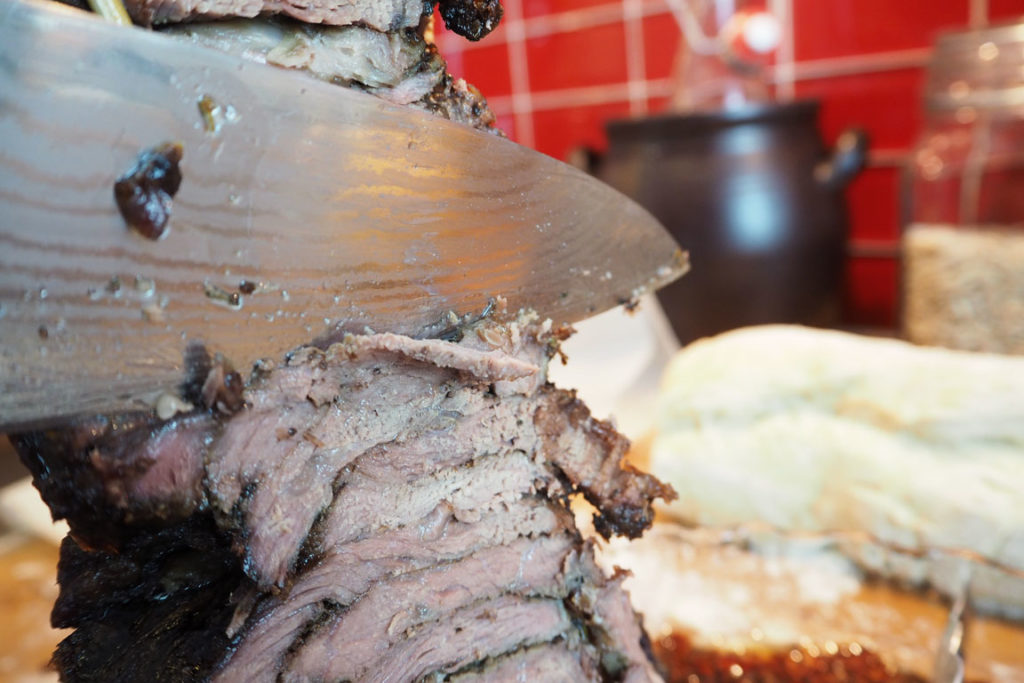 Now let's make the cabbage salad
There are tons of ways to serve kebab, and the basic meaning of a kebab is different depending on there in the world you are. Some just mean that the meat is roasted by rotating over a fire. If you ask a North European they will think of thinly sliced meat of beef or chicken into a bread with salad and sauce. Either way, we're making the "Döner kebab" style kebab but with better stuff in it. No minced meat.
Quarter of a red cabbage
Half an onion
A big handfull of parsley
Several dashes of balsamic vinegar
Two pinches of salt
A teaspoon of sugar
One piece of garlic
A liberal drizzle of olive oil
I've gotten complaints about being too specific with grams, so in return this cabbage recipe is more liberal. But you know what? You can't go wrong. Believe in yourself!
Thinly slice the cabbage
Finely chop the onion and parsley
Mix it all into a container with all the rest of the ingredients, cover and set aside in the refrigerator until it's time to server it. An hour or two is perfect.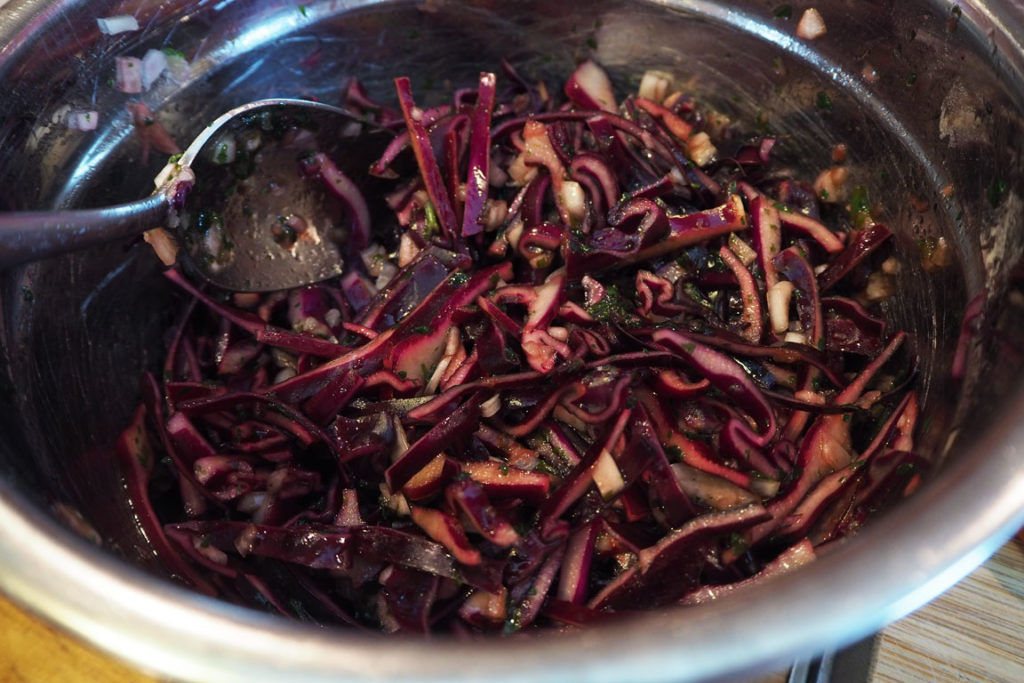 The pita bread
Some sources say you need to dissolve the yeast before adding flour, others add that you should wait with the salt until the very end or else the yeast will be sad. I've tried to bake pita a couple of times, and I've realized you can just mix all ingredients at once and let nature take care of itself. It works great.
25 grams of fresh yeast (or about 7 grams of dry yeast)
1 teaspoon sugar
35 grams rye or graham flour (about 0,6 dl)
310 grams unbleached all-purposed flour (about 6 dl)
1 teaspoon kosher salt
2 tablespoons olive oil
Enough water for the dough to just come together (about 220 g)
As I said, just mix it all up and kneed it for 10 minutes in a top mixer or 20 minutes by hand. When it comes to the water, add little at a time. Mix, add a little more. And so on. When the dough comes together, you've added enough water. Set aside and wait for the dough to grow two to three times in size. It takes about 90 minutes, depending on how warm it is in your kitchen. Now…
Set the oven 250 degrees Celsius.
Roll out the dough and cut into about 80g balls.
Roll out the balls into flat round shapes (not too thin, we're talking a thickness of about 1 cm)
Into the oven, and bake until the pita is a little browned but still quite pale, and has puffed up due to the air inside expanding.
Serve them freshly out of the oven, or at least as soon as possible. If you need to serve all your guests at once, leave the freshly baked pitas wrapped in a cloth to keep warm.
The white sauce
3 large tablespoons of greek or turk yoghurt
3 large tablespoons of mayonnaise
1 tablespoon of tahini (that's an Arabic sesame paste. If you can't get hold of any, you can somewhat substitute it by crushing a handfull of sesame seeds with some olive oil)
A pinch of salt
A teaspoon of dry mint
Juice from half a lemon
Mix it all up, cover and refrigerate for an hour or two.
Yes, that's all.
The red sauce
Half an onion
One piece of garlic
A dash of olive oil
1 piripiri (more if you want very spicy, less if you want it a little milder)
A can of tomato pulp/crushed tomatoes
1 bay leaf (preferably fresh)
A tablespoon of sugar
A pinch of salt
1 star anis (yup, makes the sauce great for kebab meat)
Finely chop or grate the garlic, and finely chop the onion.
Fry in some olive oil with the piripiri, until soft
Add tomato pulp, bayleaf, sugar, salt and star anis.
Let it boil slowly and carefully, until the liquid evaporates by almost 50% and you're left with a thick and flavorful sauce.
The serving…
Slice up some fresh parsley
Salted soured pickles (Polish style works great, they're soured and go very well with the rest)
Fresh tomato
The white sauce you made
The red sauce you made
The meat you cut and that is all covered in goodness
A pita bread
The cabbage salad
Cut a hole into a pita, and open the pocket
Put some of each sauce into it
The just fill that pita up with meat and salad and wonderfulness.
Top with some more sauce and some fresh parsley
Eat.