41 Grados, Barcelona, Spain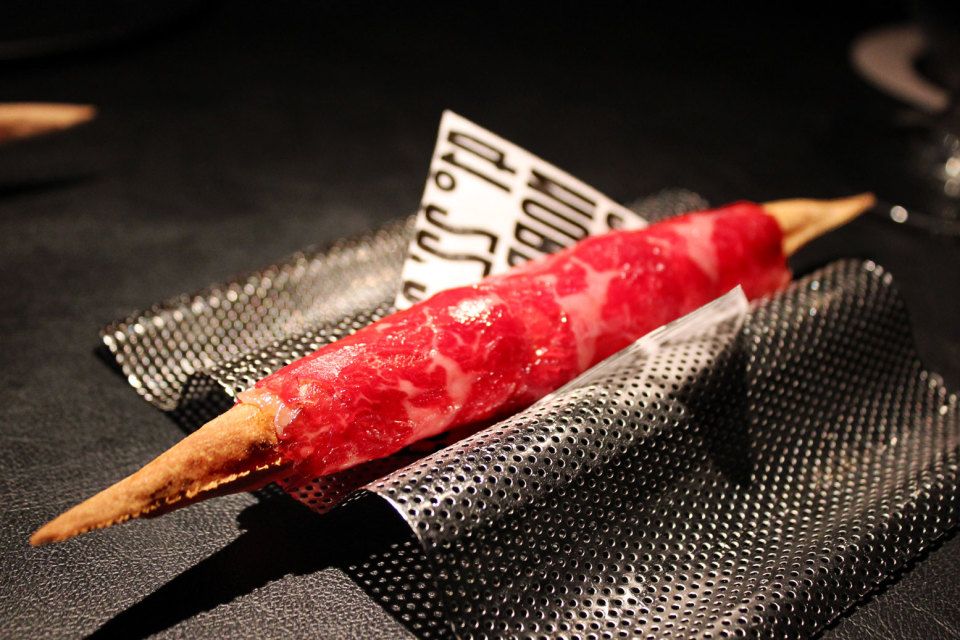 In January 2011, the three-Michelin-starred chef Ferran Adrià and his brother Albert Adrià, opened this small tapas bar (tapas as in "many small dishes"). Their idea was a multi-course dinner experience, with music, lights and sounds accompanying the taste buds. The result is 41° in Barcelona, and it's amazing. Since then, Ferran Adrià has closed El Bulli, and as a matter of fact, 41° is also closed for good. So this article doesn't really help you in any way other than that of remembering that Adrià is a superhero. Whatever he decides to open next, you should visit.
At 41°, every single dish was spectacular. And if you've ever been to 10 course dinners, multiply that with 4. A sweet-jelly-covered leaf, and a straw shoved down a flower. Drink from it, and you're a colibri. The plate is swiftly taken away, and before you know it you're sitting in front of a black-sesame ball looking like a pearl, and a piece of watermelon infused with red-beat juice, yuzu and licorice. By now, I knew this was already an amazing evening. And it only became better. The dishes all had simple names, like the "aubergine and caviar". This turned out to be an aubergine chip topped with hazelnut cream, osetra caviar and spicy sesame olive oil. These are not combinations they just happened to put there, they were carefully selected, paired and balanced. I sound like a snob here, but I don't know how else to put it. This was an amazing experience, and the only two things that made me sad at the end of the evening were 1.) that it was the end of the experience and 2.) that I never managed to get a hold of a table at El Bulli.
I could go on telling you about the grilled lily flower topped with tomato, nut and red pepper sauce; or the crayfish in fried chicken skin. Or why not talk about the El Bulli classic, that was now served at 41 grados, the puffed bread surrounded by cured cow meat? And the desserts. Oh, my, I'm telling you, coconut mató (Catalanian cheese) or the strawberry yogurt biscuit.
This was an amazing experience. If I need to express any perceived faults here, it would be that some of the dishes were difficult to eat. I don't mean that they were hard to eat once you put them in your mouth, I mean that some bites were tiny, and "hidden" on the table. The instructions were clear, "eat the little berry hanging from the tree like thing on your table, put the straw into the flour and drink like a bird, take the little piece of the stones, the one that looks like a pistachio. By all means, all these parts were amazing, but at times it was hard to remember what to take and in what order. None of this was a problem, though, I managed and I wish I could do it again.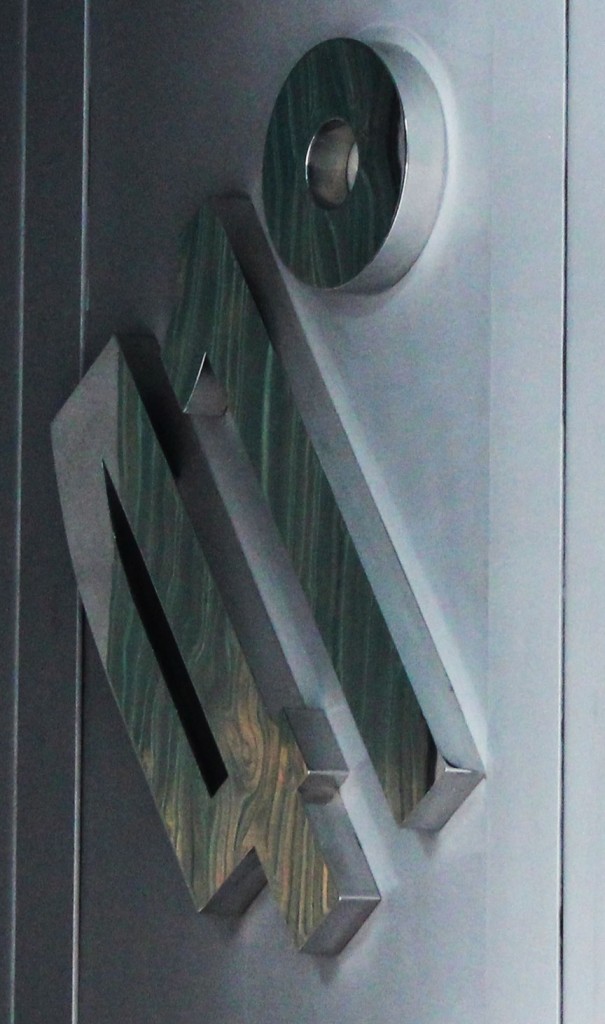 Humming bird, licorice cocoon, strawberry rose, lime leaf and infused pine flower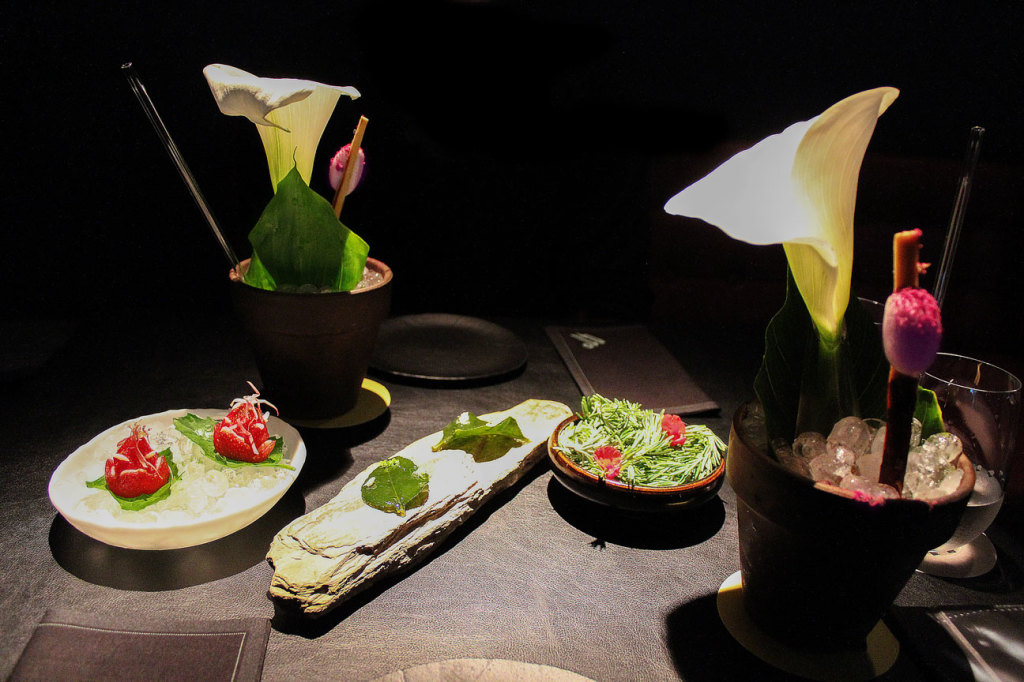 Makrut lime leaf
Pine flower infused in blood orange gel
Licorice cocoon
Strawberry rose with amaretto
Humming brid drink made of carrot, orange, milk, gin and shiso
Black sesame pearl & Infused watermelon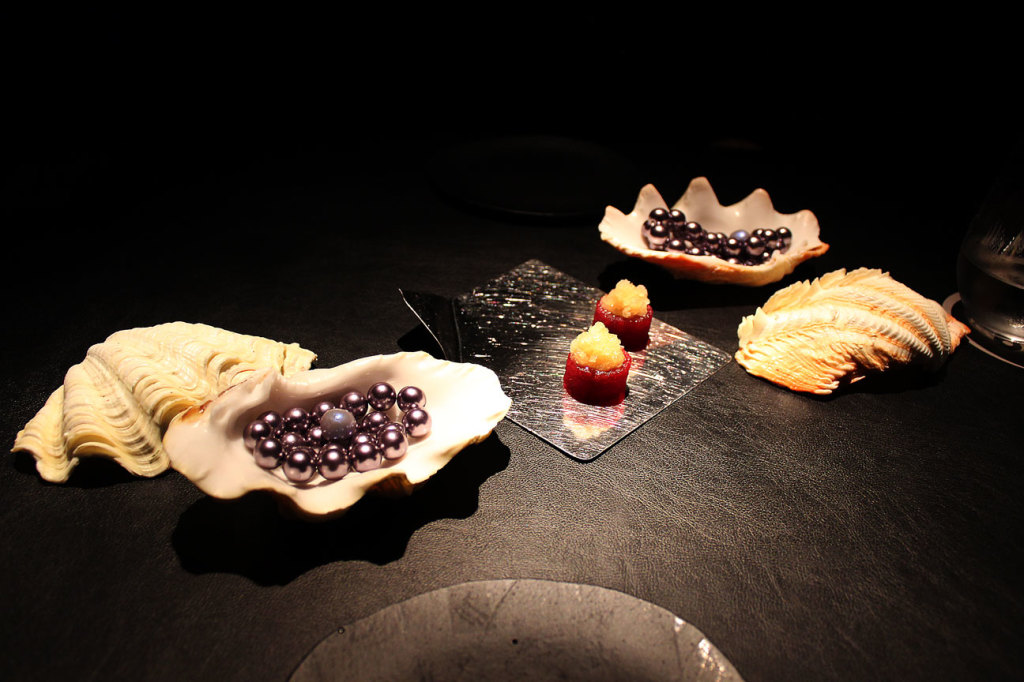 Black sesame pearl
Watermelon infused in yuzu, beetroot and licorice
Buhto & Infused pine flower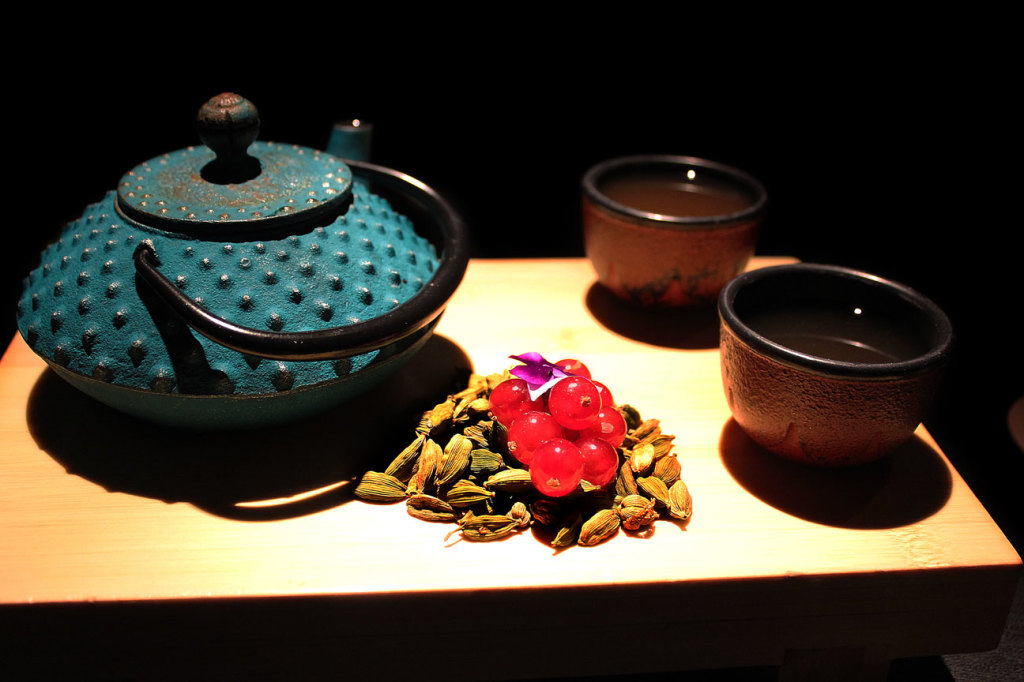 Buhto cocktail: mix of sake, sochu, cardamom and limequat
Infused pine flower
Spicy corn tentacles & Tuna millefeuille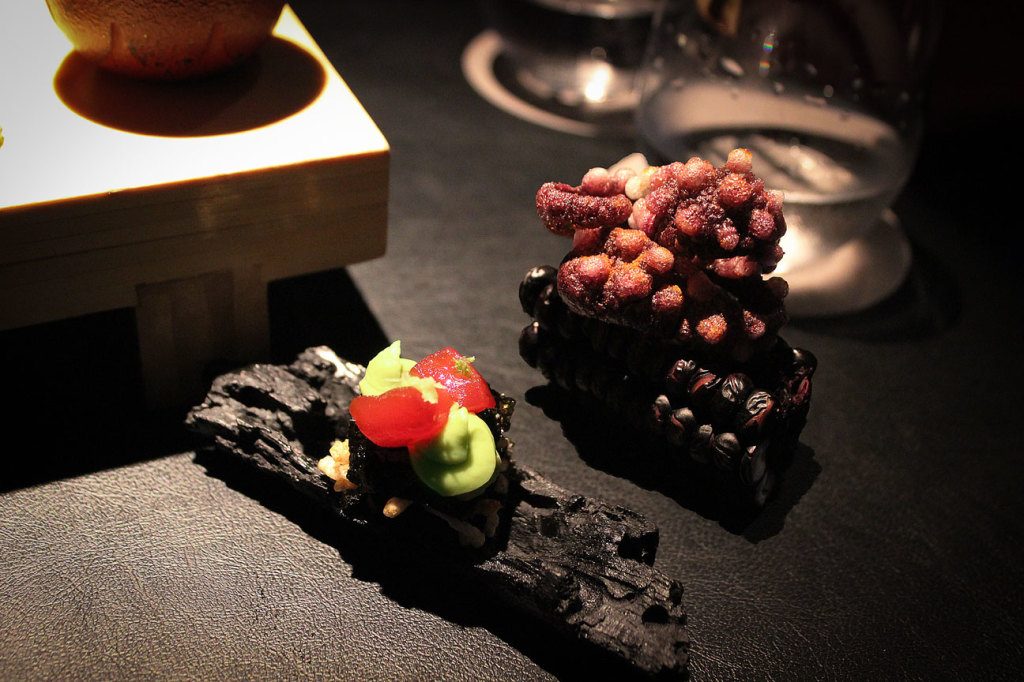 The spicy corn tentacles looks like octopus, but is in fact made of rice, quinoa and kimchi
Tuna, avocado and wasabi are presented into apuffed rice and crispy nori millefeuille
Oyster with tiger nut milk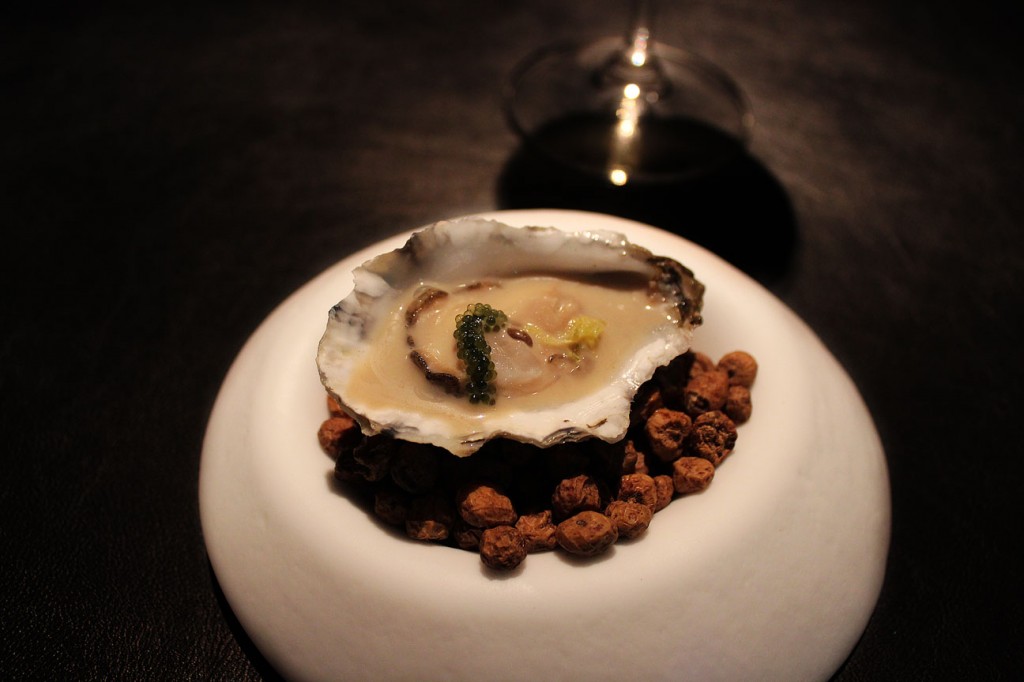 Oyster poached in tigernut milk, topped with lemonquat
Aubergine with caviar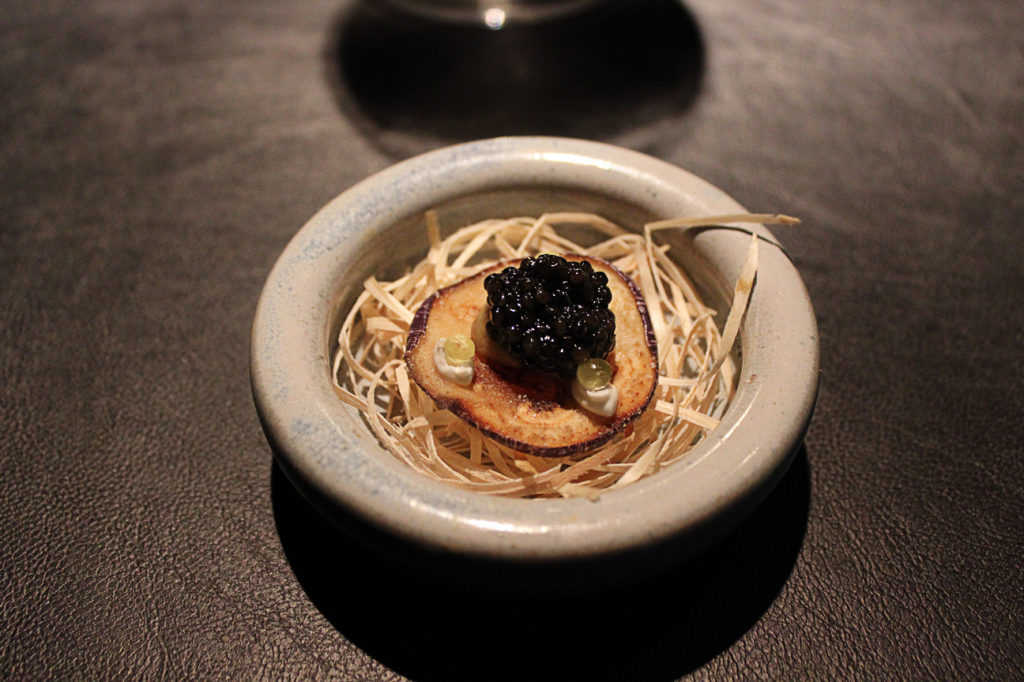 Aubergine chips topped with hazelnut cream, osetra caviar and spicy sesame olive oil
Cone of perretxiko mushroom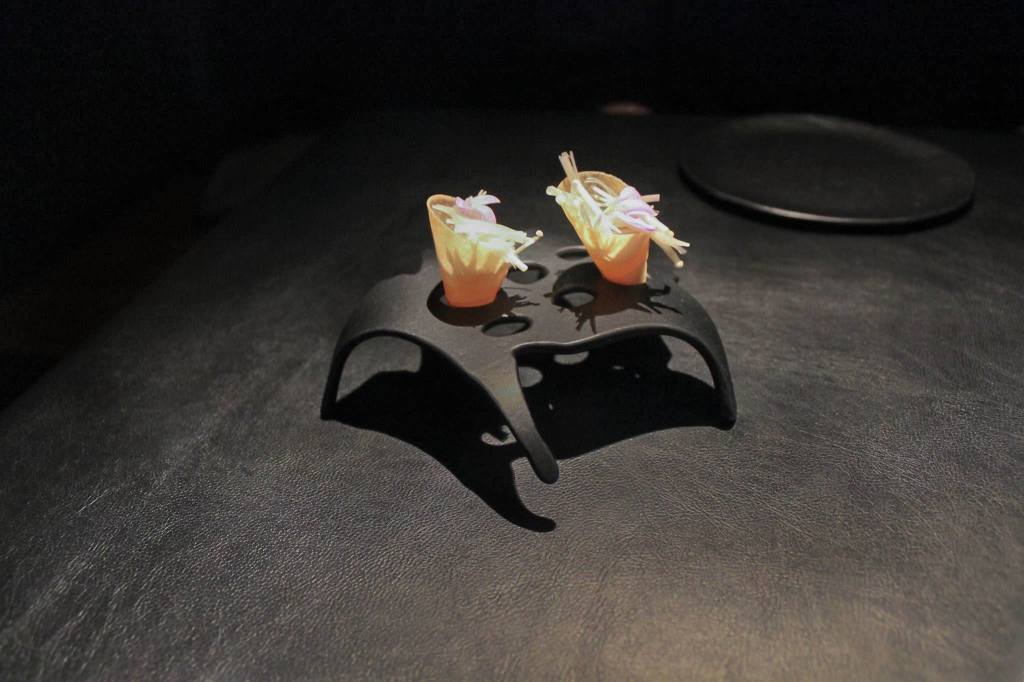 Enoki mushroom and wild garlic in pork rib juice
Parmesan and porcini forest floor pistachio and berries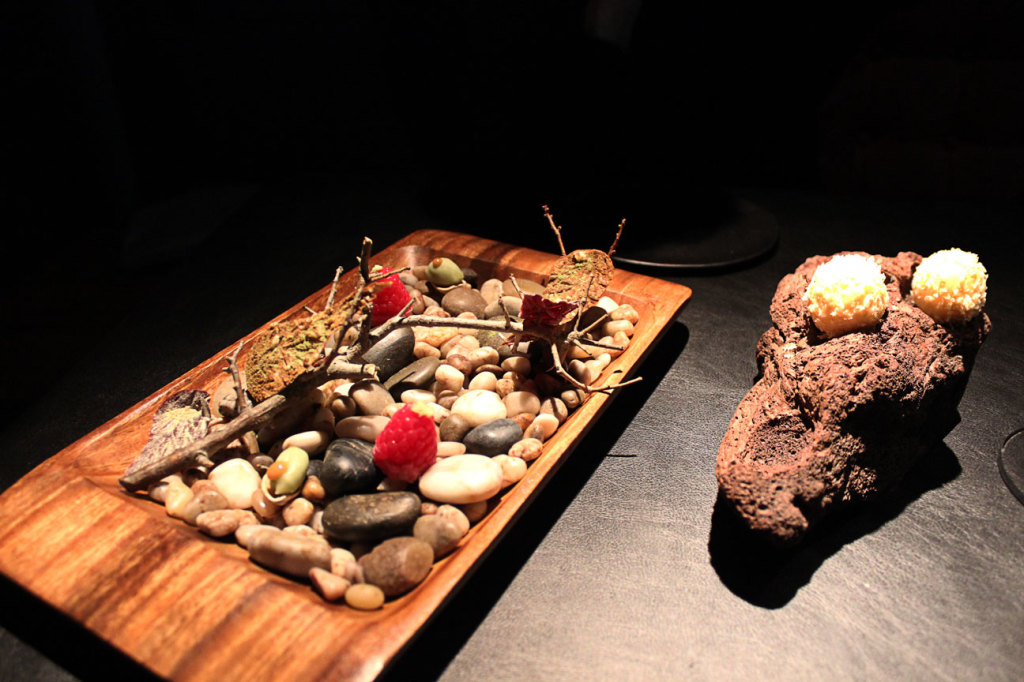 Caramelized rasberries topped with wasabi
Dried porcini mushroom shaped as leaves
Pistachio ganache mixed with honey shaped into a pistachio
Coconut rochers filled with parmesan cheese
Lily flower with romescu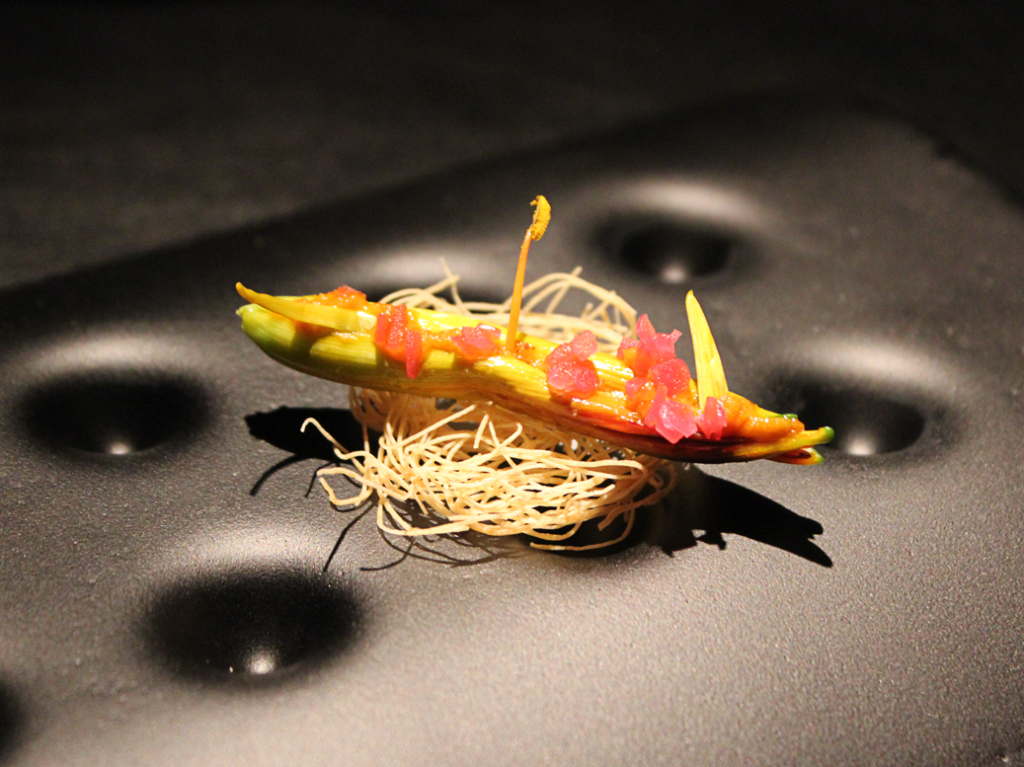 Grilled lily flower topped with tomato, nut and red pepper sauce
Rubia gallega airbaguette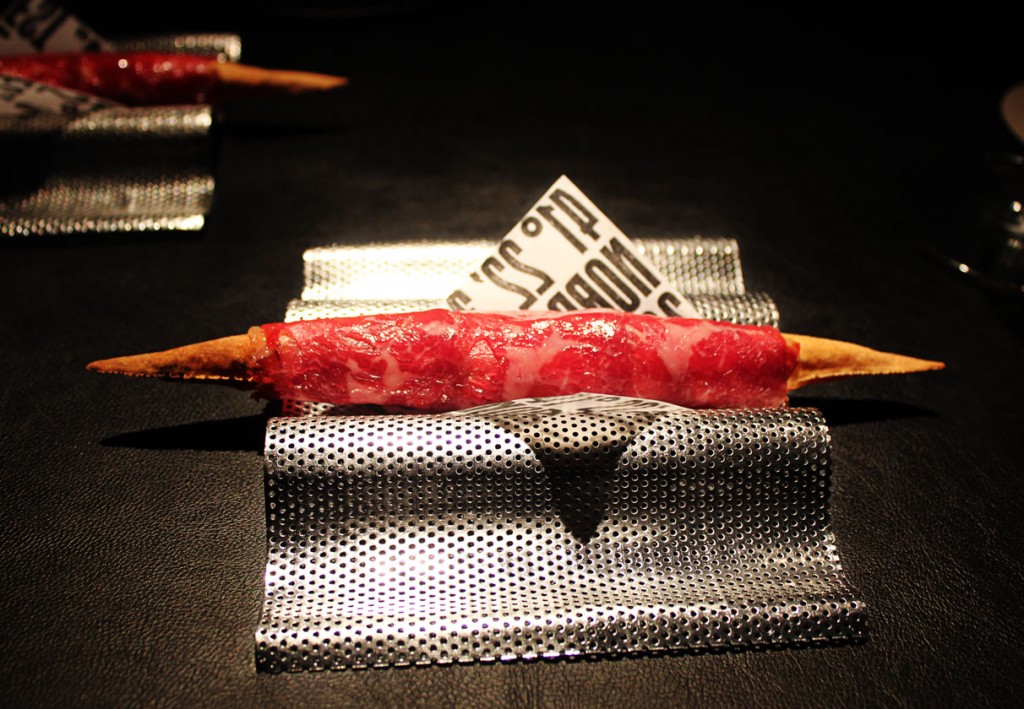 This El Bulli dish is made of puffed bread surrounded by cow.
Horse mackerel and cherry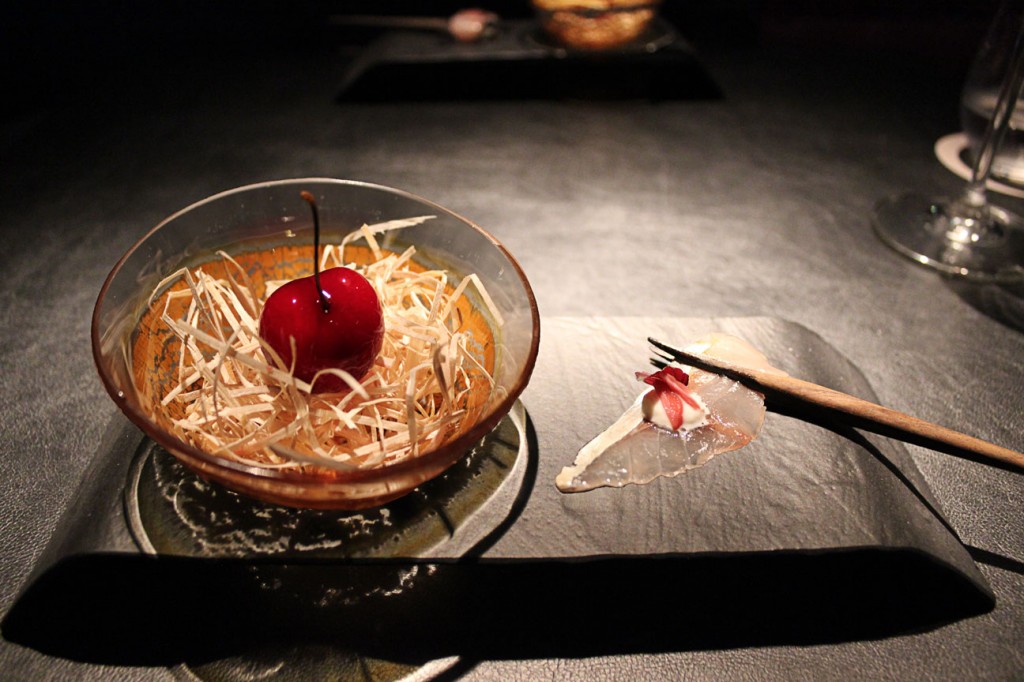 Smoked horse mackerel served with stracchiatella cheese
Cherry umeboshi
Miso asparragus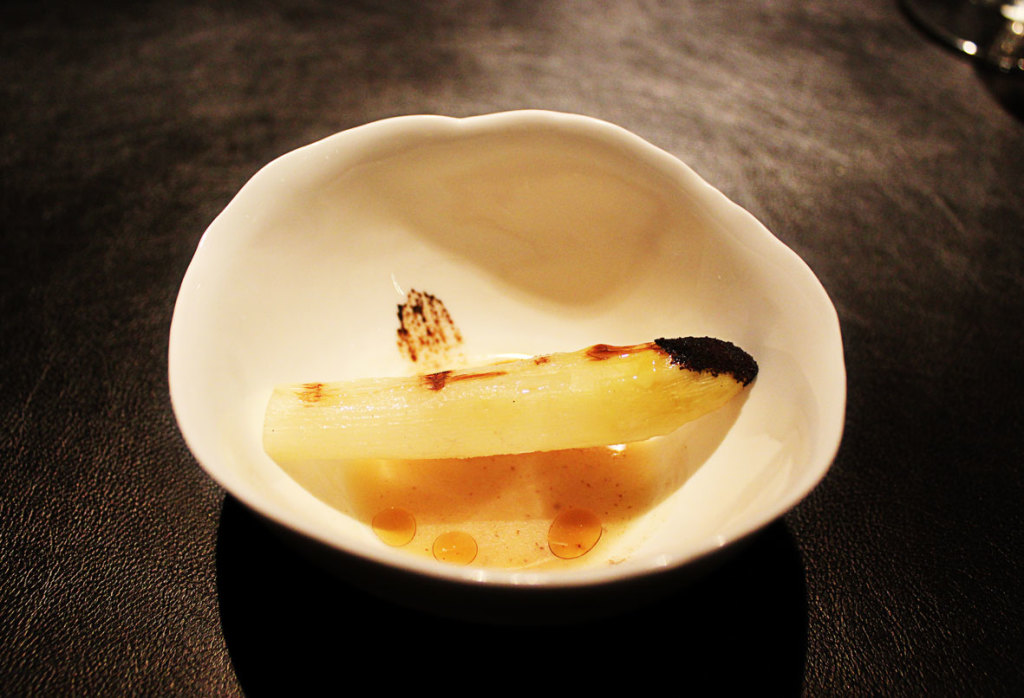 Braised asparragus with black garlic in sesame oil and miso sauce
White asparragus bone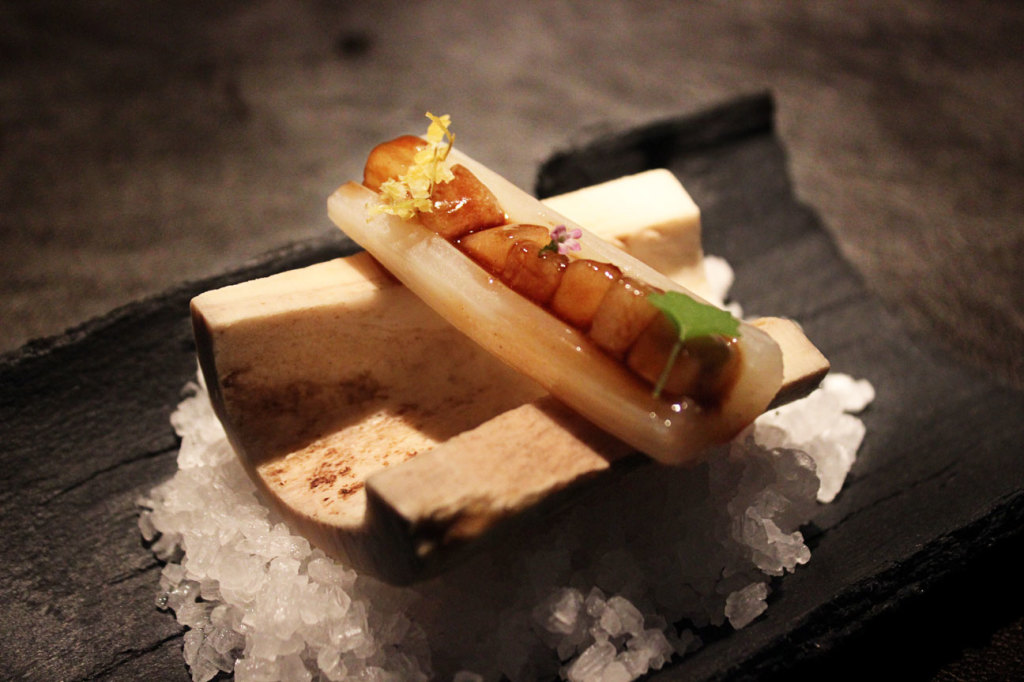 White asparragus shaped into a bone marrow, filled with bone marrow and pork rib juice
Chicken and crayfish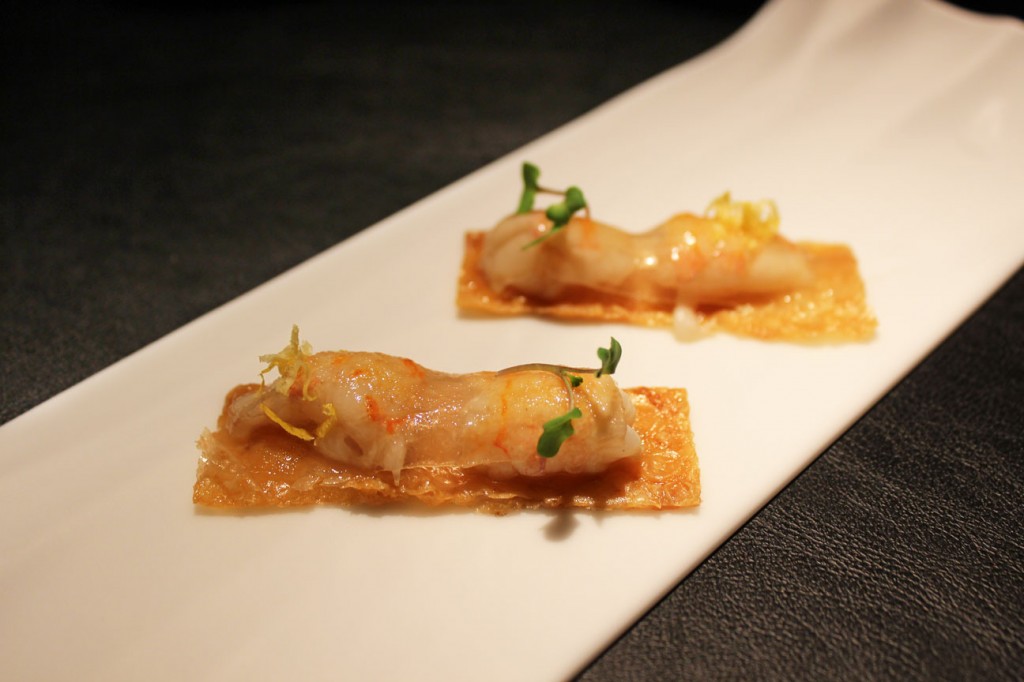 Crayfish in fried chicken skin
Suquet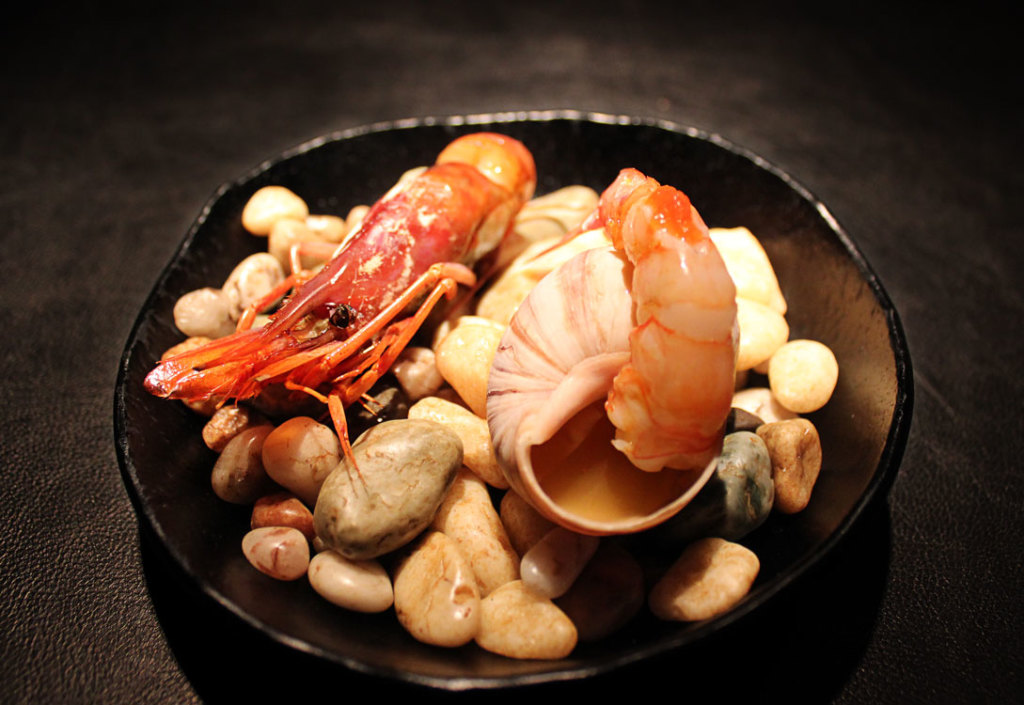 Suquet de peix, "fish stew", is a Catalonian dish made of fish, shrimps and potatoes. Originally, it was a dish eaten by fishermen with the products they didn't sell that day.
Nitro bloody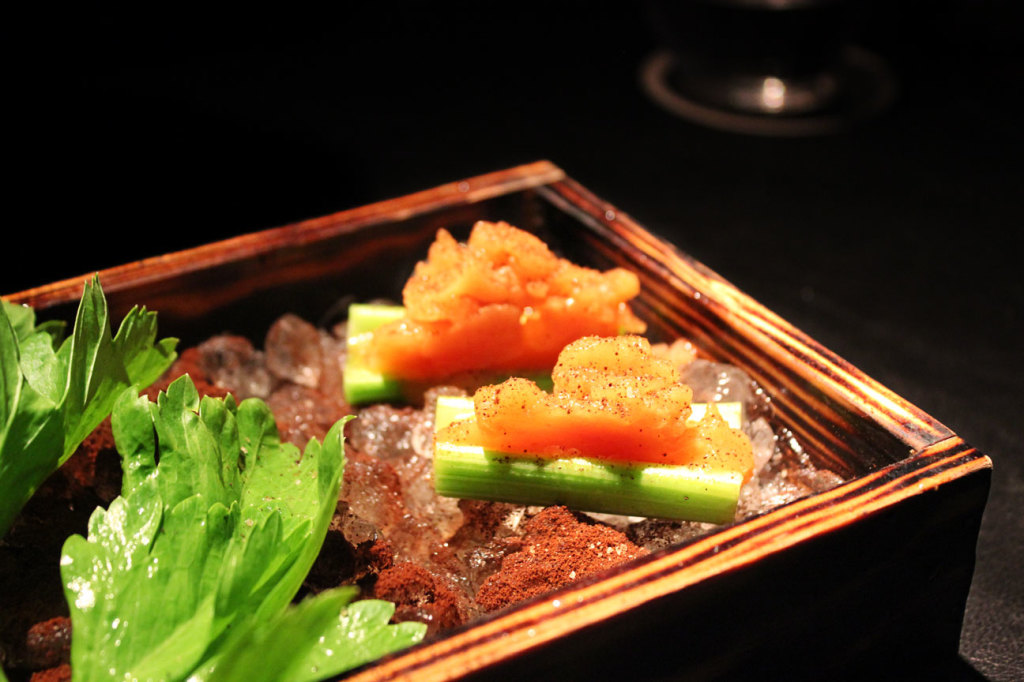 Made with liquid nitrogene, this "cocktail" was a Bloody Mary sorbet composed of tomato and pineapple coffee
Nordic toast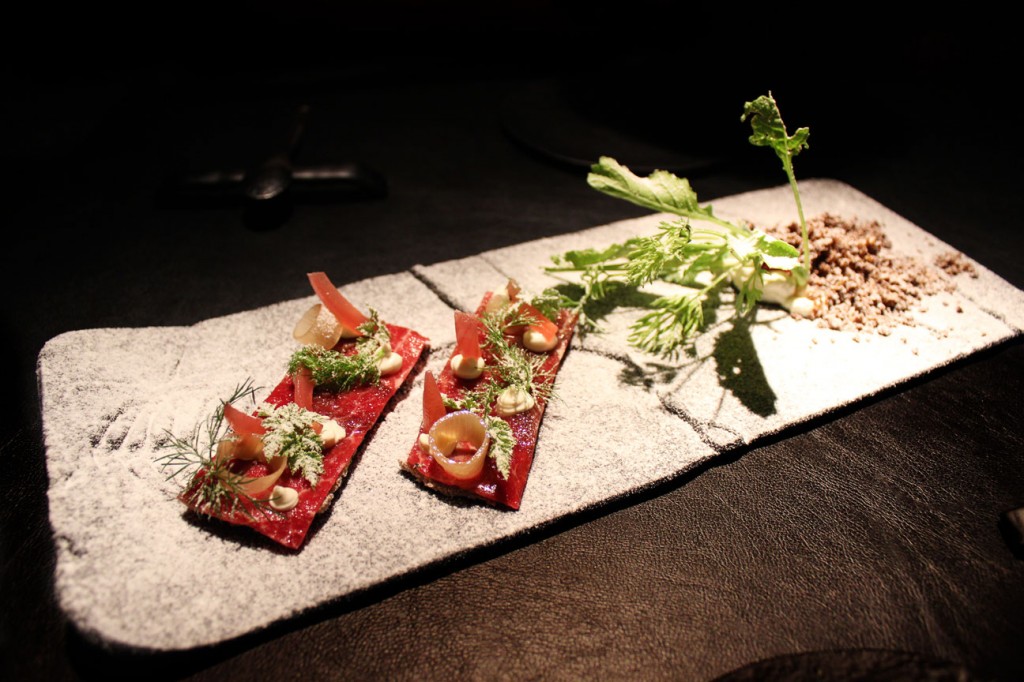 Beef carpaccio, pickled vegetables, sour cream and vinegar powder
Baby carrot, horseraddish and beetroot jelly
 Agave amber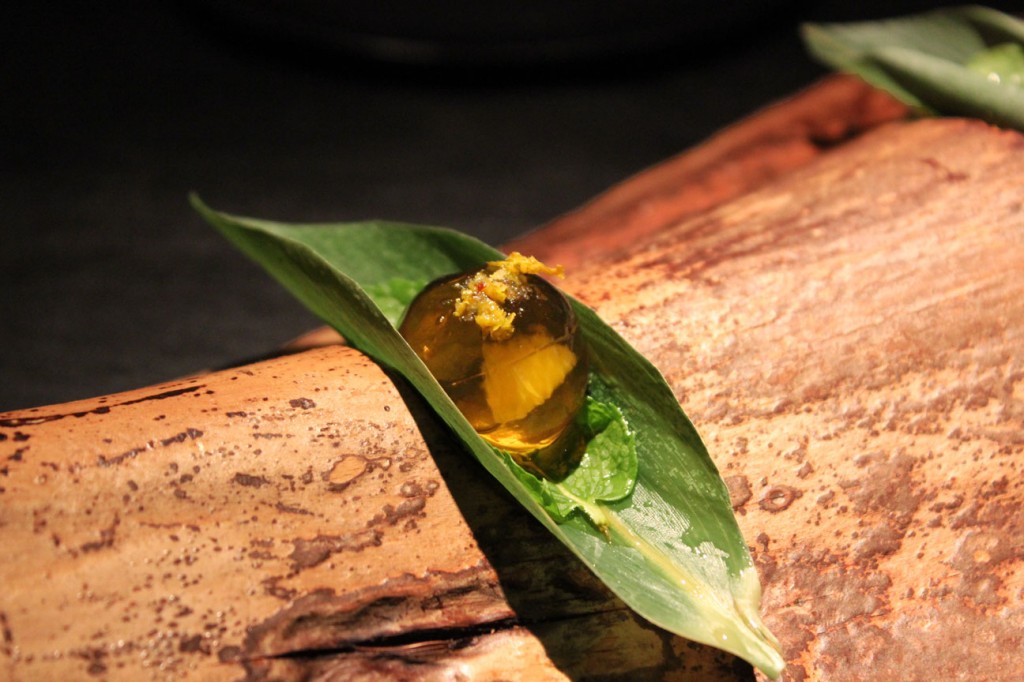 Spherified chipito cocktail
Prawns aguachile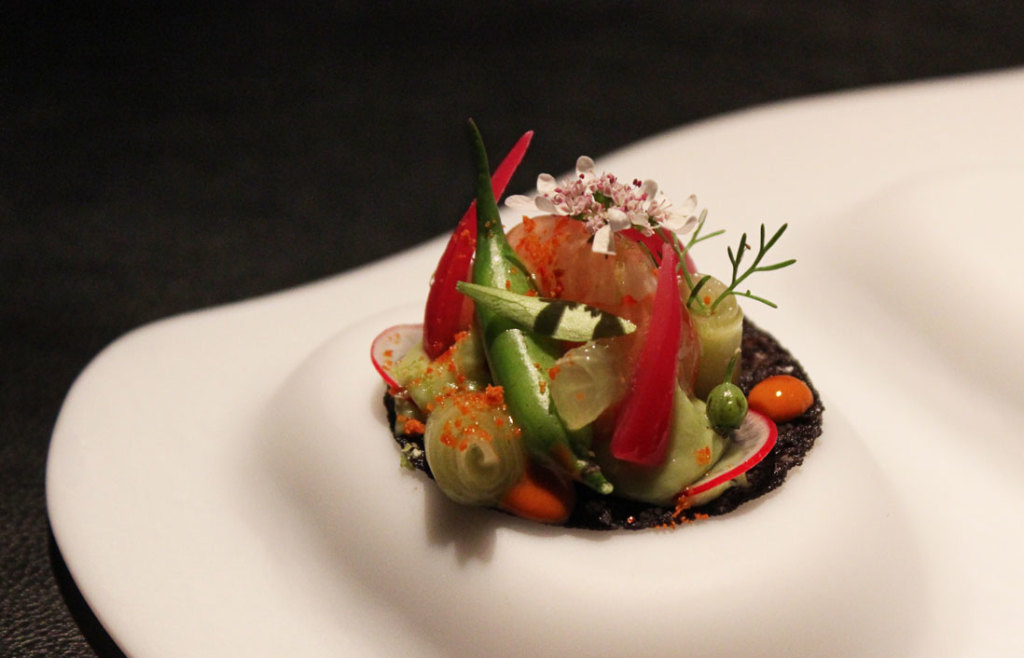 Prawn with lemon and avocado
Nigiri nikkei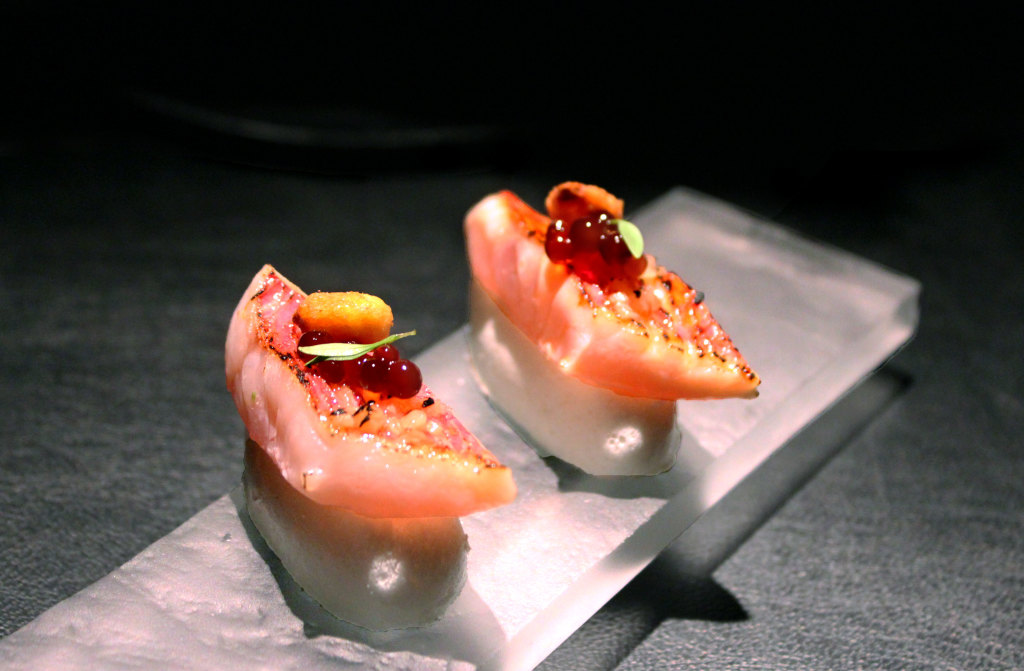 Smoked red mullet on a bed of tapioca, topped with a fried corn, lemon and kumquat
Atahualpa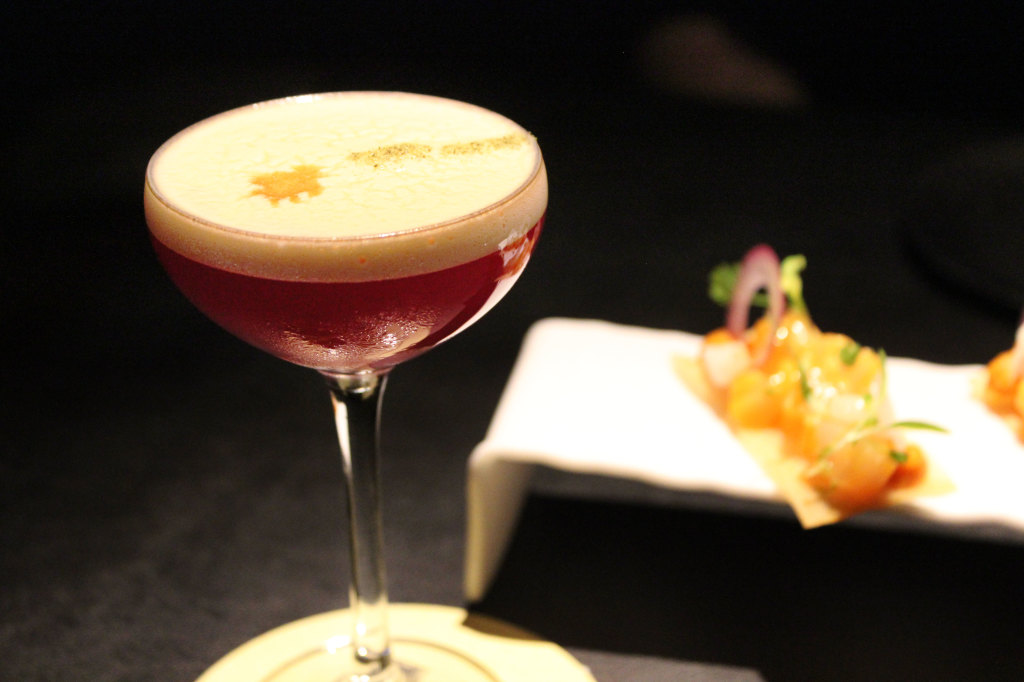 Pisco sour with pineapple juice, apple liquor and Peruvian purple corn.
Ceviche norteno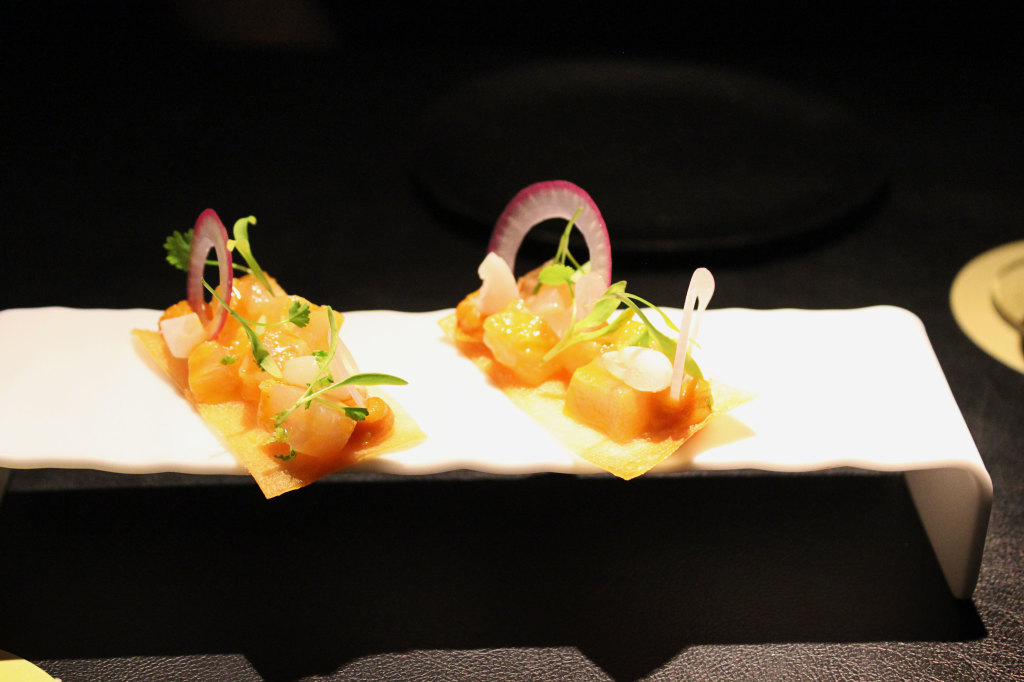 White seabass in aguachile with sweat potatoes and choclo (Peruvian corn), topped with yucca chip
Duck baggel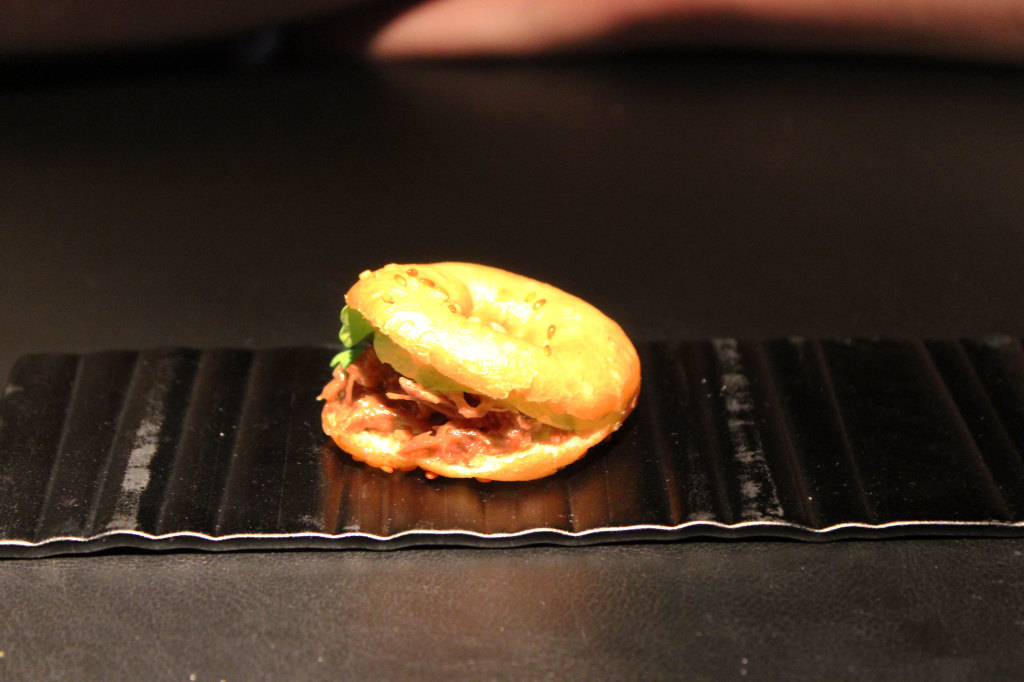 Sesame seeds bagel filler with duck, cucumber and pickled fennel
French bite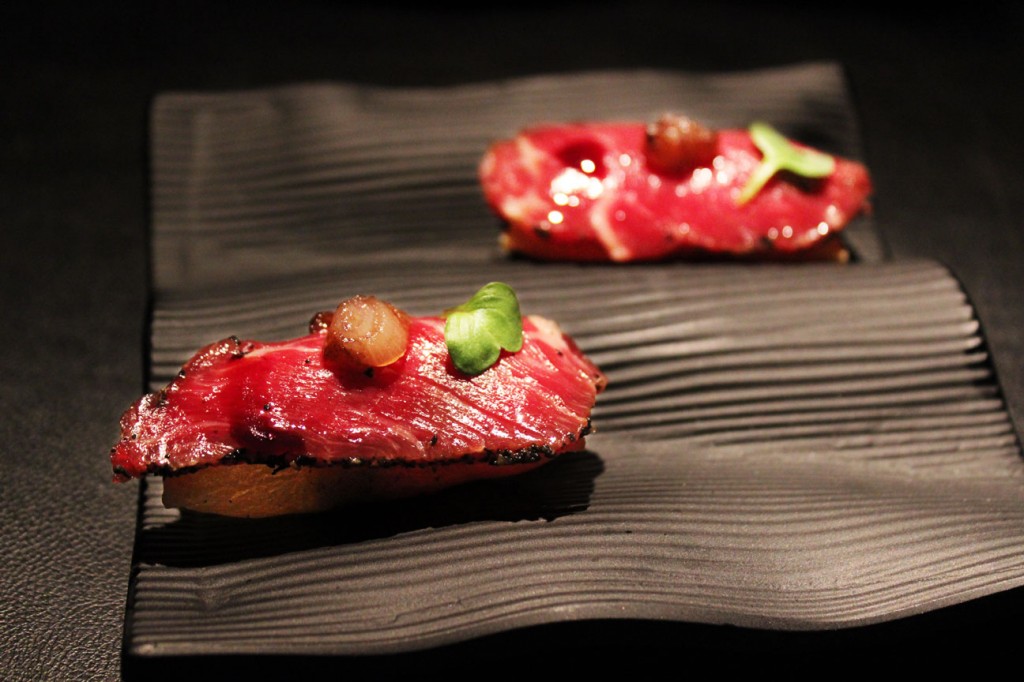 Inflated potato filled with bearnaise sauce, topped with Iberian pork belly macerated in sweet wine
Vietnamese roll of squid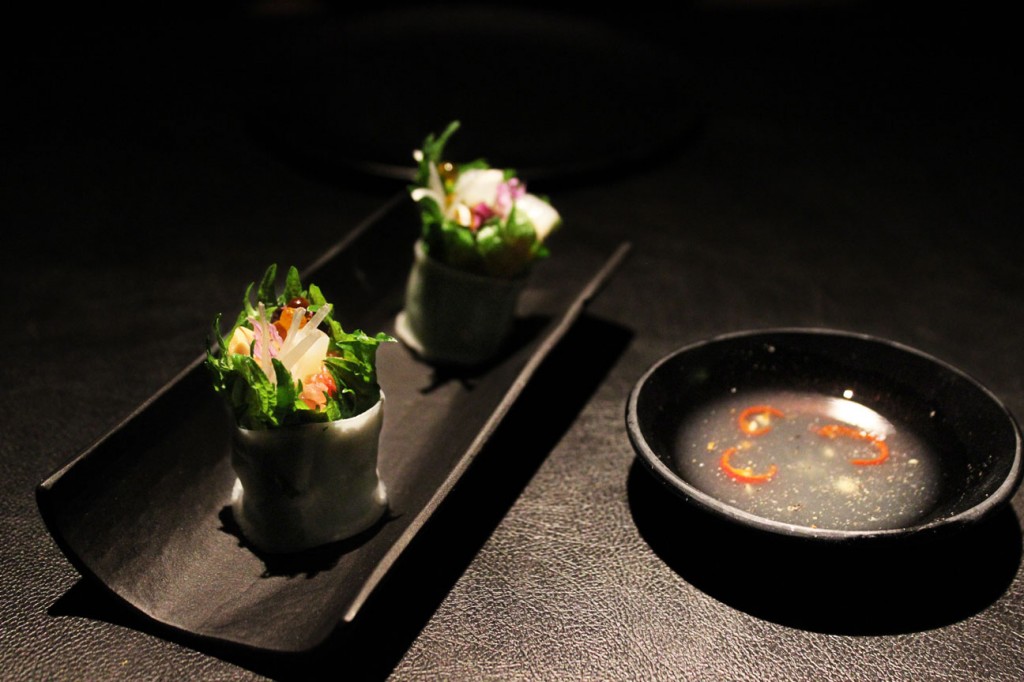 Squid, garlic, peanut and ugli fruit in shiso leaf
To be dipped in a sauce made of fish, lime and chili
Banhn mi cookie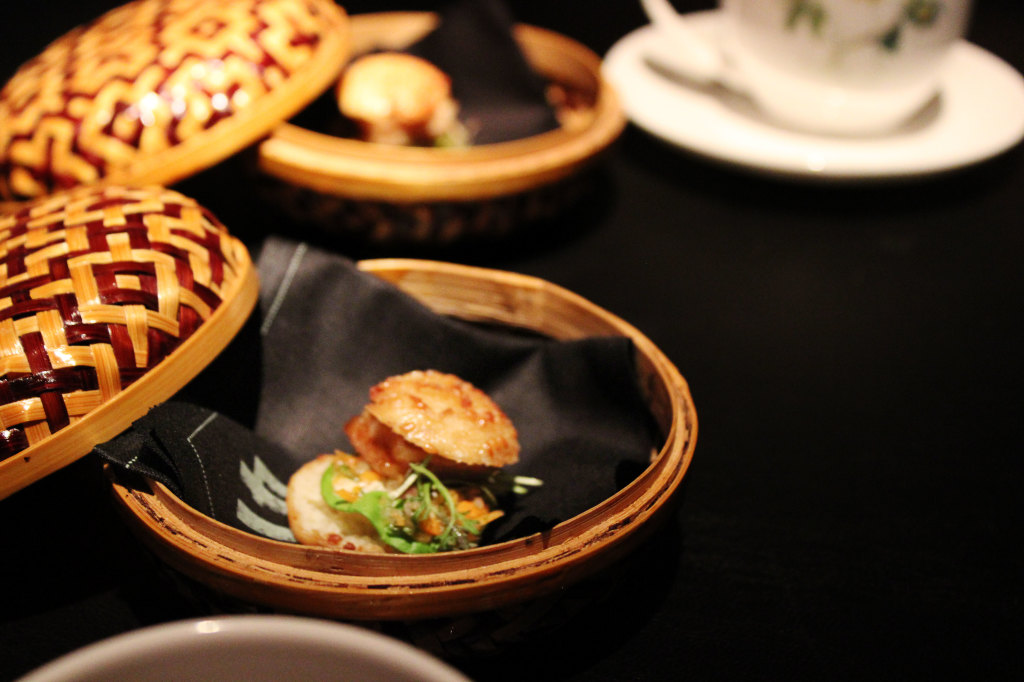 Redcurrant merengue and sweet potato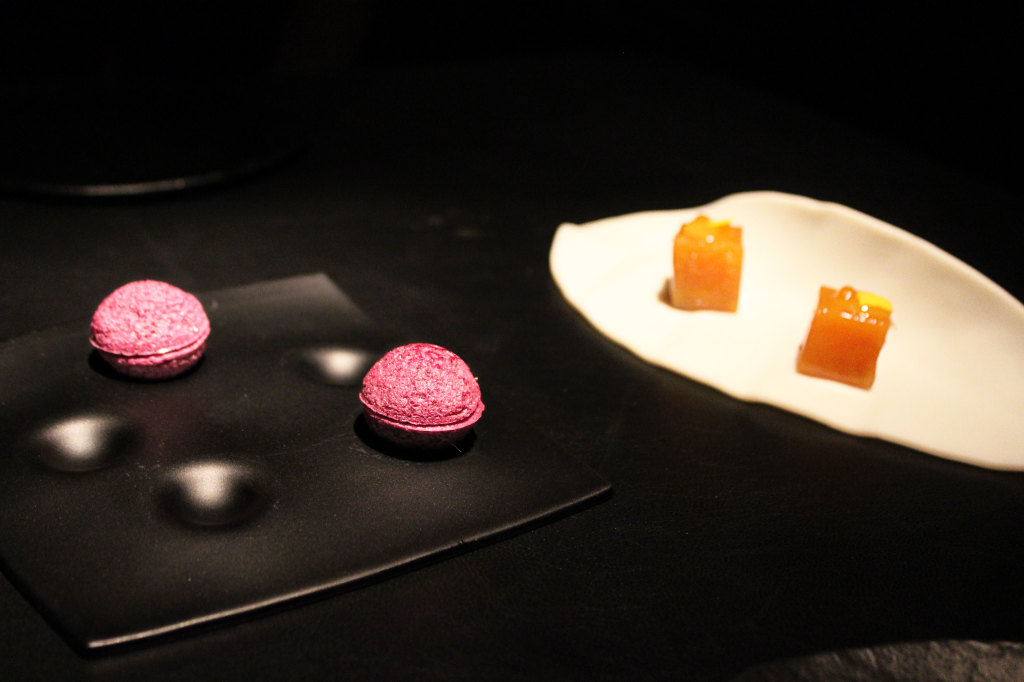 Meringue filled with mustard and horseradish cream
Mashed sweet potato with unslaked lime skin, topped with kumquat jelly and chili oil
Thaiquiri & Coconut mato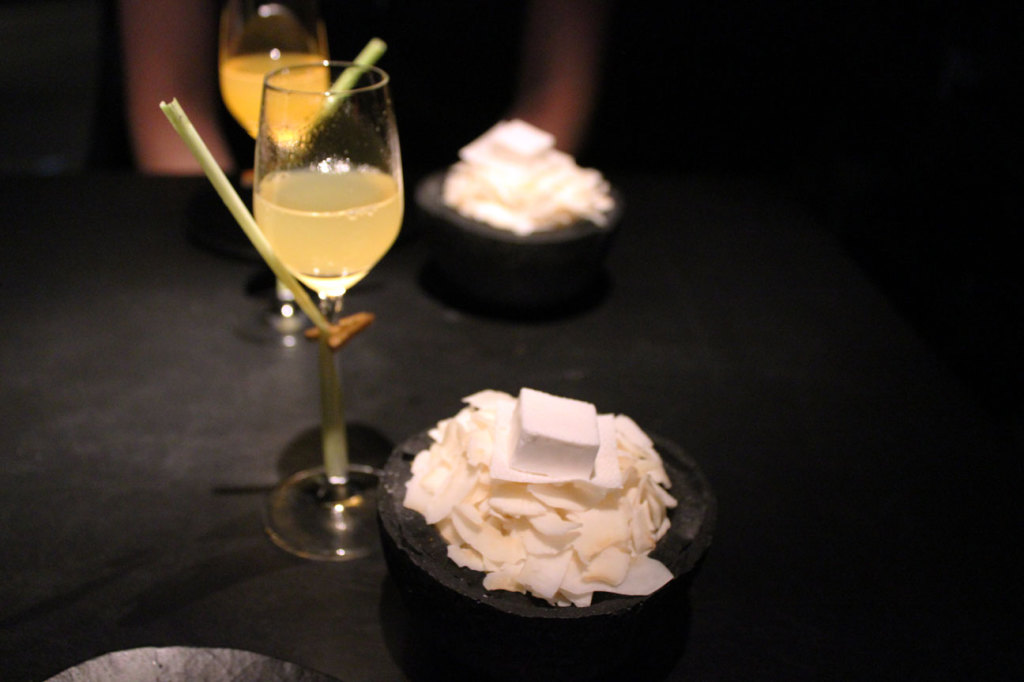 Cocktail of daiquiri, lemongrass, pineapple and honey
Coconut mató (Catalanian cheese)
Soy temaki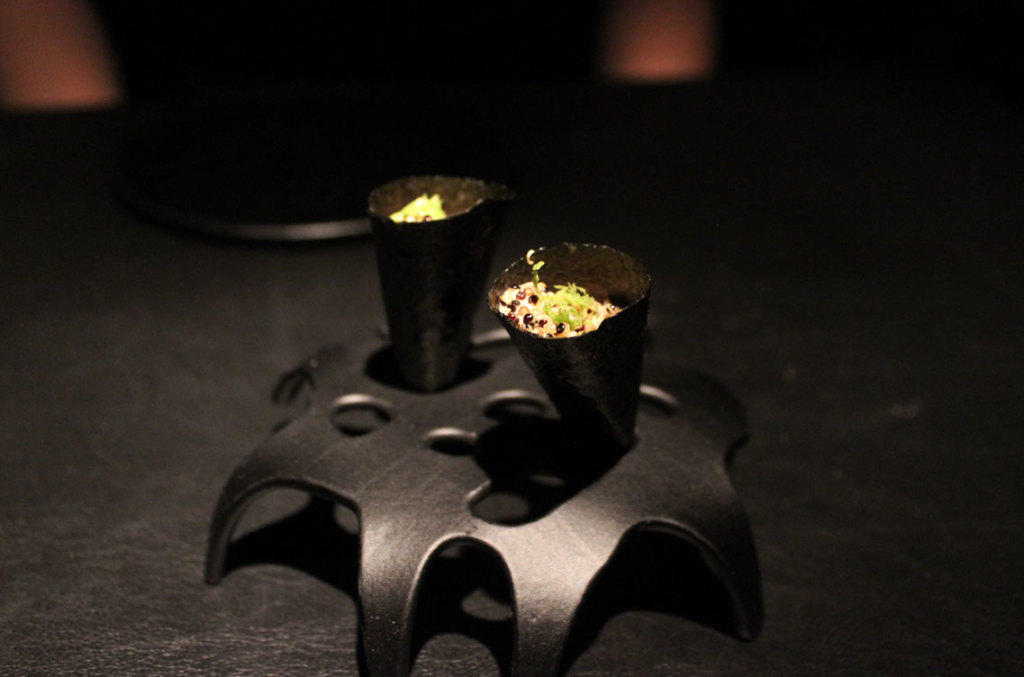 Sweet temako filled with soy sauce icecream and black quinoa topped with lime zest
Mango dried peach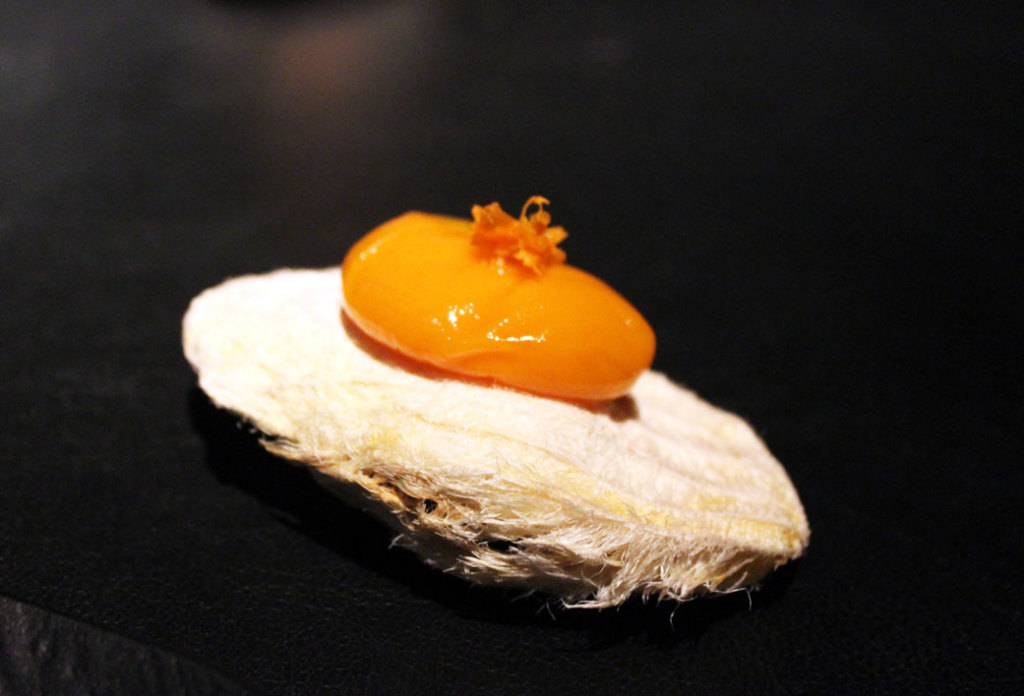 Fresisuisse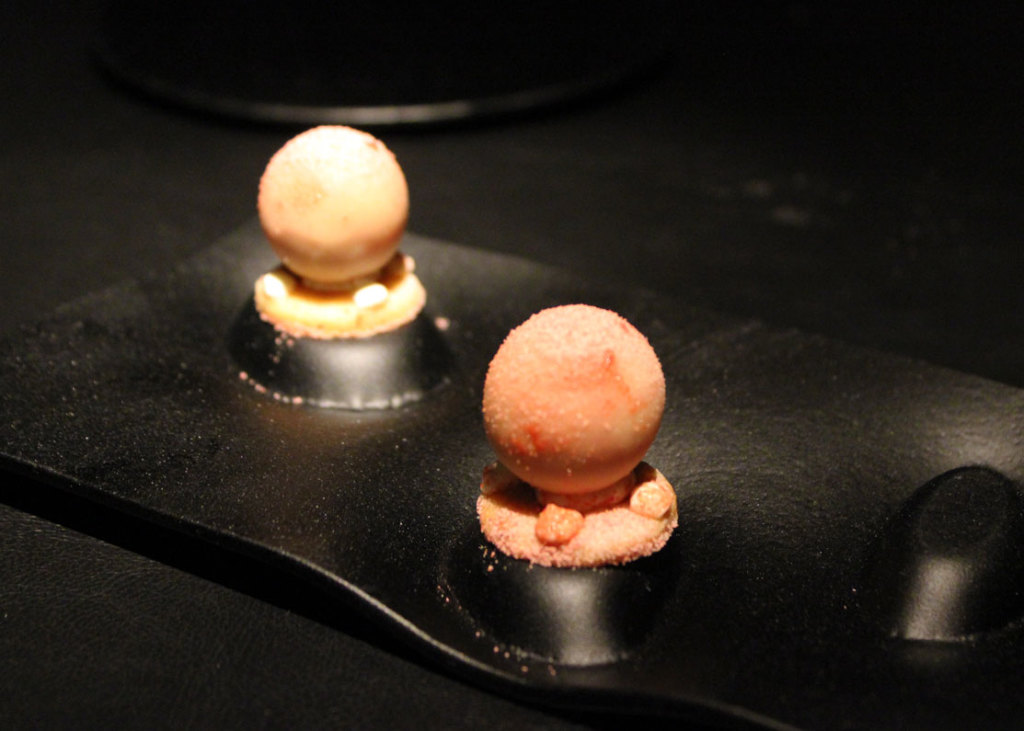 Strawberry Yogurt biscuit
Dragon egg & Chai lassi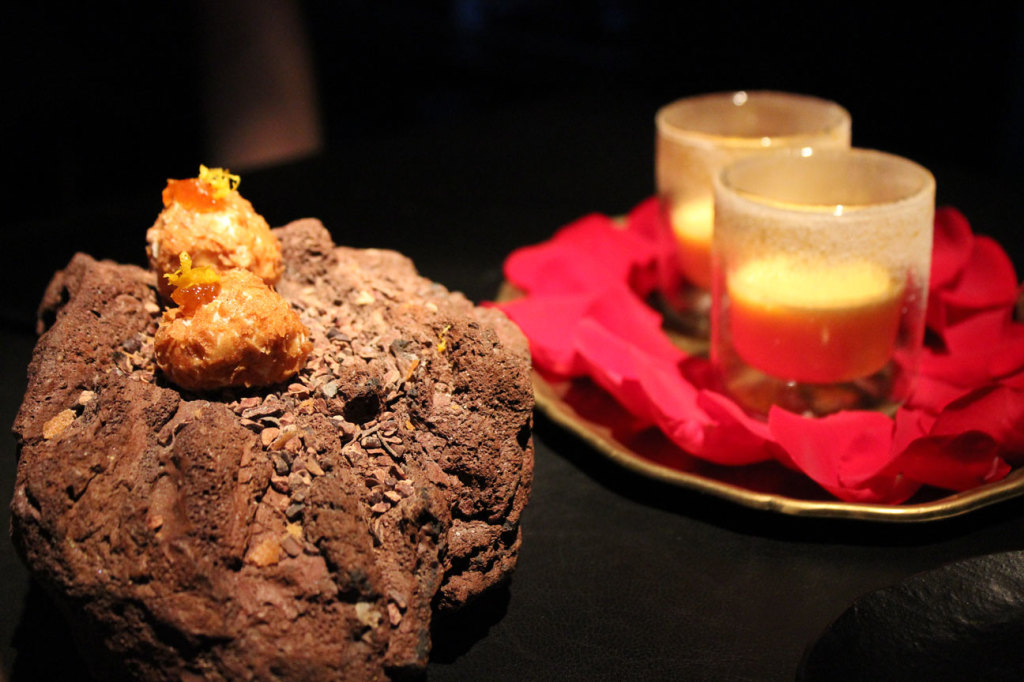 The dragon eggs are made of meringue and orange zest
Cocktail of chai lassi mango, almonds, curry, and yogurt powder
Classic lemon pie cupcake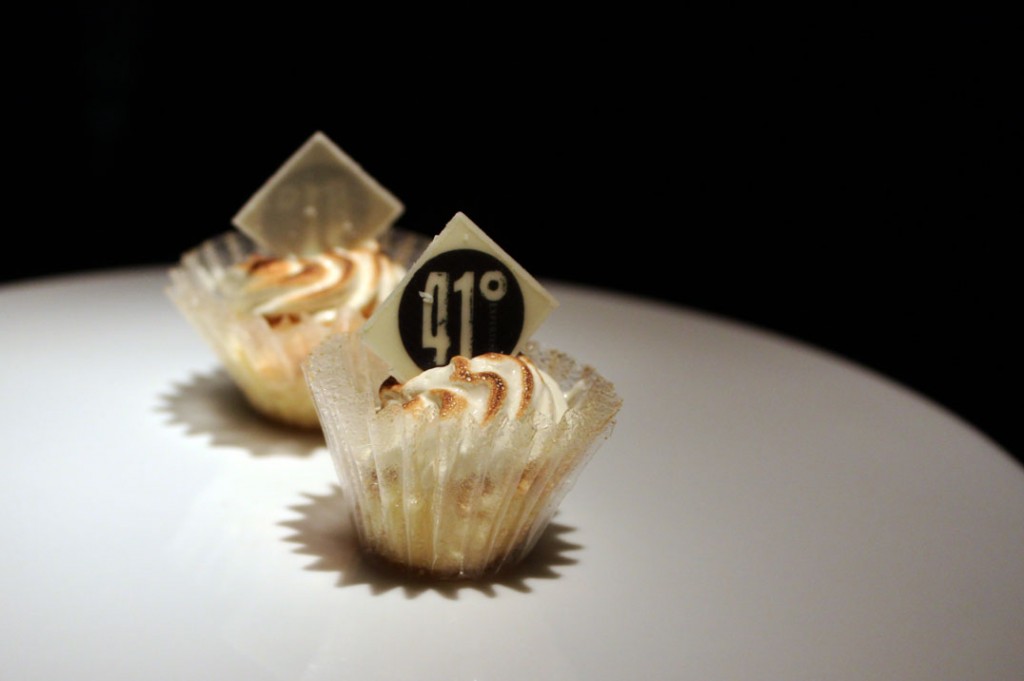 Lemon pie cupcake with edible sugar "paper"
Quico rocher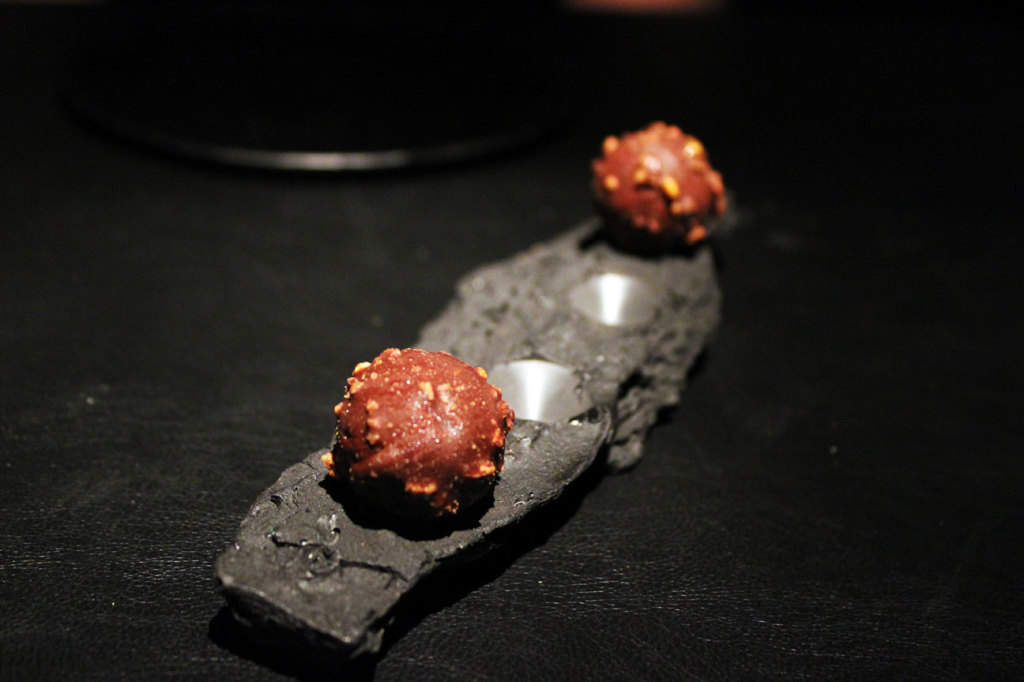 Tronch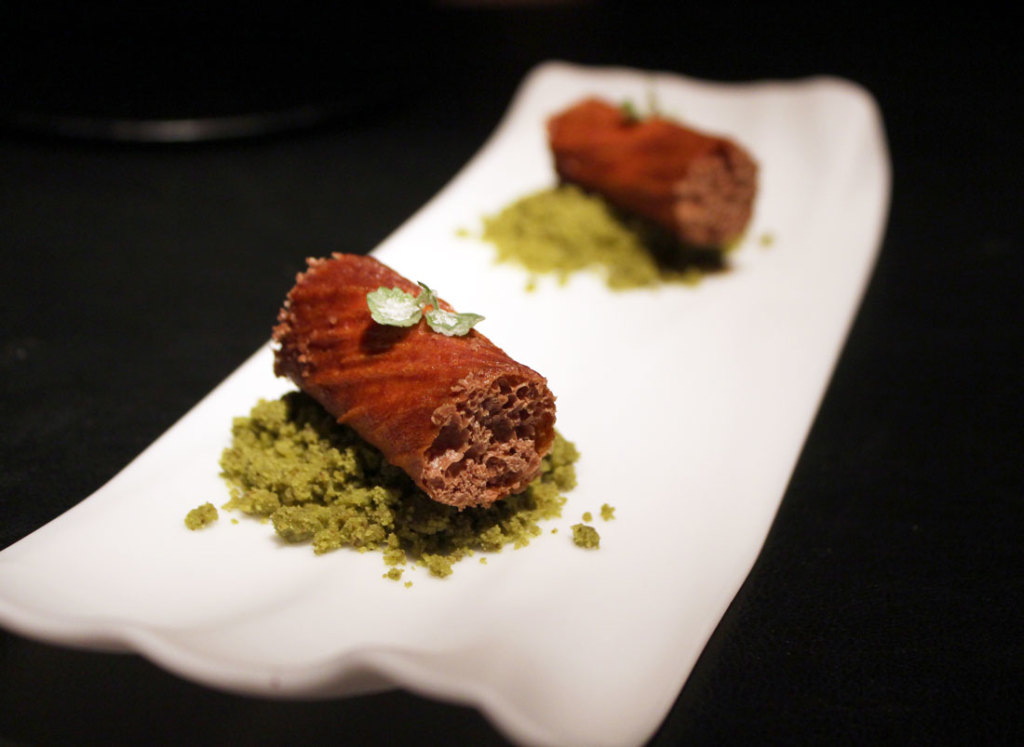 Gingerbread and chocolate brownie on a bed of matcha green tea crumbs
Tea